CoMe #225
Date: 2022-01-03
Facilitator: Doug
Notary: Silvan, Doug
Mika caretaker: Janina
Levi caretaker: Tilmann
Physical board caretaker: Larissa
Digital calendar: Zui
Reservation sheet purifier: Andrea
Present: Zui, Matthias, Charly, Andrea, Anja, Doug, Silvan, Larissa, Bella, Chandi
---
0. Check-in round
1. Last week review
Stats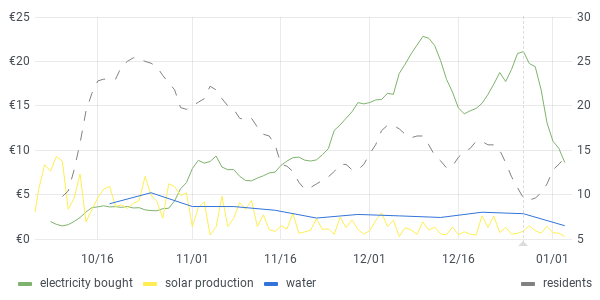 (Usage during the last 90 days)
Present: 13.4 people/day (+2.6)
⚡ Electricity

usage: 102.02 €/week (⏬-42%)
of that for heating: 52.18 €/week
paid: 88.3 €/week
☀️ self produced: 13% (⬆️+2%)
emissions: 60 kg CO₂ₑ/week

💧 Water

paid: 10.47 €/week (⏬-47%)
emissions: 1 kg CO₂ₑ/week
Expenditure
Income
10€
ca. 10€ donation for glögi
Things that happened
rC3
calm silvester party
a lot of food washed
adventure rain hike
levi started to walk
more lithium batteries tested!
Wider world
Winney the Pooh (and lots of other stuff) is now Public Domain :) https://web.law.duke.edu/cspd/publicdomainday/2022/
2. This week planning
People arriving and leaving
Mon.:
Tue.: Kito & Vroni arrive [Host: Andrea]
Wed.: Wolfram, Anja & Doug leave, Tobi+? arrive [Host: Larissa], Nathalie and Thore come back in the evening
Thu.:
Fri.: Roswitha & Gerd arrive, Silvan leaves
Sat.:
Sun.: Charly leaves, Zui leaves (!), Silvan comes back
Mon.:
Some day: Doug comes back
Weather forecast
Evaluations and check-ins
Charly, decides not worth it
Monday

10:00 CoMe [Doug]
Park cars on even/this side [Matthias]
~20:30 YT-Abend, but educational! (see thread) [Doug]

Tuesday

Hausmüll [Tilmann]
15:00 Freeshop
17:10 workout @ Yogaroom [Silvan & Larissa]
18:00 Bitte wenden meeting @ Lantern [Janina, Unkraut]

Wednesday

10:00 Monthly teams meeting [Matthias]
Park cars on odd/opposite side [Bella]
14:00 ToI meeting @ Lantern [Janina, Larissa, Doug, Nathalie(?)]

Thursday

10:00 Power Hour [Fac.: Zui , DJ: ?]
15:00 ToI session party @ Pianoroom? []

Friday
Saturday

Levi's 1st birthday
Zui and Charly leaving-party
Bus party! (after breakfast)

Sunday
Next Monday

10:00 CoMe [Chandi]
Park cars on even/this side []

Next week summary *
to be scheduled: (when possible, avoid scheduling events at times that would conflict with being part of the cooking team: 17:00-19:00)
Proposals: https://codi.kanthaus.online/KnowledgeSharingSessions?edit
3. Shopping plans
Shower head, 23€ [Matthias]
4. To do
Small fixes of things in the house
[unfinishable] more storage spaces for visitors
[x] Add 2022 trash dates to the digital calender (OMG Kell has an ICS calendar that can be imported directly ❤)
[x] KMW: fix driver side door (https://yunity.slack.com/archives/C3RS56Z38/p1636467207030900) [chandi]
[ ] Electrically disconnect the ceran stove on the right kitchen side
[ ] fix hipster room window curtain [Larissa & anja]
[ ] KMW: buy new windscreen wiper and change it
[ ] KMW: fix the ventilation switch
[ ] Install some minimal light outside of K22 garden door
New this week
[ ] Install light in the freeshop hallway
[ ] door-closer for Elefant-staircase door
5. Discussion & Announcements
Round 1
[Doug] Call for ToI sessions! What we do at the ToI is up to us :) The poll is in, with Long-term Residency, Values and Culture being the most-ticked items. Day-time sessions should somehow be relevant for the continued existence of Kanthaus. Soft-deadline for sessions until the 16th, meeting about sessions this Thursday (6th) [The ToIs]
[Antonin] Dietmar would like to borrow our scaffolding for a few months this spring. Any concerns with lending him? He could come pick it up in Kanthaus, use it in Wurzen (Industriestraße and/or Crostigall), and return it to our basement. I would feel responsible for chasing him up if he is late to return it.

no resistance, people want to inventorize what he takes, he should be capable of building it up safely

[Silvan] As announced in Slack, on 19.-20.2. we would like to host the Acrolotl like last year from KH. (Using Yoga- and Hipster-Room the whole days, about three guests from Friday evening on) Any concerns/questions?
[Matthias] Dumpster kitchen bathtub: I removed the sieve as it blocks soo easy and is always disgusting. The sink itself is easy to unblock by lifting the pipe a bit. I can show if wanted - in my experience, it takes even huge amounts of small dirt perfectly fine.
[Janina] Quite some people arrive this week, so I suggest we use a sleeping spot planning sheet again to record preferences. There is one already hanging on the magnet board next to the window.

question: do you (Janina) want to coordinate it?
Chandi would be fall-back facilitator

Charly brought some clothes from Dresden that are available for everybody in the Vortex now
Round 2
[Janina] Shall we use the food tasks sheet this week? If yes, who will facilitate it?

Seems like yes. Andrea wants to "go around and ask people" who are not in come.
Round 3
Volunteers
Mon.: Matthias
Tue.: Andrea
Wed.:
Thu.: Zui
Fri.: Janina, Tilmann
Open Tuesday: Anja, Doug
Unavailabilities
Mon.:
Tue.: Larissa, chandi
Wed.: Larissa
Thu.:
Fri.:
Open Tuesday: chandi
Week:
Result
Mon.: Matthias, Larissa
Tue.: Andrea, Doug
Wed.: Charly, Chandi
Thu.: Zui, Bella
Fri.: Janina, Tilmann
Open Tuesday: Anja, Silvan
7. For next week