CoMe #227
Date: 2022-01-17
Facilitator: kito
Notary: Janina
Mika caretaker: Thore
Levi caretaker: Thore
Physical board caretaker: Larissa
Digital calendar: chandi
Reservation sheet purifier: Doug
Present: chandi, Kito, Matthias, Tilmann, Larissa, Silvan, Doug, Nathalie, Antonin, Eumel, Janina
---
0. Check-in round
1. Last week review
Stats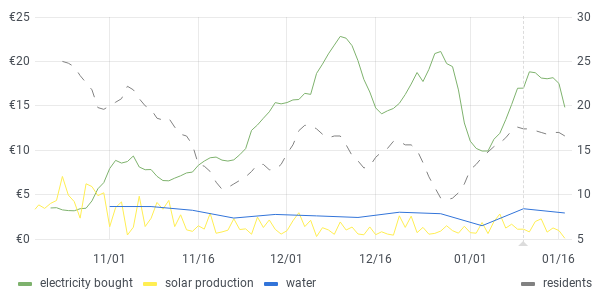 (Usage during the last 90 days)
Present: 16.7 people/day (-0.3)
⚡ Electricity

usage: 158.41 €/week (⬆️+15%)
of that for heating: 96.29 €/week
paid: 139.58 €/week
☀️ self produced: 12% (⬇️-3%)
emissions: 94 kg CO₂ₑ/week

💧 Water

paid: 20.51 €/week (⬇️-14%)
emissions: 2 kg CO₂ₑ/week
Expenditure
2,50€ for staps
maybe 50€ for insulation material
Income
Things that happened
In or around Kanthaus
The second Critical Mass happened!
Ex-food-storage now has automated ventilation!
A team has be formed to determine thew future of the ex food storage
the bus party took place
some people did a 2021 reflection session
bella made a lot of great signs which are partly put in place now
More attic insulation progress, K20 street side is half done :)
Wider world
bitcoin mining was officially prohibited for 60 days in cosovo to stabilize the electricity situation
corona measures in Saxony were lowered and most public places are open again
2. This week planning
People arriving and leaving
Mon.: Antonin arrives, Clara comes back
Tue.:
Wed.:
Thu.: Lise arrives or has already arrived, Anja leaves; Gemök group arrives, zui comes
Fri.:
Sat.:
Sun.: Anja comes, zui leaves
Mon.: Gemök group leaves, Simon comes
Some day: Bodhi comes
Weather forecast
There will be snow from Wednesday evening on! It also is quite stormy and cold.
Evaluations and check-ins
Clara Volunteer: Absolute Days threshold 111/60 (+85%)

[Clara] my evaluation could be Tuesday at 3pm?

Anja Volunteer : Absolute Days threshold 66/60 (+10%)
Monday

10:00 CoMe [kito]
blue bin
Park cars on even/this side [Antonin]

Tuesday

07:30 Pfennig-Bau / attic insulation person comes by [Matthias, Tilmann]
10:00 maybe Clara's evaluation [Doug]
black bin [Tilmann]
After dinner: Kanthaus-Documentary-watching

Wednesday

13:00 ToI orga meeting @Lantern [Doug, Larissa, Nathalie, Janina]
15:00 K18 session [Clara]
Park cars on odd/that side [Matthias]
18:00 Workout Yoga Room
after dinner: Aoe2 LANParty [Anja, Matthias]

Thursday

10:00 Power Hour [Fac.: Antonin, DJ: ?]
15:00 Social Sauna [Janina]

Friday

Organic waste [Doug]
Finances day [Larissa, zui, chandi, bodhi]

Saturday

10:30 Bitte Wenden Brunch @Unkraut's [Janina, Clara]

Sunday
Next Monday
Next week summary
To be scheduled:_ (avoid conflicts, e.g. cooking team: 17:00-19:00)
Proposals: https://codi.kanthaus.online/KnowledgeSharingSessions?edit
3. Shopping plans
[Doug] Spraypaint (Black, Blue, Yellow, possibly brown) and primer: to make bins that don't need labels.

[tilmann] K22 basement has some spray paint, did you check?
[Doug] I will, but just want pre-approval for whatever is missing

[kito] Oats and frying oil
[ToI team] ~900€ for stay at external place
4. To do
Newest tasks on top
[x] Fix upper staircase toilet window (means: cutting a piece of glass and "glueing" it in) [doug,chandi]

[x] Fix hipster room window curtain [Larissa, Anja, Mika]

[ ] Clean K18 garden

[?] Making new signs for the commode in the hallway

[ ] Install light in the freeshop hallway

[ ] Door-closer for Elefant-staircase door

[ ] Electrically disconnect the ceran stove on the right kitchen side

[ ] KMW: buy new windscreen wiper and change it

[ ] KMW: fix the ventilation switch

[ ] Install some minimal light outside of K22 garden door
5. Discussion & Announcements
Round 1
[chandi] RFID tags, useable with our K20 front door, are finally ready 🎉 :)

about tags

distribution after come
they are always personalized, keep the one you get

more people should be able to create and register tags -> skillshare at some point
[Larissa] Are those also meant for visitors?

[chandi] There will be a limited amount for use by visitors on a special shelf in the office

[matthias] Also, you can open the door over the wifi with your phone or computer

Maybe it's useful alternatively? Also ok to prefer tags :-)
You get a personalized QR code to configure your phone
more people should be able to create and register QR codes -> do people want a skillshare?
[Doug] to both points: are there security issues people should be aware of? Are likely risk-vectors accounted for? (Also, perhaps remove)

[Doug] Toilet Reading Sale! All reading material from all toilet that isn't attached to the walls, take out what you'd like to read. Rest into vortex. Elephant room? All day today?

[kito] add newspapers from dining room?

[janina] childcare: mika kita pickups from Wednesday on at 14:05! please sign up if you wanna help out! :1234:

more childcare is needed on Wednesday, Saturday and during cooking shifts, please raise a hand if you're willing to participate then Janina will approach you

[Anja] there is looooots of food to be washed!
[clara] Reminder: GemOek group coming Thursday afternoon till Monday Midday (One person until Monday evening)

7 People in total
they are all vaccinated and will test in addition at the beginning and at the end of their meeting
they wouldn't isolate themselves from us, except there is the wish?
I would reserve Yoga Room, Hipster Room and Ex-Foodstorage for them. OK?

jati might want the foodstorage, will talk to clara

They would participate in communal cooking

usually no communal cooking on the weekends - do we want to have additional structure here?

Are there any more needs/wishes from Kanthaus?
Round 2
[Doug] Printers in shelf, k20-1 entrance. Let's get rid of them! Any we want to keep should be labeled with name, purpose and dated 2022 before next CoMe. I would put rest in Freeshop or Trash (i.e. skip vortex)

[matthias] Actually most of the stuff there has a "dedicated" purpose :-( But I am happy to label that. Understand that they could be stored somewhere less accessible and maybe 1-2 printers can actually be sorted out.

[Larissa] Let's have a duvet and pillow covers sale! The shelf in the communal closet is overflowing + there are a lot small ones which we don't really use anymore, so let's reduce the amount we have. Maybe wednesday all day?

[matthias] For "comfort size" (215-225 x 150-160) and "normal size" (130-140 x 195-205) we don't have too many spares, e.g. don't sort any of those out except broken please. Despite I would be in favor of having a better sorting for the pillow covers :-)

[janina] The fairteiler in Wenceslaigasse is a miraculous food distributor! Let's use it more when we have an abundance! How about putting a bag next to the door for people to bring there when they take a walk?

General appreciation, will be tried out
Bag needs a label and a date

[chandi] There is now a proposal on how to act, when we get a positive corona case in kanthaus, called PCCP

https://pad.kanthaus.online/corona-process
motivation + discussion: https://yunity.slack.com/archives/C3RS56Z38/p1642288612062700
Please test yourself, especially when you have slight symptomes (coughing, cold, headache, fatigue, throat scratching, etc...)
Volunteers
Mon.: Larissa, Silvan
Tue.: Clara
Wed.: Matthias
Thu.:
Fri.:
Open Tuesday:
Unavailabilities
Mon.: kito, Thore, Nathalie
Tue.: kito, chandi, Nathalie, Tilmann
Wed.: Antonin
Thu.: Janina, Antonin
Fri.: Thore
Open Tuesday: kito, Tilmann, Janina, Antonin, Nathalie
Week: chandi
Result
Mon.: Larissa, Silvan
Tue.: Clara, Antonin
Wed.: Matthias, Janina
Thu.: Kito, Doug
Fri.: Tilmann, Nathalie
Open Tuesday: Thore, Eumel