CoMe #261
Date: 2022-09-19
Facilitator: Antonin
Notary: Janina
Mika caretaker: Kita
Levi caretaker: Tilmann, Matthias
Physical board caretaker: Nathalie
Digital calendar: Antonin
Reservation sheet purifier: Kito
Present: Kito, Janina, Matthias, Andrea, Maxime, Thore, Nathalie, Antonin
---
0. Check-in round
1. Last week review
Stats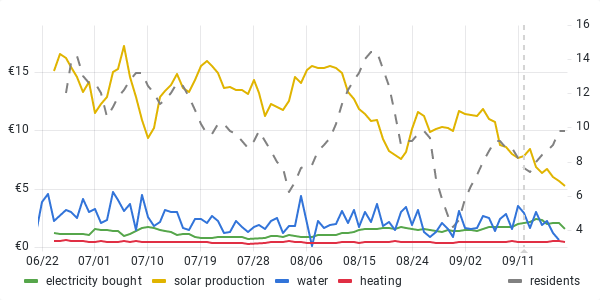 (Usage during the last 90 days)
Present: 9.3 people/day (+0.9)
⚡ Electricity

usage: 40.84 €/week (⬆️+2%)
of that for heating: 3.56 €/week
paid: -9.05 €/week
☀️ self produced: 60% (⬇️-2%)
emissions: 14 kg CO₂ₑ/week

💧 Water

paid: 12.63 €/week (⬇️-27%)
emissions: 1.0 kg CO₂ₑ/week
Expenditure
None.
Income
None.
Things that happened
In or around Kanthaus
Winter is coming: Tilmann switches on the heating right now
Thore's birthday with very nice cake
A nice and short social sauna
Good meeting about gleaning actions
Wider world
see https://de.wikipedia.org/wiki/Wikipedia:Hauptseite
2. This week planning
People arriving and leaving
Mon.: Silvan comes back, kito came back, Martin_Andrea is here for a night, Matthias leaves
Tue.:
Wed.: kito leaves probably
Thu.: Eric arrives
Fri.: Silvan leaves for the weekend
Sat.: Eric leaves (bye KH!), Janina leaves for a night, Antonin leaves
Sun.:
Mon.:
Some day:
Weather forecast
A couple of showers early in the week and in the weekend. Temperatures remain stable.
Evaluations and check-ins
Due for evaluation (and seen within the last 7 days):
Kito
Nathalie Volunteer : Absolute Days threshold 108/60 (+80%)
Andrea Volunteer : Absolute Days threshold 81/60 (+35%)
Eric_WA Visitor : Days Visited threshold 28/21 (+33%)
Martin Volunteer : Absolute Days threshold 76/60 (+27%)
Tilmann Member : Absolute Days threshold 209/180 (+16%)
Matthias Volunteer : Absolute Days threshold 69/60 (+15%)
Maxime Member : Absolute Days threshold 185/180 (+3%)
Monday

10:00 CoMe
Post-Sunday-Dumpster-Diving Food sorting/washing [Maxime]

Tuesday

Clara's birthday party in Jena [JaTiMiLe, Andrea]
15:00 - 17:00 Open Tuesday [Antonin, Kito]

Wednesday

09:30 casual MCM team meeting at breakfast [Janina]
10:00 kito's evaluation [Thore]
Repark KMW []

Thursday

10:00 Power Hour [Fac.: Antonin, DJ: ?]
10:00 Fokusgruppe Nachhaltigkeit @ALM [Janina]
15:00 Nathalie's evaluation [Antonin]

Friday

Yellow bin is collected [Maxime]
12:00 Market pickup [Andrea]

Saturday

Flatwarming party @Anja+Antonin's [everyone! xD]

slackline and picnic in the afternoon
inside party in the evening

Sunday

Next Monday

Next week summary
To be scheduled:_ (avoid conflicts, e.g. cooking team: 17:00-19:00)
Proposals: https://codi.kanthaus.online/KnowledgeSharingSessions?edit
3. Shopping plans
[tilmann] 42€ for a fine (F7) fresh air filter for the ventilation system - should last for one year

I would get this one: https://rt-handel.de/Ersatzfilter-Lueftung/Systemair/VTC-700/Taschenfilter-passend-fuer-Systemair-VTC-700-Filterklasse-F7?number=RT000865.1 is cheaper than what we had so far, with less capacity, but maybe good enough.
details: https://yunity.slack.com/archives/CFDNQL9C6/p1663165380772469

[tilmann] ~120€ for pipes and parts to finally reconnect toilet pipes to roof (details: https://yunity.slack.com/archives/CN9H631BM/p1663525305732479)
[janina] chest freezer, probably new, for about ~500€

just put out there for consideration: do we want one? does it make sense?
4. To do
Newest tasks on top
[ ] fix weekly-report script

electricity: include solar production estimation from the unrecorded panels []

[ ] renew the "Kanthaus"- sign on the Kanthaus [spraypaint by Kito?]

[Antonin] Can it not be done on a panel or other surface that can be easily put up and down?

[ ] remount snack kitchen radiator [Martin/Silvan?]
[ ] make the wall nice in K20-2 bathroom where the boiler has been [Larissa]
[ ] repair/replace Schaukasten
[ ] KMW: buy new windscreen wiper and change it
[ ] KMW: fix the ventilation switch
[ ] Light: hallway of the K20-1 flat
[ ] Light: hallway of the K20-2 flat
[ ] Light: freeshop hallway
[ ] Light: K22 garden door
[ ] continue Grundstücksverschmelzung K20 + K22 (combining both properties)
5. Discussion & Announcements
Round 1
[janina] gleaning actions @landgut nemt

who's generally up for it?
soon we can pul onions and potatoes out of dirt piles in burkartshain
later there'll be carrots and beetroot
beans at some unspecified time

antonin and kito would be in this Wednesday

[Antonin] lunch or dinner lottery?

it's happening! lunch trial this week
serving time at 1 pm

[maxime] KMW is getting more capricious

maxime is getting anxious that he won't be able to restart the car at some point, so he doesn't want to take responsibility of reparking anymore
instead, maxime wants to push for the discussion about selling the KMW to happen
he'll talk to silvan about reparking this week

[kito] FFJ in Kanthaus in 2023?

earliest starting in August 2023, then it would lasts some months to a year
the last group was 10 people, but it could also be less
they would be going to different places but use Kanthaus as their main base
the detailed concept is not clear yet
kito would have it has his main project during that time
reaction: slight concerns about fullness, but general support
Round 2
[janina] tilmann does attic focus weeks + karrot dev : childcare anybody? :3

yes the plan is to insulate the roofs before winter
... and to grab as much money as possible for karrot
I'd personally be very much appreciative for any childcare shift! :3

nathalie: attic work update session would be much appreciated!

[kito] Open Spaces in Trebsen (27.09.)

does someone want to participate? no

[maxime] evaluation system reform reminder https://yunity.slack.com/archives/C3RS56Z38/p1660493720040789 Let's have a fishbowl and votes during Autumn?
Round 3
[janina] some cleaning tasks that need attention:

taking care of the leftovers of the market pickup in the staircase
vacuuming the freeshop as anja has asked

Janina will put spidey there
Round 4
[janina] heating season starts today! :D

really take care to keep doors to heated areas closed, please!
turn radiators fully on or off, the nuances don't work

some unhappiness about the process: no discussion about turning it on?
Volunteers
Mon.:
Tue.:
Wed.:
Thu.: zui
Fri.: Thore
Open Tuesday:
Unavailabilities
Mon.: Maxime
Tue.: Janina
Wed.:
Thu.: Maxime, Janina
Fri.: Antonin
Open Tuesday: Janina, Maxime
Week: Eric, Silvan, Nathalie, kito, Andrea, Matthias
Result
Mon.:
Tue.: Antonin
Wed.: Janina
Thu.: zui
Fri.: Thore
Open Tuesday: Antonin+Kito
7. For next week