CoMe #272
Date: 2022-12-05
Facilitator: Martin
Notary: kito
Mika caretaker: Janina/Kita
Levi caretaker: Janina/Kita
Physical board caretaker: Anneke
Digital calendar: Larissa
Reservation sheet purifier: Lara
Present: Martin, Lara, Anneke, Larissa, Kito, Tilmann, Maxime
---
0. Check-in round
1. Last week review
Stats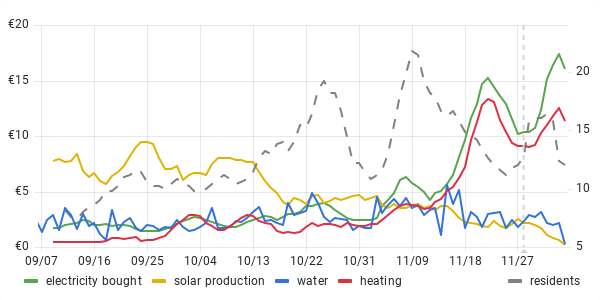 (Usage during the last 90 days)
Present: 14.4 people/day (+2.3)
⚡ Electricity

usage: 134.41 €/week (⬆️+13%)
of that for heating: 89.91 €/week
paid: 121.73 €/week
☀️ self produced: 9% (⬇️-15%)
emissions: 82 kg CO₂ₑ/week

💧 Water

paid: 17.27 €/week (⬆️+6%)
emissions: 1.3 kg CO₂ₑ/week
Expenditure
[Martin] 12 euros for toilet paper
Income
Things that happened
In or around Kanthaus
Roof insulation
2nd Advent + roof insulation celebration
presentation from bitte wenden about good traffic planning in other places
disappointment of failed communication about the actionday #DefendKurdistan #WeSeeYourCrimes
Wider world
during the worldcup catastrophe in Katar the German green economy minister has nothing better to do than making a deal about LNG with Katar for the next 15 years.
Germany out of the worldcup, lol
2. This week planning
People arriving and leaving
Mon.: Silvan comes back
Tue.: Lise is arriving
Wed.: Lara leaves :(
Thu.:
Fri.: Lise leaving, Zui leaves, Larissa & silvan leave
Sat.:
Sun.: larissa & silvan come back, Antonin too
Mon.: Zui comes back
Some day:
Weather forecast
Temperatures around zero celsius the whole week. High chances of rain (or snow?!) Tuesday and Wednesday. We might see some sun on Sunday!
Evaluations and check-ins
Nathalie Visitor : Days Visited threshold 36/21 (+71%)
Thore Volunteer : Absolute Days threshold 87/60 (+45%)
Kito Volunteer : Absolute Days threshold 75/60 (+25%)
Monday

10:00 CoMe [Martin]
monday food care [Lara, Anneke, Janina?]
Park KMW & Trailer on even/this side []

Tuesday

Hausmüll [Larissa]
15:00-17:00 Open Tuesday

Wednesday

11:00 Lise's evaluation [Larissa]
Park KMW & Trailer on odd/that side []
19:00 Punkrocktresen @D5

Thursday

10:00 Power Hour [Fac.: Martin, DJ: ?]
15:00 Social Sauna [Maxime]

Friday

Biotonne [Anneke]
19:30 nice concert @D5

Saturday
Sunday
Next Monday
Next week summary
To be scheduled:_ (avoid conflicts, e.g. cooking team: 17:00-19:00)
Proposals: https://codi.kanthaus.online/KnowledgeSharingSessions?edit
Lise Evaluation (Wednesday or Friday during Kita hours.)
3. Shopping plans
[martin] The blender container is broken! Is it an appliance that we want to keep? I found only new ones on ebay, and they start at around 50 euros. I don't know of a better way to get one. https://www.ebay.de/itm/222475091387?hash=item33cc8c7dbb:g:SnUAAOSwpkFY8RNH&amdata=enc%3AAQAHAAAAoFfnC12zWD7w1nk%2B5ZiTD7%2Biuz6J0%2B1UDgt3wtOf2CN2KwlTfB8a5r06f%2FVG3PEEWU66H7jJLsZvjYNGzhXepy3qb6luXIvJ2olw1LaQwD2liHl3acsLxB6pyynuiZpPU0phkM4djdVSCurVieETgQsSsaPXE%2BLjiv2%2Bd80sF9EOuYxMeo2s5EVdMS5JHaHcn2x8%2FGbmmW6rCwEf3%2BYxf1k%3D%7Ctkp%3ABk9SR4TUroaYYQ

[zui] I bought it on ebay kleinanzeigen, should arrive today or tomorrow

4. To do
Newest tasks on top
[x] fix K22 door code [Martin, Antonin]
[ ] fix bike repair station instructions
[ ] treat mold in Ex-food-storage and hipster room

Those rooms need a fresh air supply (Zuluft)
Some more work would be welcome to finish connecting those rooms to the ventilation system

[ ] renew the "Kanthaus"- sign on the Kanthaus
[ ] make the wall nice in K20-2 bathroom where the boiler has been [Larissa]
[ ] Light: hallway of the K20-1 flat
[ ] Light: freeshop hallway
[ ] Light: K22 garden door
[ ] continue Grundstücksverschmelzung K20 + K22 (combining both properties) [Larissa]
5. Discussion & Announcements
Round 1
[maxime] the KMW battery is flat, and Matthias says that "If it has been on that charge level last week at freezing temperatures, don't bother charging, throw it :slightly_smiling_face:"

if it stays there and we get bills it's still cheaper than buying a new battery ;)
try to restart with old battery from workshop on sunday
also possible to take battery out of KMW and charge it
Martin and Maxime will try to something on the weekend

[anneke] I'd like to introduce you to my christmas project and ask to use the infrastructure of KH for the 23rd of December

project called "Homeless Christmas Matters": give food, blankets... to homeless people in Leipzig and Chemnitz on the 24th
there is a crowdfunding for this project
anyone knows where to borrow a thermos-pot?
Anneke would like to cook with 2 extra people for this project on the 23rd

if you have concerns please talk to Anneke the next days

idea to Anneke to ask for support in Slack when knowing more concrete what to do when
there is a portable gas stove in KH

[antonin] the stats and people to evaluate are available now, see above
[Larissa] foodsharing pickup in Leipzig tonight - Silvan can't do it, who is up for it?
[tilmann] potential local foodsharing cooperation - let's talk to Nathalie again and join the foodsharing team!
[maxime] let's get rid of the old car batteries in the workshop!

[larissa] we should make sure that they end up in a better place

[kito] remember to vote on the ToI sessions! https://ukuvota.world/#/app/0bd37663-60a4-2673-240f-a16ba6c96653/collect
Round 2
Volunteers
Mon.:
Tue.:
Wed.: Anneke
Thu.:
Fri.:
Open Tuesday: Lara
Unavailabilities
Mon.:
Tue.:
Wed.:
Thu.:
Fri.:
Open Tuesday:
Week: Tilmann, Larissa, Kito
Result
Mon.: Maxime
Tue.: Martin
Wed.: Anneke
Thu.:
Fri.:
Open Tuesday: Lara