CoMe #277
Date: 2023-01-16
Facilitator: Doug
Notary: Kito
Mika caretaker: their parents
Levi caretaker: their parents
Physical board caretaker: Anneke
Digital calendar: Larissa
Reservation sheet purifier: Kito
Present: Silvan, Larissa, Anneke, Doug, Kito, William
---
0. Check-in round
1. Last week review
Stats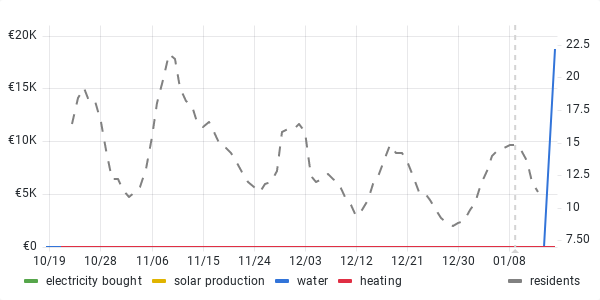 (Usage during the last 90 days)
Present: 5.9 people/day (-9.1)
⚡ Electricity

usage: 85.16 €/week (⬆️+8%)
of that for heating: 50.46 €/week
paid: 59.46 €/week
☀️ self produced: 28% (⬆️+4%)
emissions: 43 kg CO₂ₑ/week

💧 Water

paid: 37490.32 €/week (⏫+255419%)
emissions: 2915.9 kg CO₂ₑ/week
we are broke now :/
Expenditure
55 € 2 * Beglaubigungen
45 € bathroom building supplies +
Income
1.100€ for selling KMW
300€ donation
Things that happened
In or around Kanthaus
monthly plenum with 4 people talking about insurance, liability and responsibility
more guests in the house than residents
nice time with Flotte Rotte
kitchens were made (much more) moth-proof
some Kanthausians going to Lützi, others to Luftschlosserei
KMW got sold
spice shelf was rearranged
Wider world
eviction of Lützi :(
big demonstration in israel
aircraft crashed in Nepal
2. This week planning
People arriving and leaving
Mon.: JaTiMiLe come back
Tue.: Andrea comes for the day
Wed.: Martin and Maxime probably come back
Thu.: Vroni arrives for 1 night, Larissa leaves
Fri.: GemÖk (3-4ppl), Andrea+1 arrive
Sat.: Matthias and Marieke arrive
Sun.: zui arrives (maybe already Sat), Andrea+1 leave
Mon.: zui, Matthias, Marieke leave, Larissa comes back
Some day: Antonin? Bodhi? Emily?
Weather forecast
right now: super nice
it will get a bit colder with a bit of rain but also more sunshine!
Evaluations and check-ins
pipeline couldnt be run :)
Monday

10:00 CoMe [Doug]
Monday food care [William]
Park trailer on even/this side [Doug]

Tuesday

Hausmüll [William]
15:00 - 17:00 Open Tuesday

Wednesday

Park trailer on odd/that side [Doug]
10:00 - 13:00 attic work session [tilmann, antonin, you?]
19:00 Punkrock-Tresen

Thursday

10:00 Power Hour [Larissa]

Friday

Biotonne [William]
19:00 Küfa with anarchist Input @ADI

Saturday
Sunday

[kito] hiking trip
meeting of the old KH-gemök

Next Monday
Next week summary
To be scheduled:_ (avoid conflicts, e.g. cooking team: 17:00-19:00)
Proposals: https://codi.kanthaus.online/KnowledgeSharingSessions?edit
3. Shopping plans
[kito] Oats, 25kg for 75-85€
[Doug] 5 * 4m Letra labelmaker tape, 12€
4. To do
Newest tasks on top
[ ] Potato sorting action needed
[ ] Electroschrott tour needed! [Martin]
[ ] General trash tour needed [matthias?]
[ ] Sign: Renew the "Klingel" - Sign (it's less and less readable)
[ ] Replace shower curtain by (plexi)glass construction
[ ] renew the "Kanthaus"- sign on the Kanthaus [Kito]
[ ] make the wall nice in K20-2 bathroom where the boiler has been [Larissa]
[ ] Light: elephant room
[ ] Light: Yoga room
[ ] Light: freeshop hallway
[ ] Light: K22 garden door
[ ] continue Grundstücksverschmelzung K20 + K22 (combining both properties) [Larissa]
5. Discussion & Announcements
Round 1
[Antonin] members can vote about the possible evolution of the position system
[Andrea] Greetings from Merseburg! like I wrote on slack (quite late I'm sorry), I will like to do a video about KH for one of my university courses. I was planning on coming today but I dont think its going to work. I might come tomorrow to do some filming and also spend some time around. On friday a friend will come with me and we will stay until Sunday morning. So it would be nice to know who would be up for talking in front of the camera. I thought the topic could be KH in Wurzen. Let me know what you think!

be prepared to also film on the weekend, there will be more people in the house
interest from Doug and Janina, also Kito
niceeeee! thank youuu <3

[kito] Küfa next week, maybe tuesday or thursday?

maybe tuesday because of Open Tuesday? - let's do it!
Round 2
*
Volunteers
Mon.: Larissa, Silvan
Tue.:
Wed.: janina
Thu.:
Fri.:
Open Tuesday:
Unavailabilities
Mon.:
Tue.: kito
Wed.:
Thu.: Doug
Fri.: kito, Doug
Open Tuesday:
Week:
Result
Mon.: Larissa, Silvan
Tue.: Doug
Wed.: Janina
Thu.: Anneke
Fri.: William
Open Tuesday: Kito
7. For next week