After 5 years, the Kanthaus network has reached a state that sometimes causes headaches even to somewhat experienced network admins trying to get an overview.
To be exact, it was my headaches and a lot of time spent trying to figure out which cable goes where.
To make it easier for people to take responsibility for the Kanthaus network in the future, I have decided to change some things in the network, which can be summarized in the following points:
Simplification of the topology
Easier WiFis
Central management of access points
Updating documentation
Simplification of the topology
Probably the best way to describe and justify the network is with one word: grown
Before: a grown chaos
It all started in K20-1, with the first rooms being populated and the need for internet access there. From there on, new cables were laid wherever one was needed, and from there, with the least effort, to wherever the next one was needed.
Those who were there in the early days might remember: There was an unlimited number of construction sites in the house and the most important thing was to somehow get the basic infrastructure up and running so that people could live here - beauty, accessibility or even empowerment were not relevant values at this stage.
(Please do not waste too much time trying to understand this)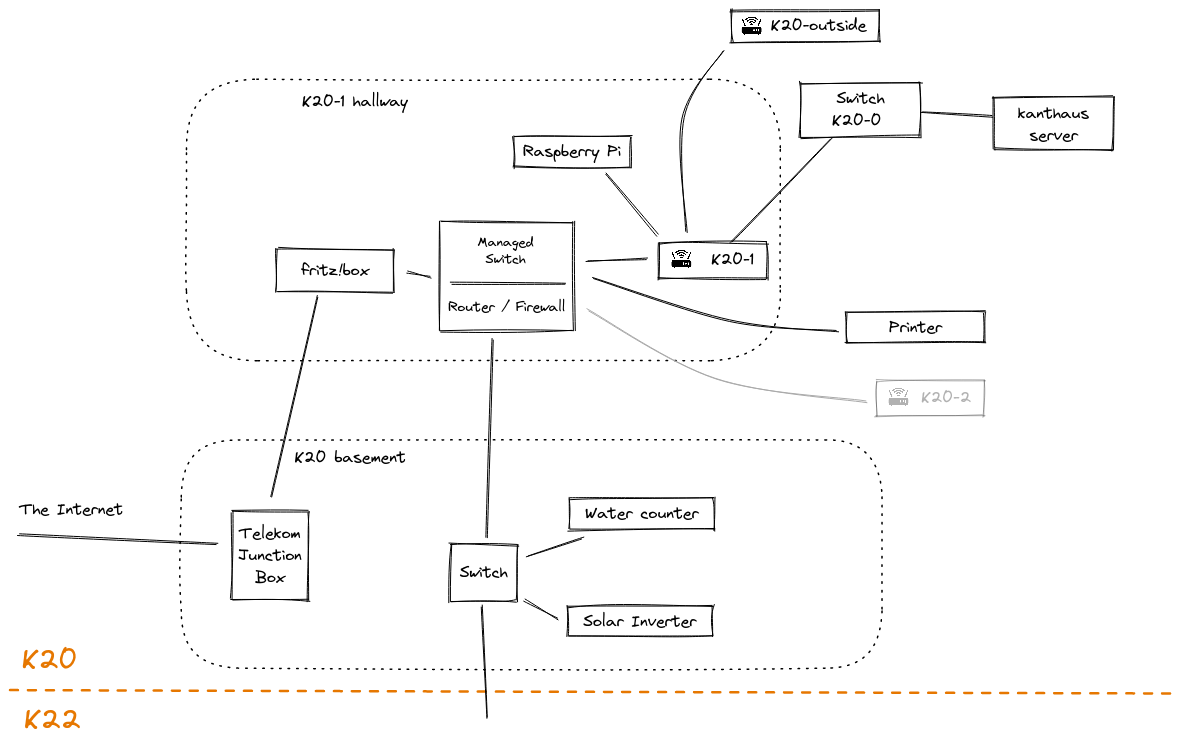 All devices have their legitimate purpose, but the cabling doesn't make it easy to keep track of the network.
Now
In order to have the network structure easier to understand in the future, the new structure follows the following points:
A central location in the basement
One cable from the basement to each floor
An access point on each floor as a central point for further distribution, if necessary.

Hopefully a little easier to keep an overview for you, too.
Easier WiFis
At Kanthaus, we use different networks for more security and to give people access without a password.
Examples
Public guest network routed via the Netherlands so we don't get any problems with illegal usage.
Network for easily hackable devices, which should rather run isolated without internet access #IoT (front door, printer, inverter, water meter,...)
Network in which devices cannot see each other because there is no need for it (e.g. smartphones) -> increased security.
Before
Use of "WPA2 Enterprise", which offers technological advantages, but a very high barrier in the connection setup which was not manageable for almost everyone without detailed instructions
Different passwords that no one remembers
Sense of the different networks hard to understand, partly also simply senseless
Problems with compatibility of some features
In the end, almost everyone stayed in the old wuppdays WiFi, because at least one of the points made the new networks inaccessible for them.
Now
Clear decision path

The same, easy to remember, password works for both encrypted networks.

People can log in like in any other network (click on name -> enter password -> done)

kanthaus with highest security standard as default

kanthaus-insecure with compatibility for (hopefully) all devices
Central management of the access points
As of now we have 7 access points (AP) in use, which all want to be (correctly) configured. Not only is changing something very time-consuming, it is also very prone to introducing new errors.
Before
The problem of too many access points to individually configure has already been addressed with a self-made script, but this solution came with other problems:
Script has to be kept up-to-date with changes to OpenWRT
Missing documentation -> very high threshold
Now
Central configuration with OpenWISP, which is built and maintained for exactly this purpose.
Updating documentation
It needs documentation for everything to store knowledge not only in the heads of individuals. Unfortunately, much of the existing documentation was no longer up-to-date. Now this should also be better:
Last words
I think I understand more and more how something has to be in order to be easily understood and maintained, but what is still a big mystery to me is how something can be kept that way? It seems to me that chaos/complexity is indeed the state that everything moves toward throughout time, but what can we do against it? Maybe this here is at least a start :)