CoMe #205
Date: 2021-08-16
Facilitator: Maxime
Notary: Matthias
Mika caretaker:
Levi caretaker:
Physical board caretaker: Andrea
Digital calendar: Matthias
Reservation sheet purifier: Clara
Present: Maxime, Clara, Matthias, Andrea, Talita, Laura
---
0. Check-in round
1. Last week review
Stats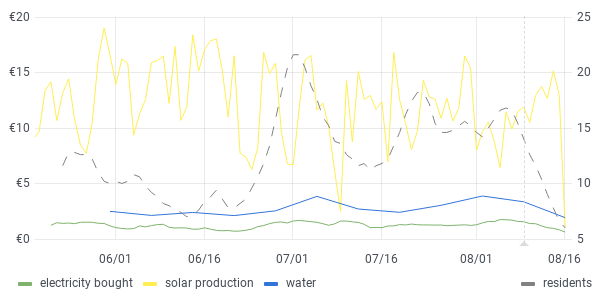 (Usage during the last 90 days)
Present: 7.1 people/day (-8.0)
⚡ Electricity

usage: 3.13 €/day (⏬-46%)
paid: -5.97 €/day
☀️ self produced: 69% (0%)
emissions: 3 kg CO₂ₑ/week

💧 Water

paid: 1.92 €/day (⏬-43%)
emissions: 1 kg CO₂ₑ/week
Expenditure
[talita] toilet paper (6,5€) and rapsoil for frying (3,5€) - 10€
[talita] yoga room: paint (92€), gips (15€), support for gipsed corners (8€)- 115€
Income
From Collective Agreements: If adjusted prevalence is < 0.1%, we have no formal restrictions. Current adjusted prevalence can be found here: click on "Details" in the "Step 1" column
Incidence:

Germany: 36.6 (+55%)
Saxony: 12.6
Landkreis Leipzig: 32,6 (+152%) <- masks are obligatory again in markets etc.!

Adjusted prevalence Saxony: 0,03% (last check: 2021-08-15)
µCOVIDs available last week: {COVIDS FOR LAST WEEK NOT FOUND!}
µCOVIDs used last week:
µCOVIDS balance from last week:
µCOVIDs additional this week: 5000
µCOVIDs available this week:
µCOVIDs/person mean for this week: (18 people)
Things that happened
Around Kanthaus
Some of us went watching the documentary "Capital in the Twenty-First Century" at Villa Klug
There was a visit of Kreuzgasse 1
We had a chat in the garden
All Kanthaus residents (the 5 of them) went together to Wolfsberg
Talita made huge progress in the Yoga Room
Our garden gave us a lot of ripe tomatoes and basilicum
The clock in the dining room was replaced by a much more accurate and less noisy Penguin of Time, which let us know when it is time, and also allows to have meals in silence without hearing a ticking
In the wider world
The 6th IPCC report was published, stating that climate change is going faster that previously anticipated
After 20 years of war, Talibans took Kabul and now control the whole of Afghanistan. A new refugee crisis is to be expected.
2. This week planning
People arriving and leaving
Mon.: Mariha, her partner and their 2 year old child arrive; ZuLa come back, michal leaves,
Tue.: Doug arriving
Wed.:
Thu.: Talita and Laura leaves (or Friday morning)
Fri.: Nathalie arrives, Larissa leaves maybe with zui,
Sat.:
Sun.: (Sunday or Monday) chandi comes back, Clara leaves (or Monday)
Mon.:
Some day:
Weather forecast
Nice, but windy and sometimes a bit rainy weather. Take care of doors and windows :-)
Evaluations and check-ins
Due for evaluation:
Andrea Volunteer : Absolute Days threshold 68/60 (+13%)
Monday

10:00 CoMe [Maxime]
14:00 Knowledge sharing []
Park cars on even-side [Maxime]

Tuesday

Hausmüll [Matthias]
Open Tuesday [Doug]

Wednesday

Park cars on odd-side [Maxime]
Landgut Nemt pickup []
15:00 Evaluation Andrea [Maxime]

Thursday

10:00 Power Hour [Fac.: Matthias, DJ: ]
15:00 Sharing event []

Friday

Biotonne [Clara]
12:00 Market Pickup [Maxime]
Landgut Nemt pickup []

Saturday
Sunday
Next Monday
Next week summary *
to be scheduled: (when possible, avoid scheduling events at times that would conflict with being part of the cooking team: 17:00-19:00)
3. Shopping plans
[Talita] 27€ paint for the yoga room
4. To do
Small fixes of things in the house
[ ] replace broken/string/toaster shoe rack spots [Andrea, Doug]
[ ] make k20 garden door easily closable from outside (or acquire a new door) https://yunity.slack.com/archives/C3RS56Z38/p1627483587048000
[ ] secure wash kitchen sink
[ ] think about plastic waste container to be used in dumpster kitchen

[maxime] what about using a big cardboard that could be emptied in the yellow bin, and replaced from time to time when too nasty (we associated recommendation to empty liquids before throwing there)

[ ] fix loose table leg in Lantern
Ventilation preparation:

[ ] Tear down chimney in Snack Kitchen
[ ] Tear down chimney in communal sleeping room
[ ] Tear down chimney in dining room
[ ] Tear down chimney in piano room
5. Discussion & Announcements
Round 1
[matthias] Do we want a "Nick-trailer like" trailer? Matthias would like to build it for approx. 280€. Would feature perfect suitability for green boxes, lights and a "tool/waterbottle storage" https://yunity.slack.com/archives/C3RS56Z38/p1628839029144500

Maybe Nathanael can be used in the mean time? Do we really need a small trailer?
On the other hand having more than one nice dumpsterdiving trailer for simultaneous dumpster diving might make sense
People are happily invited to participate in the slack thread
Might be brought up again next week

[maxime] should there be a task lottery this week, or should we do like last week?
[Doug] there is a lot of support and no resistance to Maxime's post for the roof month framework https://yunity.slack.com/archives/C3RS56Z38/p1628514489137000?thread_ts=1628181795.098000&cid=C3RS56Z38

Roof month from 2021-10-11 - 2021-11-07
FFJ group will be here all the time then (2021-10-11 - 2021-10-24), some confusion as we thought there was only one week overlapping -> Communication with the group again
We will wait for their feedback and then talk about it again

[Thore] It´s time to call Felix from Landgut Nemt to coordinate the aftercrop actions. Can someone do this? I'll be back in Wurzen at the 29 of August and can imagine to organize then some actions with someone together? Anyone interested?

No reactions in the (small) room, let's move the discussion to Slack?
Round 2
[matthias] I added chimney tear down tasks in the todo list above from the ventilation team. The list follows our priorities in which we want to work. We think, it might be good to announce early and have the possibility to do work already now, when the house is not so crowded. In the step of installing the ventilation later this year, we would then properly close and seal what comes up behind the chimneys :-)
[Maxime] fairtailer?

Andrea volunteers to check this week
None this week: voluntary based
Volunteers
Mon.:
Tue.:
Wed.:
Thu.:
Fri.:
Open Tuesday: Doug
Unavailabilities
Mon.: Andrea
Tue.: Andrea
Wed.:
Thu.:
Fri.:
Open Tuesday:
Week:
End result
Mon.:
Tue.:
Wed.:
Thu.:
Fri.:
Open Tuesday:
7. For next week