CoMe #203
Date: 2021-08-02
Facilitator: Zui
Notary: Janina
Mika caretaker: Thore, Maxime
Levi caretaker: Janina
Physical board caretaker: Momo
Digital calendar: Momo
Reservation sheet purifier: Andrea
Present: Michal, Laura, Matthias, Talita, Andrea, Clara, Momo, Janina, Nathalie, Tilmann, Doug, Maxime, Zui
---
0. Check-in round
1. Last week review
Stats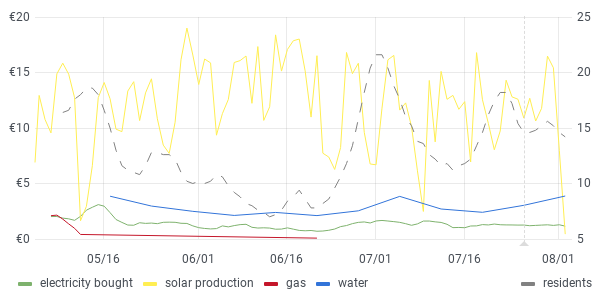 (Usage during the last 90 days)
Present: 15.1 people/day (-1.0)
⚡ Electricity

usage: 5.69 €/day (⬆️+7%)
paid: -4.54 €/day
☀️ self produced: 76% (0%)
emissions: 5 kg CO₂ₑ/week

💧 Water

paid: 3.87 €/day (⬆️+28%)
emissions: 2 kg CO₂ₑ/week
Expenditure
220€ for solar earthing stuff
7€ for 6 FFP2 masks
Income
Incidence:

Germany: 18
Saxony: 7
Landkreis Leipzig: 8

Adjusted prevalence Saxony: 0,03% (last thursday)
µCOVIDs available last week: {COVIDS FOR LAST WEEK NOT FOUND!}
µCOVIDs used last week:
µCOVIDS balance from last week:
µCOVIDs additional this week: 5000
µCOVIDs available this week:
µCOVIDs/person mean for this week: (18 people)
Things that happened
Knowledge was shared around GIMP
We had a Bassment Party!
We saw a lot of movies: The Lobster, Disclosure, Gravity Falls, Jojo Rabbit, Knives Out
We (Janina, Zui, Andrea, Mika, Nathalie, Momo) went to Leipzig to hold a foodsharing's stand
People are getting better at slacklining
There was a sharing event
Jon visited
We had a really big tarot session
2. This week planning
People arriving and leaving
Mon.: Larissa comes back
Tue.:
Wed.:
Thu.: Zui and Larissa leave
Fri.:
Sat.: Momo leaves (T^T)
Sun.: Matthias leaves, Clara leaves
Mon.:
Some day: Thore and Nathalie leave, Silvan comes back and leaves
Weather forecast
Mixture of quite some rain and sun, nice temperatures and some wind.
Evaluations and check-ins
Due for evaluation (and seen within the last 7 days):
Anja Volunteer : Absolute Days threshold 70/60 (+17%)
Nathalie Member : Absolute Days threshold 202/180 (+12%)
Talita Volunteer : Absolute Days threshold 66/60 (+10%)
Due for evaluation soon (in the next 7 days, and seen within the last 7 days):
Momo_WA Visitor : 2 days until Days Visited threshold (21)
Andrea Volunteer : 6 days until Absolute Days threshold (60)
Monday

Paper waste
10:00 CoMe [Zui]
14:00 Knowledge sharing: Revisiting the attic and going through what was done [Tilmann]
Park cars on even-side [Nathalie - already done]
20:30 Building talk

Tuesday

Hausmüll [Michal]
10:00 Monthly coordination meeting [Matthias]
10:30 4th roof planning meeting [Zui, Doug]
11:00 board member paper work session [Zui, Larissa, Janina]

Wednesday

Dresden trip and noodle pickup [Janina, ?]
Park cars on odd-side [Maxime]
18:00 Bitte Wenden Wurzen

Thursday

10:00 Power Hour [Fac.: Andrea, DJ: Maxime as backup]
15:00 Social sauna [Tilmann]

Friday

12:00 Markt Abholung [Andrea]
15:00 Momo's evaluation [Clara]
Biotonne [Doug]

Saturday

20:00 Project updates [Matthias]

Sunday

GSSX visit? [Doug, discuss]
10:00 foodsharing Brunch [Doug, Janina]

Next Monday
Next week summary
to be scheduled: (when possible, avoid scheduling events at times that would conflict with being part of the cooking team: 17:00-19:00)
[Doug] Dacha work-party! Garden work, repair, food, music, beer. Tue/Wed/Fri/Sat?
3. Shopping plans
[Doug] Dishwasher salt
[Janina] Sunflower seeds: Too expensive right now, wouldn't pursue this for now
[Janina] Portemonnaie: Does anybody have one laying around?
4. To do
Small fixes of things in the house
[x] fix backpack storage shelf in k20 staircase [Tilmann]
[ ] replace broken/string/toaster shoe rack spots
[ ] make k20 garden door easily closable from outside (or acquire a new door) https://yunity.slack.com/archives/C3RS56Z38/p1627483587048000
[ ] secure wash kitchen sink
[x] fix curtain holders in 'the private' [Zui]
[x] fix hipster room door indicator [Matthias]
[ ] think about plastic waste containers to be used in kitchen, snack kitchen and dumpster kitchen

[x] replace snack kitchen bag with plastic container [Janina]
[ x?] decide that the stable bag in the kitchen works well and can simply be emtied and put back
5. Discussion & Announcements
Round 1
[Matthias] Who is interested in getting another flat in Wurzen? Let's have a meeting, maybe already including a bidding round.

[Antonin] yay, that would mean cool neighbours for the WG! :)
A meeting will happen tonight

[Janina] Noodle pickup on Wednesday: Anybody up for going to Dresden with me?

General interest, also maybe to visit the hygiene museum.
Will be coordinated outside of CoMe

[Nathalie] KMW status update

[Nathalie] while driving on sunday it was basically fine, only the motor makes loud sounds when pushing gas and bit stuttering at the end
[Nathalie] also gas has to be refilled
[Matthias] There is one of 8 screws broken attaching the exhaust to the motor inside the motor block, that's what makes the sound. It's a bigger thing to fix it, but it might be okay for now.

[Tilmann] things from flat today afternoon - anybody wants to visit?

[Doug] Quite a lot of interesting things, but not much time.
[Tilmann] She has a car available today and can bring things if we tell her exactly what we want.

[Doug] Shall we have a MCM this month and/or week?

[Zui] It can be a kind of summer edition in which we simply fix todos.
[Matthias] I think it's important to keep it going and would facilitate the session.

[Zui] No sunflower seeds..? I'm very unhappy with the spread situation.

[Janina] Since they're so expensive I would rather go for buying red lentils this time. They can also be used for cooking, have better nutritional value and are something else for a change. But I'm not motivated to go into the purchase process myself right now.
Somebody could go forward, but for now nobody volunteered.
Round 2
[Doug] Roof finale scheduling. Is it going to happen?

[Doug] I think we can do it this year still and it would be my preference.
[Zui] I have a lot to say to this but I don't think it's the right place here.
[Nathalie] Maybe you can just talk after the MCM tomorrow.

[Matthias] Yoga Room future?
Round 3
[Matthias] I'd like to get some ventilation working in the next months: Bathroom, Snack-Kitchen, Piano Room. I'd like to have a meeting this week with people interested in planning. Also, I'd expect to spend some money on this, the group can figure something out.
[Nathalie] When Thore and I are gone again the flat will be empty and now ti even has 3 sleeping spots available! :) There will be a slack post about this soon as well.
Volunteers
Mon.: Nathalie
Tue.: Thore
Wed.:
Thu.: Andrea, Janina
Fri.:
Open Tuesday:
Unavailabilities
Mon.: clara
Tue.: clara
Wed.: clara, Matthias
Thu.:
Fri.: Momo
Open Tuesday: maxime, Momo, Matthias, clara
Week: michal, Talita, Laura, Zui
End result
Mon.: Nathalie, Matthias
Tue.: Thore
Wed.: Momo, Maxime
Thu.: Andrea, Janina
Fri.: Tilmann, Clara
Open Tuesday: Doug
7. For next week