CoMe #241
Date: 2022-04-25
Facilitator: chandi
Notary: Andrea
Mika caretaker: janina
Levi caretaker: janina
Physical board caretaker:
Digital calendar: zui
Reservation sheet purifier:
Present: Larissa, Chandi, Nathalie, Silvan, Andrea, Zui, Matthias
---
0. Check-in round
1. Last week review
Stats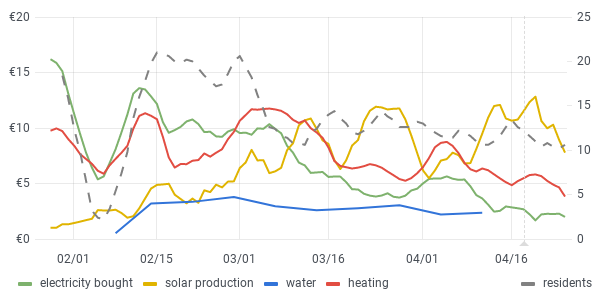 (Usage during the last 90 days)
Present: 10.6 people/day (-1.9)
⚡ Electricity

usage: 35.46 €/week (⬇️-6%)
of that for heating: 37.41 €/week
paid: -20.53 €/week
☀️ self produced: 55% (⬆️+5%)
emissions: 13 kg CO₂ₑ/week
Expenditure
[chandi+matthias+zui] the infection costed us 120€ this week :)

40€ for 25 really good tests ("longsee")
60€ for 50 good tests ("green spring")
20€ for pizza 😄 ???

[antonin] 100€ for electricals for the silent office
Income
Things that happened
In or around Kanthaus
Covid party!
Bought Pizza party!
Meeting with someone from die Linke

Wider world

war
france: no Le Pen!
2. This week planning
People arriving and leaving
Mon.:
Tue.:
Wed.:
Thu.: maxime probably comes back, chandi leaves
Fri.:
Sat.:
Sun.: Clara_WA probably comes, chandi comes back
Mon.:
Some day:
Weather forecast
Okayish weather with 15º degrees during the day and light sun and only today with rain.
Evaluations and check-ins
Thore Volunteer : Absolute Days threshold 104/60 (+73%)
Larissa Member : Absolute Days threshold 216/180 (+20%)
Nathalie Volunteer : Absolute Days threshold 66/60 (+10%)
:clock1130: Due for evaluation soon (in the next 7 days, and seen within the last 7 days):
Silvan Volunteer : 1 days until Absolute Days threshold (60)
Andrea Volunteer : 5 days until Absolute Days threshold (60)
Monday

10:00 CoMe [chandi]
Park ~~KMW & ~~trailer on even/that side [done]

Tuesday
Wednesday

10:00 building weeks meeting
Park KMW & trailer on odd/other side [Silvan]

Thursday

10:00 Power Hour [Fac.: Co-Facilitation Andrea Zui, DJ: ?]

Friday

bio waste [Larissa]
10:00 Attic working session and skillshare [Tilmann]
14:00 social sauna in the garden [Zui]

Saturday

15:00 Foodsharing Wurzen Info Meeting

Sunday

14:00 Cycle training session (meet in front of KH) [Antonin]

Next Monday
Next week summary
To be scheduled: (avoid conflicts, e.g. cooking team: 17:00-19:00)
Proposals: https://codi.kanthaus.online/KnowledgeSharingSessions?edit
3. Shopping plans
4. To do
Newest tasks on top
[ ] make the wall nice in K20-2 bathroom where the boiler has been
[ ] remove old gas heater from basement to trash corner - needs 3-4 people
[ ] repair Schaukasten
[ ] KMW: buy new windscreen wiper and change it
[ ] KMW: fix the ventilation switch
[ ] Light: hallway of the K20-1 flat
[ ] Light: hallway of the K20-2 flat
[ ] Light: freeshop hallway
[ ] Light: K22 garden door
[ ] continue Grundstücksverschmelzung K20 + K22 (combining both properties)
5. Discussion & Announcements
Round 1
[zui] switching power hour and social sauna this week? otherwise I can't participate in social sauna (same in two month) because I have a apointment in leipzig.
Would not like to pospone it and not do the social structure of KH. Maybe we could do it online.

[Larissa] Online doesn't seem attractive, but in garden?
[Nathalie] How are the quarentine rules for each person?
[Chandi] We can make it on Friday.

[Larissa] mask-free areas for negative people?

Dining room and office would be areas for negative people. The question is if it would be possible to avoid the children from going around. Maybe blocking the dining room so the negative poeple can use would be a nice idea. Ask Janina and Tilmann about the children. Another question: how is the usage of the main bathroom?
[Chandi] It would be nice to hace communal spaces for people without corona.
[Zui] Having a place to eat on a table would be nice.
[Matthias] Janina is today alone with the kids so it would be nice to offer support so that it is easy for the kids to stay in the 22.
[Nathalie] Cooking and providing this everyday care might help.
[Larissa] The question is how to make difficult for the kinder to access the dining room.
[Chandi] The idea: dining room and office mask free for the negative people and thinking about ways to block the rooms. Also make sure that some equipment from the snack kitchen is available in the 22.
Round 2
[zui] KMW on the 13.-14.05.(friday afternoon and saturday morning in the bilding weeks) to bring something to leipzig (for the FLINTA* Technik Treff) and pick something up (very big musik box) for KH
[Silvan] how do we do it this week with the food tasks? It would be cool to have communal dinner.

[Chandi] We could do the task lottery without lottery, people volunteering for the food. People not here can volunteer to help :)
Round 3
[Zui] We have finance week (Steuererklärung) and we will be busy, so we won't be able to take care a lot of the corona people.
Monday:
Tuesday: Silvan
Wednesday: chandi
Thursday:
Friday (after 6.15pm): Matthias, zui
Saturday:
Sunday:
7. For next week