CoMe #246
Date: 2022-06-06
Facilitator: Matthias
Notary: Antonin
Mika caretaker: Tilmann
Levi caretaker: Tilmann
Physical board caretaker: Nathalie
Digital calendar: Doug
Reservation sheet purifier: Doug & Kalle
Present: Kalle, Doug, Silvan, Matthias, Antonin, Nathalie, Janina, Mika, Thore, Anja, Larissa, Maxime, Zui, Tin
---
0. Check-in round
1. Last week review
Stats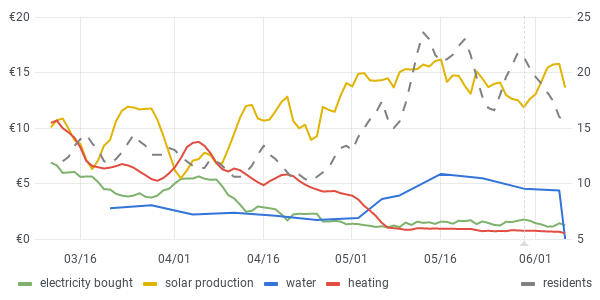 (Usage during the last 90 days)
Present: 16.4 people/day (-4.0)
⚡ Electricity

usage: 52.29 €/week (⬇️-14%)
of that for heating: 5.13 €/week
paid: -54.61 €/week
☀️ self produced: 79% (⬇️-1%)
emissions: 13 kg CO₂ₑ/week

💧 Water

paid: 26.27 €/week (⬇️-17%)
emissions: 2 kg CO₂ₑ/week
Expenditure
[chandi] 20€ for first aid boxes
Income
Things that happened
In or around Kanthaus
Ultimate frisbee action game
The yoga room light frame has been completed
The first strawberries were harvested
Wider world
The 9 euro ticket started and now Germany is a socialist country
The trains are full now
Critical mass in Grimma
2. This week planning
People arriving and leaving
Mon.: chandi left
Tue.:
Wed.: kito, Louis come back
Thu.: chandi comes back, Matthias leaves
Fri.: JaTiMiLe, Zui, Nathalie, Tin and Antonin leave
Sat.:
Sun.: Nathalie and Tin come back
Mon.:
Some day: Doug & Anja leave, Kalle leaves
Weather forecast
Sunny and warm (but not hot) with some wind and maybe some bits of rain.
Evaluations and check-ins
Thore Volunteer : Absolute Days threshold 146/60 (+143%)
Anja Volunteer : Absolute Days threshold 98/60 (+63%)
Andrea Volunteer : Absolute Days threshold 97/60 (+62%)
Matthias Volunteer : Absolute Days threshold 75/60 (+25%)
Doug Member : Absolute Days threshold 202/180 (+12%)
Monday

10:00 CoMe [Matthias]
Post-Sunday-Dumpster-Diving sorting/cleaning [Kalle, Tin, Larissa]

Tuesday

Paper waste [matthias]
08:31 Tauschladen trip [Matthias]
15:00 Evaluation Thore [Antonin]
20:00 OpenRefine, string diagrams and why it all matters [Antonin]

Wednesday

Rest waste [Tin]
Park KMW & Trailer on odd/that side [Silvan]
Hygienemuseum Dresden trip [Anja, Doug]
Tobi from HZ comes pick up the scaffolding
Punkrocktresen

Thursday

10:00 Power Hour [Fac.: Larissa, DJ: ?]
18:00 foodsharing Wurzen meeting @Garden [Thore, Janina]

Friday
Saturday
Sunday
Next Monday
Next week summary
To be scheduled:_ (avoid conflicts, e.g. cooking team: 17:00-19:00)
Proposals: https://codi.kanthaus.online/KnowledgeSharingSessions?edit
3. Shopping plans
4. To do
Newest tasks on top
[ ] remount snack kitchen radiator [Silvan?]
[x] sort first aid stuff, make two sets [chandi]
[ ] mount fire extinguisher & first aid kits visible in the staricases K20-1 and K22-1
[ ] repair right bike shed light
[ ] make the wall nice in K20-2 bathroom where the boiler has been [Larissa]
[ ] repair Schaukasten
[ ] add a doorbell in the garden
[ ] fix or rework the K20 bathroom occupancy indicator
[ ] KMW: buy new windscreen wiper and change it
[ ] KMW: fix the ventilation switch
[ ] Light: hallway of the K20-1 flat
[ ] Light: hallway of the K20-2 flat
[ ] Light: freeshop hallway
[ ] Light: K22 garden door
[ ] continue Grundstücksverschmelzung K20 + K22 (combining both properties)
5. Discussion & Announcements
Round 1
[Janina] Lausitz bike trip about to start! Here's some polite requests:

Can Daria come? No concerns so far, please approach Janina if any left.
Can we have childcare for packing up?
Don't be surprised when all the plastic water bottles disappear :3

How do we manage the water bottle shortage? Can bottles be taken from the basement? -> off-CoMe discussion

No communal bikes will be used

[Anja] Doug and me will go to the Hygiene Museum in Dresden on Wednesday. Possibly also visiting Felix in Dresden. Feel free to join us!

[Silvan] is there any time when it is free?

[Anja] not sure, but 5€ is still affordable

[Antonin] Please fill in the K18 poll, especially volunteers and members
[chandi] first aid things are sorted

there is now the (almost) same set of material in the bathroom and K22 staircase
complies DIN 13164 :) + extra stuff
everything else (refill + non first aid things) in the medical storage
if you deplete something, make sure to refill it :) and keep the tools in there

[zui] my mum comes on wednesday, just so you know :)
[Doug] Axel would borrow/get a tent. Can we find one that bike trip people do not want to take? He is also doing official foodsharing at a festival and wants to use the KMW to do the pickup there.

[Silvan] we do not have so many functioning tents so it would be good to have it back
[Larissa, Janina] sorting and decision made in a small group?
Round 2
[Anja] closing the freeshop for two weeks? Because there are so few people.

[Larissa] will there be more people in two weeks?
[Matthias] maybe rather 3 weeks?
[Nathalie] will do it next week

[Matthias] Harzgerode pickup: Tobi will need help to get the scaffolding out of the basement

[Kalle] feels up for helping
[Tin] would be up on Thursday
[Larissa] it would be good to keep an inventory of what we lend them
[Matthias] giving away windows to Alix: we would need 2-3 people to mix and match windows, Matthias feels up for doing it but would need help
[Janina] giving away blankets (without covers) because we have enough of that size? No resistance.
[Janina] how many oatmilk do we need? Do we need to tell Tobi?

[Silvan] 2-3 pallets?
[Matthias] 2 is probably enough
[Kalle] a lot of oat milk available from another house project further appart

[Anja] the knitting stuff can also go to HZ

[Kalle] if you need help, approach me
[Doug] closing the door silently in K20-1 please
[Janina] huge puddle of white paint in the yoga room. How did that happen? How to remove it? Zui attempted to seal the paint pot by turning it upside down, but in a different location than where the puddle is. Please clean up after your building sites!

[Nathalie] sigh, the yoga room!
[Nathalie] can imagine doing some cleaning up of the floor
[Silvan] can take care for taking the paint boxes away
Volunteers
Mon.: Silvan
Tue.: Zui
Wed.: kito
Thu.:
Fri.: Thore
Open Tuesday: Anja, Kalle
Unavailabilities
Mon.: Matthias, Nathalie, Larissa, Tin
Tue.: Antonin, Larissa
Wed.: Antonin , Larissa, Tin, Doug
Thu.: Antonin, Matthias, Nathalie, Doug
Fri.: Antonin, Matthias, Nathalie, Larissa, Tin, Doug
Open Tuesday: Antonin, Matthias, Larissa, Maxime
Week: Janina
Result
Mon.: Silvan, Antonin
Tue.: Zui, Doug
Wed.: kito, Nathalie
Thu.: Tin, Larissa
Fri.: Thore, Maxime
Open Tuesday: Anja, Kalle
7. For next week