CoMe #254
Date: 2022-08-01
Facilitator: Eric
Notary: Doug
Mika caretaker: -
Levi caretaker: -
Physical board caretaker: Martin
Digital calendar: Doug
Reservation sheet purifier: Matthias
Present: Doug, Eric, Nathalie, Matthias, Martin
---
0. Check-in round
1. Last week review
Stats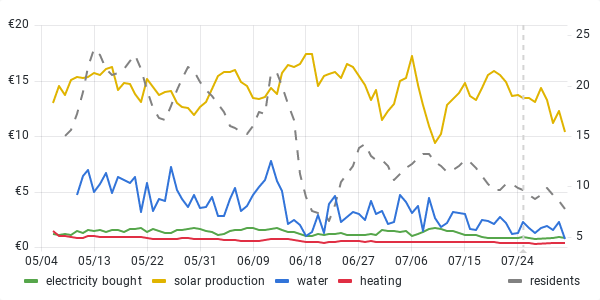 (Usage during the last 90 days)
Present: 8.1 people/day (-1.7)
⚡ Electricity

usage: 32.65 €/week (⬇️-1%)
of that for heating: 3.34 €/week
paid: -44.78 €/week
☀️ self produced: 77% (⬇️-4%)
emissions: 8 kg CO₂ₑ/week

💧 Water

paid: 12.81 €/week (⬇️-9%)
emissions: 1.0 kg CO₂ₑ/week
Expenditure
Income
Things that happened
In or around Kanthaus
Wider world
A 7.0 magnitude earthquake strikes Luzon in the Philippines, killing 10 people and injuring at least 394 others.
Infolge der Dürre und Hitze in Europa ist es in den Nationalparks Sächsische Schweiz und Böhmische Schweiz zu Waldbränden gekommen.
2. This week planning
People arriving and leaving
Mon.:
Tue.: Nathalie, Thore, Doug leave
Wed.: maxime comes back (Oh no, I'll miss you! :cry: [Doug])
Thu.:
Fri.:
Sat.:
Sun.: Antonin comes back
Mon.:
Some day:
Weather forecast
Evaluations and check-ins
Monday

10:00 CoMe [Eric]
Park KMW & trailer on even/this side [Matthias]
Papier [Doug]

Tuesday
Wednesday

Park KMW & trailer on odd/that side [Matthias]

Thursday

10:00 Power Hour [Fac.:Martin]

Friday
Saturday
Sunday
Next Monday
Next week summary
To be scheduled:_ (avoid conflicts, e.g. cooking team: 17:00-19:00)
Proposals: https://codi.kanthaus.online/KnowledgeSharingSessions?edit
3. Shopping plans
4. To do
Newest tasks on top
[ ] unblock k22-upper bathroom sink [Doug would help, 2-30 min]
[ ] fix or rework the K20 bathroom occupancy indicator
[ ] fix weekly-report script

electricity: include solar production estimation from the unrecorded panels []

[ ] renew the "Kanthaus"- sign on the Kanthaus [spraypaint by Kito?] Denkmalschutz der Fassade?
[ ] sort out garden stuff in woodshed [Anja]
[ ] remount snack kitchen radiator [Silvan?]
[ ] mount fire extinguisher [chandi]
[ ] first aid kits visible in the staricases K20-1 and K22-1
[ ] make the wall nice in K20-2 bathroom where the boiler has been [Larissa]
[ ] repair/replace Schaukasten
[ ] add a doorbell in the garden
[ ] KMW: buy new windscreen wiper and change it
[ ] KMW: fix the ventilation switch
[ ] Light: hallway of the K20-1 flat
[ ] Light: hallway of the K20-2 flat
[ ] Light: freeshop hallway
[ ] Light: K22 garden door
[ ] continue Grundstücksverschmelzung K20 + K22 (combining both properties)
5. Discussion & Announcements
Round 1
[Doug] Nextcloud alternates being fine and unusably slow. How can we keep it being fine?

[Antonin] I am planning to put in an expense request for next CoMe to rent server space to host it there
People positive with that! Seems like the small group is happy/neutral for you to go forward.

[Matthias] Asks to borrow Nathanael 7-10 days.
[Nathalie] brings up food chain issue...
Round 2
Volunteers
Mon.:
Tue.:
Wed.:
Thu.:
Fri.:
Open Tuesday: Andrea, Doug
Unavailabilities
Mon.: Matthias
Tue.: Martin
Wed.: Matthias
Thu.: Matthias
Fri.: Matthias
Open Tuesday:
Week: Nathalie
Result
Mon.: Matthias
Tue.: Eric
Wed.: Martin
Thu.:
Fri.:
Open Tuesday: Andrea, Doug
(Done without lottery, OMG)
7. For next week