CoMe #270
Date: 2022-11-21
Facilitator: Maxime
Notary: Antonin
Mika caretaker: Kita
Levi caretaker: Kita
Physical board caretaker: Doug
Digital calendar: Antonin
Reservation sheet purifier: Janina
Present: Maxime, Doug, Tilmann, Larissa, Janina, Antonin, Martin
---
0. Check-in round
1. Last week review
Stats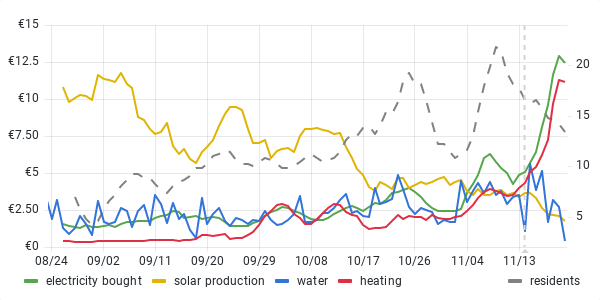 (Usage during the last 90 days)
Present: 13.9 people/day (-4.1)
⚡ Electricity

usage: 123.7 €/week (⏫+63%)
of that for heating: 78.46 €/week
paid: 86.48 €/week
☀️ self produced: 27% (⬇️-20%)
emissions: 64 kg CO₂ₑ/week

💧 Water

paid: 23.15 €/week (⬇️-4%)
emissions: 1.8 kg CO₂ₑ/week
Expenditure
[tilmann] things for attic floor & related, will calculate the actual sum next week

most of it is already paid
Income
nothing in the shoe
50€ donation, thank you!
Things that happened
In or around Kanthaus
the super-size blankets got upgraded to the winter-edition
The WWW and the CCC (Camel Cup Craze and Cold Critical Crass)
critical mass!
we have new doors for the attic, already started putting them in
a four hour electro sorting party happened and most devices got sorted out
special edition of Punk Rock Tresen
Wider world
Mastodon is booming!
more than 8 billion people on the planet
2. This week planning
People arriving and leaving
Mon.: Silvan comes back, Andrea will come too
Tue.:
Wed.: Anja might come for a night, Anneke returns at 21:15
Thu.:
Fri.: 4 people of HZ Bauschirm arrive (right?)
Sat.:
Sun.: some Blindspots people, kito included, might come in the evening for a short visit perhaps until monday noon
Mon.: Doug leaves
Some day: Silvan leaves for the weekend, Lara might come back at some point
Weather forecast
Temperatures around 0°C, somewhat sunny around the middle of the week
Evaluations and check-ins
Due for evaluation (and seen within the last 7 days):- Anja Volunteer : Absolute Days threshold 266/60 (+343%)
Thore Volunteer : Absolute Days threshold 73/60 (+22%)
Silvan Volunteer : Absolute Days threshold 68/60 (+13%)
Larissa Member : Absolute Days threshold 202/180 (+12%)
Kito Volunteer : Absolute Days threshold 61/60 (+2%)
Monday

Blue bin [Martin]
10:00 CoMe [Maxime]
Monday Food Care [Janina, Martin]

Tuesday

Black bin [Antonin]
11:00 Larissa's evaluation [Antonin]
10:00 - 13:00 Bitte wenden coworking @office? [Janina, Unkraut]
15:00 - 17:00 Open Tuesday []

Wednesday

9:00 - 12:00 Attic cleanup! [Tilmann, Martin, you?]

it would be great to have more people participate!

before noon: drywall delivery

the panels will be stored in the K22 entrance temporarily, the goal is to carry them up to the attic as quickly as possible. Help is appreciated and can happen all day.

18:00 SoLaWi exchange + KüfA @NDK [Janina, Anja, you?]
evening: 19:00 Punkrocktresen @NDK

Thursday

Bio waste bin [Martin]
10:00 Power Hour [Fac.: Antonin, DJ:]
14:30 AG PSW meeting @Fansipan? [Janina, Zui, external]

Friday

16:00 Kita Christmas market @Burkartshain [Janina, Larissa, Bubis, you?]
18:00 Leipzig Critical Mass [Martin, you?]

Saturday

Sunday

Next Monday

Next week summary
To be scheduled:_ (avoid conflicts, e.g. cooking team: 17:00-19:00)
Proposals: https://codi.kanthaus.online/KnowledgeSharingSessions?edit
longterm scheduling https://pad.kanthaus.online/KH-plenum#
3. Shopping plans
[tilmann] 8€ CEE 380V wall socket, for insulation blowing machine https://www.ebay.de/itm/185661057345
[tilmann] 39€ for 100m window sealing tape (D-Profil 9mm), to improve air-tightness of windows in heated rooms. https://www.ebay.de/itm/265336994917
[Janina] I often buy some dry ingredients such as rice or pasta, let me know if that should change

[various people] shopping locally is often as cheap as buying in big quantities and is easier
4. To do
Newest tasks on top
[ ] treat mold in Ex-food-storage and hipster room

Those rooms need a fresh air supply (Zuluft)
Some more work would be welcome to finish connecting those rooms to the ventilation system

[ ] renew the "Kanthaus"- sign on the Kanthaus
[ ] make the wall nice in K20-2 bathroom where the boiler has been [Larissa]
[ ] Light: hallway of the K20-1 flat
[ ] Light: freeshop hallway
[ ] Light: K22 garden door
[ ] continue Grundstücksverschmelzung K20 + K22 (combining both properties) [Larissa]
[ ] fix bike repair station instructions
5. Discussion & Announcements
put bigger discussions or decision making here: https://pad.kanthaus.online/KH-plenum#
Round 1
[kito, janina] ToI!
[Antonin] please remember to turn off the electric heater above the bath tub when you leave. I have found it left on multiple times already.

various proposals about what to do about it

[Maxime] privatized bathroom in the evening

changed the sign to say that bathroom privatization is not wished until midnight
[Larissa] the current times on the sign are indeed a trial and not set in stone
there is toothpaste in various other places in the house
Statement from Janina: we still like visitors!
Round 2
[janina] the next solawi group wants to come! ^_^ anybody up for hosting in january?

11th to 15th January (Janina cannot host but can do email communication)
one member of the group has been here already
10-12 people
Doug offers to host with 80% likelihood, with a co-host
we'll somehow manage

[kito] probably tomorrow i will start an ukuvota regarding the FFJ. together with Doug, I decided to do just one proposal which I could also change if you talk to me, or you add your own proposal. proposal and voting time will be one week each. I'm not in KH until sunday/monday, so please write me a message if you have questions :)

[Doug] there is the idea that we could aim to have one attic finished to have them sleep there

[Doug] plans to do a CamelCup session arond noon to make it possible for unusual participants to join
Volunteers
Mon.: Janina
Tue.: Larissa
Wed.:
Thu.:
Fri.:
Open Tuesday:
Unavailabilities
Mon.: Maxime
Tue.:
Wed.: Doug, Antonin
Thu.: Doug
Fri.: Martin, Maxime, Doug
Open Tuesday: Maxime
Week: Tilmann
Result
Mon.: Janina
Tue.: Larissa
Wed.: Martin
Thu.: Maxime
Fri.: Antonin
Open Tuesday: Doug
7. For next week