CoMe #302
Date: 2023-07-17
Facilitator: Larissa
Notary: Antonin
Mika + Levi caretaker: not needed
Physical board caretaker: Dorota
Digital calendar: Kito
Reservation sheet purifier: Cecilia
Present: Cecilia, Larissa, Dorota, Antonin, Kito, Anneke, Arrakis
---
0. Check-in round
1. Last week review
Stats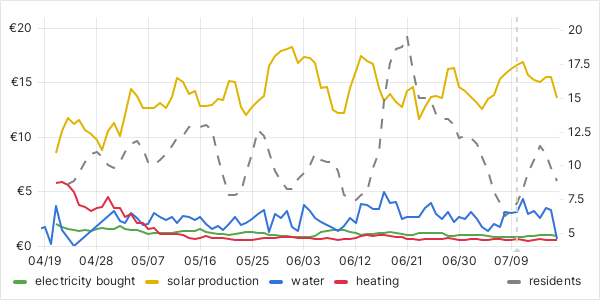 (Usage during the last 90 days)
Present: 9.6 people/day (+2.7)
⚡ Electricity

usage: 18.99 €/week (⬆️+11%)
of that for heating: 0.34 €/week
of that for hot water: 1.25 €/week
paid: -59.83 €/week
☀️ self produced: 79% (⬇️-2%)
emissions: 9 kg CO₂ₑ/week

💧 Water

paid: 23.19 €/week (⬆️+54%)
emissions: 1.8 kg CO₂ₑ/week
Expenditure
Income
Things that happened
In or around Kanthaus
Kanthaus had its 6th birthday and we didn't really celebrate!
people were in Leipzig at the bookfair
first German lesson in Kanthaus
some people were at Andrea's birthday in Leipzig
multiple groups visited Kanthaus
Wider world
visit to the Hackerspace in Leipzig
Tekmîl
please don't leave toilet seats wet
please put down the toilet seat after use (and maybe don't even pee while standing)
[kito] I did not quite do my power hour task last week
[cecilia] I did not put the bins out
2. This week planning
People arriving and leaving
Mon.: Martin comes back, kito leaves, silvan comes back
Tue.:
Wed.: Larissa leaves for ~3 weeks, Antonin leaves
Thu.: Silvan leaves
Fri.:
Sat.:
Sun.:
Mon.:
Some day:
Weather forecast
Evaluations and check-ins
Cecilia_WA Visitor: Days Visited threshold 27/21 (+29%)
Dorota_Stilgar Visitor: Days Visited threshold 24/21 (+14%)
Anneke Volunteer: Days Visited threshold 67/60 (+12%)
Monday

10:00 CoMe [Larissa]
11:00 Power Hour

Tuesday

black bin [Anneke]
10:00 Cecilia's evaluation [Antonin]
15:00 - 17:00 Open Tuesday []

Wednesday

12:00 - 17:00 MitMachCafé

Thursday

15:00 social sauna [skip]
13:00 - 18:00 MitMachCafé

Friday

organic waste [Cecilia]
Market pick-up [Dorota]

Saturday
Sunday
Next Monday
Next week summary
To be scheduled:_ (avoid conflicts, e.g. cooking team: 17:00-19:00)
Proposals: https://codi.kanthaus.online/KnowledgeSharingSessions?edit
3. Shopping plans
4. To do
Newest tasks on top
[ ] curtain for the Cave
[ ] maintenance of Phoenix bike - ask Martin?
[ ] make K20-2 bathroom privacy indicator realiable - ask Tilmann
[ ] fill holes in Snack kitchen floor where moths breed [Akos]

it started but it not done yet, unclear what is the right material

[ ] fix Daria trailer back lights

[Martin] Cables got pinched, I would redo the whole thing (but not now)

[ ] give away saved windows in K18 (a lot)

maybe https://www.trashgalore.de/ ? [Martin]

[ ] give away roof windows (outside, under green tarp next to palettes)
[ ] give away roll of Dampfsperre
[ ] give away 2 rolls of Unterspannbahn
[ ] replace shower curtain by (plexi)glass construction
[ ] renew the "Kanthaus"- sign on the Kanthaus [Kito]
[ ] grout the mosaique in the K20-2 bathroom []
[ ] light: freeshop hallway
[ ] light: K22 garden door
[ ] continue Grundstücksverschmelzung K20 + K22 (combining both properties) [Larissa]
5. Discussion & Announcements
Round 1
[Antonin] looking for a host for Jacki (they) during the building week
[Arrakis] introduces himself
Round 2
[Antonin] taking over the residency record
[kito] did we forget the weather?
Round 3
Round 4
[Antonin] wooden knives in the dishwasher
Volunteers
Mon.: Antonin
Tue.: Nofal & Reem
Wed.: Anneke, Arrakis
Thu.: you?
Fri.: Dorota
Open Tuesday: Cecilia
Unavailabilities
Mon.:
Tue.: Dorota
Wed.:
Thu.: Cecilia
Fri.: Cecilia
Open Tuesday: Dorota
Week: kito, Larissa
Result
Mon.: Antonin
Tue.: nofal & reem
Wed.: Anneke, Arrakis
Thu.:
Fri.: Dorota
Open Tuesday: Cecilia
7. For next week