CoMe #213
Date: 2021-10-11
Facilitator: Matthias
Notary: Antonin
Mika caretaker: Silvan & Larissa
Levi caretaker: Janina
Physical board caretaker: Andrea
Digital calendar: chandi
Reservation sheet purifier: Doug
Present: Matthias, Tilmann, Larissa, Nathalie, Thore, Maxime, Zui, Andrea, Antonin, Doug, Janina, Levi, Silvan, Mika
---
0. Check-in round
1. Last week review
Stats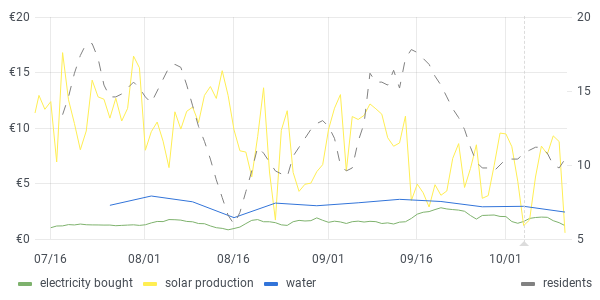 (Usage during the last 90 days)
Present: 10.7 people/day (+0.1)
⚡ Electricity

usage: 5.88 €/day (⬇️-4%)
paid: -0.6 €/day
☀️ self produced: 69% (⬇️-1%)
emissions: 13 kg CO₂ₑ/week

💧 Water

paid: 2.43 €/day (⬇️-18%)
emissions: 1 kg CO₂ₑ/week
Expenditure
[antonin] 199.90€ fees for scaffolding authorization
[matthias] 43,99€ for missing pieces for heating installation
[matthias] 34€ for drillbit to drill 130mm ventilation pipe holes into the walls
[matthias] 35,50€ for 16 original Miele Hyclean 3D GN vacuum cleaner bags
[matthias] 1679€ for ventilation parts
Income
0
Things that happened
In and around Kanthaus
2nd pool trip with the kids
really empty and calm weekend
zui and larissa did a bike trip and went to the party in pödi
first night frost for this cold season
new ventilation hole in Lantern
a lot of new signs appeared in kanthaus
a solidarische nachbarversammlung happened in GSX and Kh was represented there
Felix visited and took his bike back
In the wider world
Kurz, Altmaier and AKK stepped back from their positions :tada:
the Greens in Scottland are getting in power and setting up free busses for the young
2. This week planning
People arriving and leaving
Mon.: 5 FFJ people and Leonie_WA arrive, Clara comes back
Tue.: Anja arrives, Artiola_WA arrives
Wed.:
Thu.: Guido_WA arrives, Silvan leaves, Zui leaves
Fri.: Silvan comes back
Sat.:
Sun.:
Mon.: Zui comes back
Some day:
Weather forecast
rainy in the next days, average temperatures should rise a bit. Keep windows and doors closed!
Evaluations and check-ins
Monday

10:00 CoMe
13:00 Roof meeting
Park cars on even side [Matthias]

Tuesday

13:00 Roof meeting
Open Tuesday
Afternoon: Detailed house tour [Janina]

Wednesday

Building month start!
Park cars on odd side [Matthias]

Thursday

Friday

Biotonne [Thore]
10:00 Power Hour [Larissa]
12:00 Market Pickup [Nathalie/Janina]

Saturday

Sunday

Next Monday

Next week summary

Roof building month!
Lots of visitors next week-end

Days until Roof month: 2!
to be scheduled: (when possible, avoid scheduling events at times that would conflict with being part of the cooking team: 17:00-19:00)
3. Shopping plans
4. To do
Small fixes of things in the house
High priority
[ ] secure k22-2 bathroom sink
Medium priority
[ ] More storage spaces for visitors
[ ] make k20 garden door easily closable from outside (or acquire a new door) -> apparently old door handle in workshop on left https://yunity.slack.com/archives/C3RS56Z38/p1627483587048000
[x] fix loose table leg in Lantern [Tilmann]
Ventilation preparation:

[ ] remove chimney and ventilation pipes in K22-2 bathroom
[ ] remove chimney in K20-2 communal sleeping room

[ ] replace broken/string/toaster shoe rack spots [Andrea, Doug]
[ ] yellow bin in snack kitchen - new solution
[ ] reinforce hook for laundry rack K22-1# [Antonin]
[x] toilet fill valve in baby bathroom is leaking - maybe clean it? [Tilmann]
[x] toilet flush chain in K20-0# became too short, make it longer [Antonin]
[ ] lubricate door hinges
5. Discussion & Announcements
Round 1
[chandi] Let's provide more space for visitors again!

short term storages: I'll put everything in unlabled spaces into the vortex 1h after come
communal closet: please consider, whether you need all the storage space or whether it could be used by others. prominent:

Clara (most space usage)
Nathalie & Thore

office spaces: please only block 1 desk slot for more than a day

ping matthias @ main office + fansipan
ping andrea @ dragon + silent

dragon room: the new intermediate?!

[tilmann] we want to move the ventilation parts out of the way, maybe to ex food storage? Many of these items should be sold.

[matthias] also check your boxes in the intermediate storage month

[doug/maxime] Roof+ month!

week structure proposals: work days by default would be Monday to Friday, but could be exchanged with a week-end day, for example if we can expect the weather to be much better, to be decided in the DCM (Day Coordination Meeting)
day structure proposal [read calendar example]

8:30: breakfast
09:00-12:00 morning session
12:00 lunch
13:00-16:00 afternoon work session
18:00 Day Coordination Meeting
19:00 dinner
20:00 kitchen clean-up
20:30 entertainment, dumpster diving

you are welcome to add ideas in the pad in the Evening/Weekend plans (Movie ideas, Games)
[maxime] there was the idea to use the dragon room as a backup lunch room during the building month, when eating in the garden isn't an option (raining or too cold)

[Andrea] there is also the potentially conflicting plan of using it as office space

[janina] sleeping spot planning for this week?

[doug/maxime] we would invite people to fill their preferred sleeping place for the week in this sheet [show sleeping planing sheet]. We would then get the people arriving later to do the same with the help of their hosts. People with external sleeping place options (flat in Wurzen, garden, etc) but still considering sleeping in KH could see where to sleep after everone else is settled. Also a facilitator for this process could be useful (to avoid having a sleeping meeting). This sleeping planning could happen on Monday (after come, or dinner).
[Matthias] doing it not today but only once most people have arrived
[Janina] guests might not have strong feelings because they do not know the place yet
[Zui] people using privates for a long time should still keep the room tidy during daytime (do not store your stuff there)
[Janina] putting boxes of personal stuff in the ex-food storage
[Nathalie] short-term storage next to the bathroom might be enough, not living out of their backpacks
[Matthias] we should all clear our stuff from the backpack storage area
[Tilmann] leaving personal stuff in the communal if they find some space?

[Zui] it wakes up people if people access stuff there

[Andrea] "Awareness team" for Building month.

2-3 people who have the task to be available to be approached about issues they do not feel like voicing in other contexts
not only for guests but for longer-term residents too
need other people
maybe meeting on next Monday evening to think about the needs and the format
[Nathalie, Chandi] could imagine like joining

[Antonin] making the communal bookable like the dorm?

[Silvan] making the sign easy to read
Round 2
[chandi] Announcement: There is discussion about how to proceed with the heatpump sourcing?

Slackpost: https://yunity.slack.com/archives/C3RS56Z38/p1633872757311600
Ukuvota: https://ukuvota.world/#/app/38846291-8cb1-4255-5f2a-04098274ffb9/collect
[chandi] being cold already
[Matthias] in the past 3 years, we never started heating before first of november
[Tilmann] heating can be turned on, with (slightly more) expensive options
consensus to discuss more details outside of CoMe -> see Slack
[Maxime] trying to decouple the questions: when should we start heating, and how should we heat?
[Doug] proposal to make a whiteboard to record who would like to have heating turned on

[tilmann] encourages people to use hot water bottles when they feel cold (in addition to warm clothing) - it's MUCH more energy efficient than turning on central heating and thus might be useful during the next weeks!

[Matthias] hot showers are also fine! (or even baths!!)

[antonin] is interested in finding ways to organize dumpster washing more, see Slack: https://yunity.slack.com/archives/C3RS56Z38/p1633938452318500
[Maxime] door of K20-2 is squeaking, should we lubricate it?
Round 3
Volunteers
Mon.: Nathalie, Thore
Tue.: Zui
Wed.: Andrea
Thu.: Larissa
Fri.:
Open Tuesday: Anja
Food washing:
Unavailabilities
Mon.: chandi
Tue.:
Wed.: Antonin
Thu.:
Fri.:
Open Tuesday: Janina, chandi, Maxime
Week: Silvan
End result
Mon.: Nathalie, Thore
Tue.: Zui, Tilmann
Wed.: Andrea, Janina
Thu.: Larissa, Chandi
Fri.: Antonin, Maxime
Open Tuesday: Anja, Doug
7. For next week