CoMe #221
Date: 2021-12-06
Facilitator: chandi
Notary: Silvan
Mika caretaker: Matthias
Levi caretaker: Tilmann
Physical board caretaker: Doug
Digital calendar: chandi
Reservation sheet purifier: Nathalie
Present: Nathalie, Silvan, Anja, Doug, Charly, Chandi, Janina, Tilmann, Maxime, Zui, Janina, Larissa
---
0. Check-in round
1. Last week review
Stats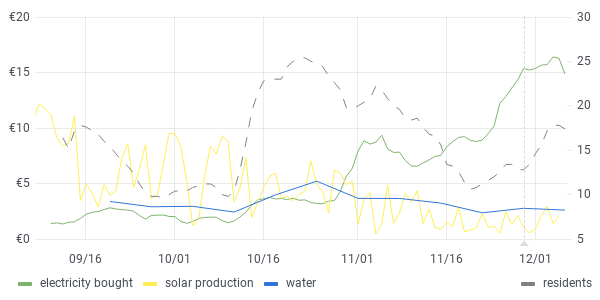 (Usage during the last 90 days)
Present: 17.4 people/day (+4.4)

⚡ Electricity

usage: 20.15 €/day (⬆️+13%)

from that 13.70€/day for heating

paid: 17.42 €/day
☀️ self produced: 14% (⬇️-4%)
emissions: 86 kg CO₂ₑ/week

💧 Water

paid: 2.6 €/day (⬇️-6%)
emissions: 1 kg CO₂ₑ/week

Heating: 13,70€/day for 184 kWh/day (with 8% solar coverage); equivalent gas cost would have been about 15,23€ / day
Expenditure
[tilmann] 73€ for screws (for insulation), sawblades, Hohlraumdübel, Trockenbaubithalter, TX15 bits
[Doug] 10€ Ibuprofen
Income
Things that happened
❄️ first snow has fallen ❄️
Christmas cookies baking session
First interaction choir (online) session in the piano room
First meeting of ToI planning group
Yet another AoE session
We had Glühwein and cake at NaThos and some speeches were held
Sporty Saturday with heated yoga room
Feuerzangenbowle incl. watching the corresponding movie and playing geoguesser afterwards
got a lot of nice things out of the advent calender
the kitchen food got sorted and a little bit rearranged
attic cleanup
some more rooms got ventilation
spontaneous finta café
Wider world
Omikron variant with probably higher infection rate and less vaccine effectiveness spreadig world wide
Torchlight march in Grimma by Querdenken people in front of the health minister's private residence. More escalation expected today in Dresden
radical right-wing presidential candidate in france "Éric Zemmour" with growing popularity
war in the ukraine might be escalating further
2. This week planning
People arriving and leaving
Mon.: Lise just left - oh noo, kathi leaves
Tue.: Carolina comes, Zui leaves
Wed.: änski comes back
Thu.:
Fri.: Anja, Matthias, Nathalie, and Thore leave
Sat.: Carolina leaves, Andrea might leave
Sun.: Anja comes back
Mon.: Zui, Nathalie and Thore comes back
Some day:
Weather forecast
Evaluations and check-ins
Andrea Volunteer : Absolute Days threshold 110/60 (+83%)

evaluation record missing? :D @Nathalie

Chandi Member : Absolute Days threshold 187/180 (+4%)
Matthias Member : Absolute Days threshold 185/180 (+3%)
Monday

10:00 CoMe [chandi]
Park cars on even/this side [done]
after Dinner: knot tying workshop [doug]

Tuesday

Rest waste [Larissa]
15:00 - 17:00 Open Tuesday
18:00 - Sitzung des Stadtrates, Schweizerhaus

Wednesday

11:00 Matthias evaluation [maxime]
Park cars on odd/that side [Nathalie]
14:00 ToI ToI introspection meeting [Nathalie]
19:00 Interaction choir online [Nathalie]

Thursday

10:00 Power Hour [Fac.: Anja, DJ: ?]
13:00 scaffholding tear down preperation meeting [doug]
15:00 Social Sauna [Janina]
18:00 foodsharing Wurzen meeting [Janina]

Friday

10:00 chandi's evaluation [doug]
12:00/12:30 take down scaffholding [all people who are present]
bio waste [Charly]

Saturday
Sunday
Next Monday
Next week summary
to be scheduled:
(when possible, avoid scheduling events at times that would conflict with being part of the cooking team: 17:00-19:00)
knowledge sharing proposals:

knot-tying workshop [Doug]
https://codi.kanthaus.online/KnowledgeSharingSessions?edit
3. Shopping plans
[matthias] 150€ for warm water pipes to prepare heating for attic/central ventilation
4. To do
Small fixes of things in the house
[x] Fix the scarves drawer in the K20 hallway [chandi]

[x] repair right bike shed light [Silvan]

[x] fix K22-2 toilet flush pipe [chandi]

[x] sort and introduce a categorization in the kitchen shelves [änski,chandi]

[ ] fix hipster room window curtain [Larissa & anja]

[ ] more storage spaces for visitors [charly]

[ ] replace broken/string/toaster shoe rack spots [Andrea, Doug]

[ ] KMW: buy new windscreen wiper and change it

[ ] KMW: fix the ventilation switch

[ ] Install some minimal light outside of K22 garden door

[ ] Building week clean up tasks

[ ] scaffolding net in the garden

[antonin] if we are to store the scaffolding in the basement again, then I would wait for that to happen first (to leave space for big pieces first), and then store it there too, maybe?

[ ] KMW: fix driver side door (https://yunity.slack.com/archives/C3RS56Z38/p1636467207030900)
New this week
5. Discussion & Announcements
Round 1
[janina] the scaffolding needs to be taken down by Sunday. Is someone motivated to tear down the chimney in the dining room before then? The benefit would be that the rubble could go down via the lift and it's necessary for ventilation progress.

[Doug] and let's schedule takedown!
many preperation tasks need to be done

prepare space in basement -> prep meeting thursday 13:00
chimney teardown can be done until friday 12:00

[lise] a few weeks ago i asked if i could take the wooden grain mill to HZ. There was no resistance especially if there would be another working one in KH. I checked the Nutrimill (which is in the intermediate) and its working. Any resistance for the wooden mill going to HZ on friday?

it is fine, have fun with it :)
can HZ also take the pile of stuff out of intermediate and the pile of something out of Kleingarten? [Doug]

[matthias] Snack kitchen disruptance: Ventilation needs to be progressed further down, there is a short time where we need bathroom + snack kitchen a bit dirty simultaneosly. Also, unfortunately the Snack kitchen boiler providing warm water for kitchen/snackkitchen, is in the way. Proposal: Take it down. Central hot water system for hot water also here will be build in february/march

resistance on the missing warm water - conect it back? temporary Durchlauferhitzer?
MaTi would be happy if people join the building work
no resistance to doing it this week in general

[Doug] Report/reflections on work sheet experiment? Proposal for this week? (Perhaps better done outside of CoMe)
Round 2
[matthias] Trash tour. Anybody likes to do it? Back of KMW to Wertstoffhof (Tue to Fri 9-17), "front of back" to Bauschutt-Disposal-Place (Mon-Fri 6-16).

Larissa and Anja would like to be a "By-driver"

[Doug] compost bin left full in hallway, glass waste bag not replaced -> please empty and return bins immediately or else your good contribution is cancelled out by confusion/unpredictability.
Round 3
[matthias] Oschatz Baunativ Pickup: KMW or 2 trailers (biketrip?), 64km in total. Anybody motivated? This week, if KMW is chosen, it is only possible after Wertstoffhof/bauschutt. -> Baunativ also wants to know, when we do the pickup.

[Silvan] Does it fit in one OBI-Trailer? -> can do it with the Golf

[Doug] the driftwood -> firewood for us/Klugis?

chop it and keeo it for bonfire ;)
Volunteers
Mon.: Silvan, Janina
Tue.: Andrea
Wed.: Larissa
Thu.:
Fri.:
Open Tuesday: Anja
Unavailabilities
Mon.:
Tue.: chandi
Wed.:
Thu.:
Fri.: Matthias, chandi
Open Tuesday: chandi, Maxime
Week: Tilmann, Nathalie, Zui
Result
Mon.: Janina, Silvan
Tue.: Andrea, Maxime
Wed.: Larissa, Chandi
Thu.: Matthias, Doug
Fri.: Charly + X (?)
Open Tuesday: Anja + Y (?)