CoMe #244
Date: 2022-05-16
Facilitator: Kito
Notary: Janina
Mika caretaker: Kita
Levi caretaker: Matthias
Physical board caretaker: Antonin
Digital calendar: Zui
Reservation sheet purifier: Larissa
Present: Clara, Linnea, chandi, Mariha, Anja, Hue, Antonin, Konrad, Antonia, Kito, Larissa, Natascha, Martin, Louis, Zui, Maxime, Tilmann
---
0. Check-in round
1. Last week review
Stats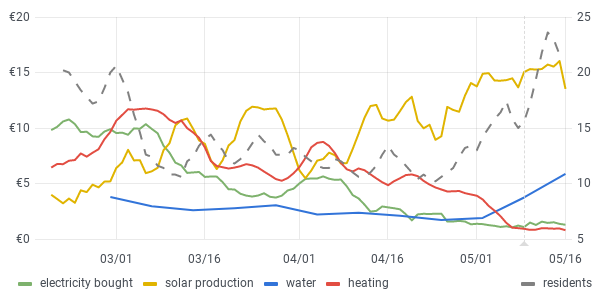 (Usage during the last 90 days)
Present: 22.1 people/day (+6.0)
⚡ Electricity

usage: 49.72 €/week (0%)
of that for heating: 7.2 €/week
paid: -59.84 €/week
☀️ self produced: 79% (⬇️-3%)
emissions: 12 kg CO₂ₑ/week

💧 Water

paid: 41.06 €/week (⬆️+57%)
emissions: 3 kg CO₂ₑ/week
Expenditure
[chandi] 55€ for pipe insulation
[antonin] 50€ for Elektrikergips, Acryl, masking tape, piping
[zui] 4€ oil
Income
Things that happened
In or around Kanthaus
More building week action!

Dampfsperre is taking shape in the attic
Yoga room fancy light is partly there
Silent office ventilation and electricity progressed
Lake trips and fun evenings
roof window progress

The house was really really full
It was kinda hot and people slept in the garden
There is finally also proper wifi in The Private
We found an incredible amount of ridiculously huge duvets
2nd FLINTA* tech meetup in Leipzig
Book burning memorial and graffiti action
many people went to Punkrocktresen again
spontaneous dance party in the garden
board game night with dressing up
Wider world
2. This week planning
People arriving and leaving
Mon.: Jonas left
Tue.: Mariha leaves, Kathi comes, Max comes
Wed.: Antonin leaves
Thu.:
Fri.: Anja leaves, Silvan + Larissa + Kathi (maybe Mika?) leave, Willy comes, Louis leaves
Sat.: Linnea leaves
Sun.: Antonin comes back, Larissa + Silvan (+ Mika) come back, Willy leaves, Louis comes back
Mon.:
Some day:
Weather forecast
finally some rain tomorrow, follwed by lots of sun again. then thunderstorm on the weekend. generally quite warm with up to 29°C on thursday.
Evaluations and check-ins
Due for evaluation (and seen within the last 7 days):
Silvan Volunteer : Absolute Days threshold 80/60 (+33%)
Anja Volunteer : Absolute Days threshold 77/60 (+28%)
Andrea Volunteer : Absolute Days threshold 76/60 (+27%)
Doug Member : Absolute Days threshold 181/180 (+1%)
Due for evaluation soon (in the next 7 days, a nd seen within the last 7 days):
Lise Visitor : 1 days until Days Visited threshold (21)
Matthias Volunteer : 6 days until Absolute Days threshold (60)
Clara_WA Visitor : 6 days until Days Visited threshold (21)
Hue_WA Visitor : 6 days until Days Visited threshold (21)
Linnea_WA Visitor : 6 days until Days Visited threshold (21)
Monday

10:00 CoMe [Kito]
Park KMW & trailer on even/this side [Louis]
15:00 Radeln ohne Alter Wurzen meeting, online [Nathalie, Antonin]
18:00 introduction to inventaire & webtech @piano room [Maxime]

Tuesday

15:00 - 17:00 Freeshop [Anja]
Sushi evening [Anja]

Wednesday

Park KMW & trailer on odd/that side [Louis]
17:00 Open door @Leuchtenmanufaktur
18:00 Punkrocktresen @D5

Thursday

11:00 Silvan's evaluation [Kito]
15:30 IDAHIT* @Marktplatz
evening: Pictures and stories from Sieben Linden Sieben Linden [Silvan] (might be in German)

Friday

yellow bin gets emptied [Konrad]
12:00 Market pickup [Linnea]
14:00 The total reflection [Janina]
15:00 Power Hour [Fac.: chandi, DJ: chandi]
after dinner: Project updates [Zui]

Saturday

10:00 foodsharing brunch @garden or dining room [Janina]
15:00 Critical Mass @Marktplatz

Sunday

15:30 governance coworking cafe @garden [chandi]

Next Monday
Next week summary
To be scheduled:_ (avoid conflicts, e.g. cooking team: 17:00-19:00)
Proposals: https://codi.kanthaus.online/KnowledgeSharingSessions?edit
3. Shopping plans
[maxime] olive oil, rapeseed oil
[matthias] I still didn't buy the missing tools for the bike repair station and think about getting stainless steel tools?

76€ for a rollgabelschlüssel, 0-24mm (https://www.banemo.de/763897/KS-Tools-Edelstahl-Rollgabelschluessel-verstellbar-8-964.1302?utm_source=referrer&utm_medium=cpc&utm_campaign=idealo&et_seg1=46)

15€ for a 12/13mm Schlüssel
15€ for a PH1 philips screwdriver
... alternative would be another proxxon set for now 30€ + a standard screw driver 5€.

come crowd: the cheaper ones seem more reasonable for this use case

[larissa] maybe some Fliesenkleber if I don't find any in the house
4. To do
Newest tasks on top
[ ] make the wall nice in K20-2 bathroom where the boiler has been [Larissa]
[x] remove old gas heater from basement to trash corner - needs 3-4 people
[ ] repair Schaukasten
[ ] add a doorbell in the garden
[ ] fix or rework the K20 bathroom occupancy indicator
[ ] KMW: buy new windscreen wiper and change it
[ ] KMW: fix the ventilation switch
[ ] Light: hallway of the K20-1 flat
[ ] Light: hallway of the K20-2 flat
[ ] Light: freeshop hallway
[ ] Light: K22 garden door
[ ] Light: special bikes shed
[ ] continue Grundstücksverschmelzung K20 + K22 (combining both properties)
5. Discussion & Announcements
Round 1
[janina] 3rd week of construction starts!

attic team: two more people would be good! meet in garden after CoMe
silent office team: who is up for painting the room this week? talk to Antonin and Larissa
yoga room team: linnea&clara are taking the lead and continue building the lights today
cables & pipes: the insulation will be put on the pipes today after lunch
ventilation: no immediate plans for now
garden: planting things is next, talk to hue
roof window: metal sheets and tiles will be finished on wednesday
[kito] organisational: short informal exchange in the evening during dinner? sleeping place preferences sheet?

[chandi] gettig rid of the kanthaus cloud?

I don't want to maintain the instance anymore and if no one else wants to take over, the best solution seems to migrate the data to an "external provider" -> cloud.livingutopia.org
Discussion: https://yunity.slack.com/archives/C3RS56Z38/p1652189072534479
if no resistance, the transition would start:

step 1: everyone (who wants access) needs to have an account on the new cloud: https://cloud.livingutopia.org/apps/registration/

please register until sunday :)

step 2: group creation & all the files (public,private,photos) will be moved
step 3: calendars & contacts will be moved

the cloud stays online for all private data, but is then effectively unmaintained (means: no responsible person if something breaks -> no guarantee of uptime or data safety)

[Larissa] Let's try out "public hours" from 8-10am and 9-11pm in the main bathroom this week!
[Anja] Sushi dinner:

does it work for the Bauwoche?
maybe we can have an anime movie afterwards?
task force for inspiration what to roll into the rolls, save some food and shopping -> after come

[Antonin] silent office tables and chairs in the basement, talk to me if it is a problem if they stay until next week
[zui] invite people to the Garten Fest on 28th may (next week saturday)

[anja] there's flyers to distribute and a task list in the dining room
Round 2
[janina] unpleasant bar atmosphere in the morning: people, tidy up your bottles and glasses! it's summer, let's update our food storage policies:

default spot for fruits and veggies stays the food shelf
default spot for everything else is the basement
just small 'refill' boxes of cheese, spreads, eggs and sausage in food shelf
anybody up for introducing the new sorting today?

linnea and martin will coordinate with janina

[chandi] another tech thingy: gitlab (a platform we use) is introducing restrictions for free accounts which doesn't allow us anymore to use it as we did before.

people using it, please read this post about how to continue: https://yunity.slack.com/archives/G8JTYBZFD/p1652645094497579
Round 3
[janina] workshop about repairing initiatives organized by NDK and happening in piano room on November 4th. similar to this. concerns? resistance? otherwise I'd put it in the calendar and be the host of this public event.
Volunteers
Mon.: Larissa
Tue.: Anja, Louis
Wed.:
Thu.:
Fri.: Zui
Open Tuesday: Anja
Unavailabilities
Mon.: Silvan, kito, chandi, maxime, Clara, Linnea, Hue, Konrad, Antonia, Natascha, Martin, Louis, Janina
Tue.: kito, Antonin, Silvan, chandi, Janina
Wed.: Antonin
Thu.: Antonin, chandi
Fri.: Antonin, Silvan, Louis
Open Tuesday: Antonin, Silvan, Matthias, chandi, maxime
Week: Tilmann, Mariha
Result
Mon.: Larissa, Antonin
Tue.: Anja, Louis
Wed.: Natascha, Antonia
Thu.: chandi, Maxime
Fri.: Zui, Martin
Open Tuesday: Anja, Clara
7. For next week