CoMe #245
Date: 2022-05-23
Facilitator: Antonin
Notary: kito
Mika caretaker: Kita
Levi caretaker: Janina
Physical board caretaker: Louis
Digital calendar: Maxime
Reservation sheet purifier: Martin
Present: Silvan, Larissa, Martin, Vroni, Hue, Andrea, Clara, Maxime, Janina, Louis, Antonin, chandi, kito
---
0. Check-in round
1. Last week review
Stats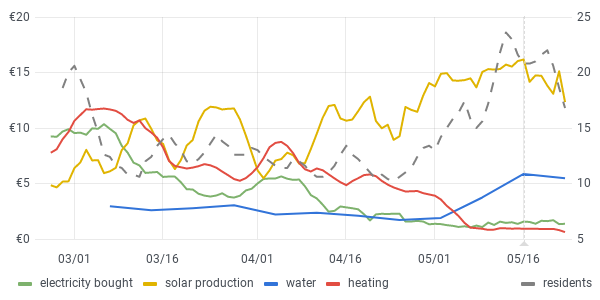 (Usage during the last 90 days)
Present: 18.7 people/day (-3.6)
⚡ Electricity

usage: 55.73 €/week (0%)
of that for heating: 6.63 €/week
paid: -45.17 €/week
☀️ self produced: 78% (⬇️-3%)
emissions: 14 kg CO₂ₑ/week

💧 Water

paid: 38.37 €/week (⬇️-7%)
emissions: 3 kg CO₂ₑ/week
Expenditure
[matthias] 53,99€ for Tools for the bike repair station (via Wandel Würzen)
[kito] 18€ for oil
[Martin] 11€ for toilet paper
Income
Things that happened
In or around Kanthaus
building weeks ended
people went to the lake
we had a kitchen party!
a lot of amazing food got dumpster dived
critical mass and foodsharing brunch
amazing sushi party
some people went to NDK to support their buildingday
mosaik in the bathroom started
IDAHIT!
Wider world
the climat-change-negationist australian conservatives are finally out of government! :tada:
heavy thunderstorms in Germany
factory in Dehnitz burned
2. This week planning
People arriving and leaving
Mon.: Anja, zui comes
Tue.: Nathalie and Thore arrive, Louis leaves
Wed.: Mulli arrives, Natascha arrives
Thu.: Elvyn comes (stays between some hours and 2 nights)
Fri.: Mulli leaves, Franzi arrives, Janka arrives
Sat.: Natascha leaves
Sun.: Franzi leaves, Vroni leaves
Mon.: Louis comes back
Some day:
Weather forecast
quite nice temperatures around 20-24 degrees, sunny overall
Evaluations and check-ins
Anja Volunteer : Absolute Days threshold 84/60 (+40%)
Andrea Volunteer : Absolute Days threshold 83/60 (+38%)
Hue_WA Visitor : Days Visited threshold 22/21 (+5%)
Doug Member : Absolute Days threshold 188/180 (+4%)
Matthias Volunteer : Absolute Days threshold 61/60 (+2%)
Monday

10:00 CoMe [Antonin]
Park KMW on even/this side [Louis]

Tuesday

General waste is collected [Tilmann]
11:00 Louis' evaluation [Antonin]
15:00 - 17:00 Freeshop [Anja,]

Wednesday

Park KMW & trailer on odd/that side [Maxime]
11:00 Martin's evaluation [Andrea]
18:00 Punkrocktresen @D5

Thursday

10:00 Power Hour [Fac.: Tilmann, DJ: ]
15:00 social souna [Larissa]

Friday

12:00 Market pickup [kito]
16:30 AG PSW meeting [zui, Janina + Leipzig FLINTA*\s]

Saturday

Biotonne is collected [Tilmann]
10:00 Building Support @ NDK [kito, chandi]
12:00 Kanthaus Gartenfest :tada:

Sunday

Next Monday

Next week summary
To be scheduled:_ (avoid conflicts, e.g. cooking team: 17:00-19:00)
Proposals: https://codi.kanthaus.online/KnowledgeSharingSessions?edit
3. Shopping plans
[Silvan] 24€ for book "Gemeinschaftskompass" https://www.gemeinschaftskompass.de/de/gemeinschaftskompass-eine-orientierungshilfe-fuer-gemeinschaften/
[Larissa] maybe grout (Fugenmörtel) if we don't have some
4. To do
Newest tasks on top
[ ] mount fire extinguisher visible in the staricases K20-1 and K22-1
[ ] sort first aid stuff, make two sets and mount that also in the staircase [chandi, Martin]
[ ] repair right bike shed light
[ ] make the wall nice in K20-2 bathroom where the boiler has been [Larissa]
[ ] repair Schaukasten
[ ] add a doorbell in the garden
[ ] fix or rework the K20 bathroom occupancy indicator [kito]
[ ] KMW: buy new windscreen wiper and change it
[ ] KMW: fix the ventilation switch
[ ] Light: hallway of the K20-1 flat
[ ] Light: hallway of the K20-2 flat
[ ] Light: freeshop hallway
[ ] Light: K22 garden door
[ ] continue Grundstücksverschmelzung K20 + K22 (combining both properties)
5. Discussion & Announcements
Round 1
[janina] building weeks are over but we still are quite a lot of people. I propose to keep the food tasks sheet in use but put less emphathis on lunch and more on cleanup, food sorting and dumpster washing.
[chandi] let's have a subgroup thinking/deciding on the future of the kanthaus cloud. who wants to be in? :)

Antonin and kito are interested, Zui also

[kito] Wahlforum by the LVZ, June 2nd, need to register, probably Schweizergartenstr.
[Silvan] someone takes care of election cards of people who are not here?

people were mentioned so they should know
Round 2
[Doug] Please clearly mark towels: I will move unmarked immediately to washing.
Round 3
Volunteers
Mon.: Louis
Tue.:
Wed.:
Thu.:
Fri.:
Open Tuesday: Anja
Unavailabilities
Mon.: kito, Larissa, Maxime, Vroni, chandi
Tue.: kito, Antonin, chandi, Vroni
Wed.: Larissa, Antonin, Silvan
Thu.: Antonin, Janina, Maxime
Fri.: Larissa, Janina
Open Tuesday: Larissa, Maxime, Silvan, chandi, Vroni
Week: Andrea
Result
Mon.: Louis, Silvan
Tue.: Hue, Janina
Wed.: chandi, Vroni
Thu.: Martin, kito
Fri.: Antonin, Maxime
Open Tuesday: anja, Clara
7. For next week