CoMe #249
Date: 2022-06-27
Facilitator: Doug
Notary: Janina
Mika caretaker: Kita
Levi caretaker: Nono
Physical board caretaker: Martin
Digital calendar: chandi
Reservation sheet purifier: Larissa
Present: Martin, chandi, Larissa, Doug, Janina, Tilmann
---
0. Check-in round
1. Last week review
Stats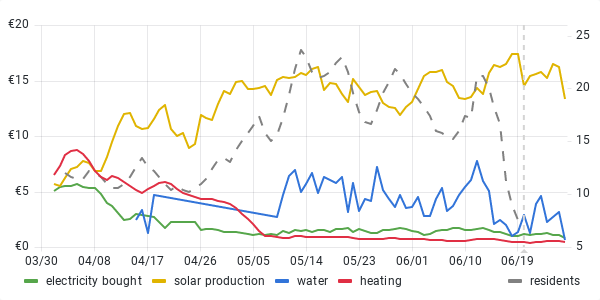 (Usage during the last 90 days)
Present: 11.7 people/day (+3.3)
⚡ Electricity: broken

of that for heating: 4.03 €/week
paid: -59.09 €/week
emissions: 4 kg CO₂ₑ/week

💧 Water: broken
Expenditure
[kito] 78,75€ for 25kg of organic oats
[antonin] ~5€ for dishwasher powder
Income
Things that happened
In or around Kanthaus
various travels came to an end and brought people home
basic crypto shit coworking in flinta* tech context
short but really worthwhile social sauna
big birthday party for kito in the garden
larissa put the mats back into the yoga room
mika and larissa checked out the open air pool in burkartshain - in the rain
gemök meeting in harzgerode right now
some people went to the dresden pride
Wider world
basic right to abortion was cancelled in the US
in contrast paragraph 219a was removed in Germany which now enables doctors to inform about abotion more freely
earth quake in afganistan with at least 1.000 deads
1st female vice president in Colombia
G7 summit is happening
electricity prices are going down a bit due to a shift from money being paid not for getting the power but for emitting C0² in Germany
2. This week planning
People arriving and leaving
Mon.: Andrea, Anja leave. Thore, Nathalie, zui return.
Tue.: Nono leaves. Andrea returns. Larissa leaves, Findus and Jelli leave
Wed.: Andrea leaves. Kito, Matthias return. Larissa comes back, chandi leaves
Thu.: Andrea returns.
Fri.:
Sat.:
Sun.: zui's mom visits for the day
Mon.:
Some day:
Weather forecast
tropical thunder week
Evaluations and check-ins
[Andrea] I would like to have my evaluation this week but I'm only vailable on thursday at 17.00. would anyone be up for facilitating it?
:judge: Due for evaluation (and seen within the last 7 days):
Anja Volunteer : Absolute Days threshold 119/60 (+98%)
Andrea Volunteer : Absolute Days threshold 118/60 (+97%)
Matthias Volunteer : Absolute Days threshold 96/60 (+60%)
Doug Member : Absolute Days threshold 223/180 (+24%)
Antonin Member : Absolute Days threshold 213/180 (+18%)
:clock1130: Due for evaluation soon (in the next 7 days, and seen within the last 7 days):
Martin_WA Visitor : 2 days until Days Visited threshold (21)
Monday

10:00 CoMe [doug]
Full Force Festival pickup?
Park KMW & trailer on even/this side [Doug]

Tuesday

10:00 Knowlege sharing about Kanthaus network redesign @piano room [chandi]

Wednesday

10:00 Monthly teams meeting [Doug]
10:00 @ALM Fokusgruppe Nachhaltigkeit [Janina]
Park KMW & trailer on odd/that side [Martin/Matthias?]

Thursday

early: Anja-Antonin moving action
17:00 Andrea's evaluation [Doug]

Friday

yellow bins [Martin]
10:00 Power Hour [Fac.: Janina, DJ: ?]

Saturday
Sunday
Next Monday
Next week summary
To be scheduled:_ (avoid conflicts, e.g. cooking team: 17:00-19:00)
Proposals: https://codi.kanthaus.online/KnowledgeSharingSessions?edit
Knowledge share:

[kito] request for ebay-bot skillshare (how to implement it in mattermost) (chandi?) for thursday or friday (but it's not urgent)
3. Shopping plans
[antonin] someone might want to get dishwasher powder (whatever The Right One should be - I am assuming it's not what I bought as an interim solution) and Spüli (I could not find any in the reserve)

we usually didn't buy special dishwashing detergent, just the cheapest from the supermarket
there is a lot of dishwashing liquid in the basement of K20, Tilmann might get it up
4. To do
Newest tasks on top
[ ] fix weekly-report script

water stats [antonin?]
electricity: include solar production estimation from the unrecorded panels []

[ ] renew the "Kanthaus"- sign on the Kanthaus [spraypaint by Kito?]
[ ] sort out garden stuff in woodshed [Anja]
[ ] remount snack kitchen radiator [Silvan?]
[ ] mount fire extinguisher
[ ] first aid kits visible in the staricases K20-1 and K22-1
[ ] make the wall nice in K20-2 bathroom where the boiler has been [Larissa]
[ ] repair Schaukasten
[ ] add a doorbell in the garden
[ ] fix or rework the K20 bathroom occupancy indicator
[ ] KMW: buy new windscreen wiper and change it
[ ] KMW: fix the ventilation switch
[ ] Light: hallway of the K20-1 flat
[ ] Light: hallway of the K20-2 flat
[ ] Light: freeshop hallway
[ ] Light: K22 garden door
[ ] continue Grundstücksverschmelzung K20 + K22 (combining both properties)
5. Discussion & Announcements
Round 1
[janina] we are warmly invited to participate in the pop-up culture cafe in Wenceslaigasse that is starting on July 4th.

Janina is in contact with Emma, Larissa with Martina - talk to us to take part! :)

[doug] coming and going: leave out daytrips?
[Antonin] Moving action: There's already 4 people and a van, if you want to help you can but it's not direly needed.
Round 2
*
Volunteers
Mon.:
Tue.:
Wed.:
Thu.: Larissa
Fri.: Janina
Open Tuesday: Anja
Unavailabilities
Mon.:
Tue.: Martin
Wed.:
Thu.: Doug
Fri.:
Open Tuesday:
Week: chandi, Tilmann
Result
Mon.: Martin
Tue.:
Wed.: Doug
Thu.: Larissa
Fri.: Janina
Open Tuesday: Anja
7. For next week