CoMe #250
Date: 2022-07-04
Facilitator: Larissa
Notary: Janina
Mika caretaker: Kita
Levi caretaker: JaTi
Physical board caretaker: Jelli
Digital calendar: zui
Reservation sheet purifier: Larissa
Present: Tilmann, Zui, Pilz, Doug, Findus, Jelli, Matthias, Janina, Larissa
---
0. Check-in round
1. Last week review
Stats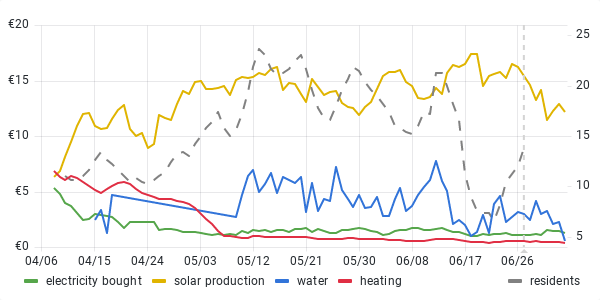 (Usage during the last 90 days)
Present: 11.7 people/day (+0.0)
⚡ Electricity

usage: 41.6 €/week (⬆️+2%)
of that for heating: 3.49 €/week
paid: -48.61 €/week
☀️ self produced: 75% (⬇️-3%)
emissions: 11 kg CO₂ₑ/week

💧 Water

paid: 20.04 €/week (⬇️-3%)
emissions: 1.6 kg CO₂ₑ/week
Expenditure
[tilmann] 541€ for Dachlatten
[matthias] 5€ for a drillbit for the bicycle repair station
[matthias] 60€ for 50 corona tests (if we want this as communal expense)
Income
Things that happened
In or around Kanthaus
kanthaus network knowledge sharing session
the ebike broke and inspired general bike maintenance
chandi moved to Leipzig and Anja and Antonin moved in together
Andrea reaccepted as volunteer
wood delivery and quick storing away action
the Gemök dissolved in good spirit
there was a nice trip to the lake
Wider world
there was a shooting in a shopping center Copenhagen
Russia claimed another city in Ukraine. Belarus says they're also getting attacked by Ukraine and might retaliate.
2. This week planning
People arriving and leaving
Mon.: Unser-Aller-Wald group arrives
Tue.:
Wed.: Silvan comes back, maybe Matthias leaves for two days, UAW group leaves today and tomorrow
Thu.: Pilz leaves
Fri.: Martin leaves, Eric_WA arrives
Sat.: zui leaves, Silvan and Larissa might leave for the weekend
Sun.: Martin comes back, Antonin comes back
Mon.:
Some day: kito might come back at the end of the week
Weather forecast
Evaluations and check-ins
Due for evaluation (and seen within the last 7 days):
Matthias Volunteer : Absolute Days threshold 103/60 (+72%)
Doug Member : Absolute Days threshold 230/180 (+28%)
Martin_WA Visitor : Days Visited threshold 26/21 (+24%)
Due for evaluation soon (in the next 7 days, and seen within the last 7 days):
Findus Visitor : 4 days until Days Visited threshold (21)
Monday

10:00 CoMe [Larissa]
Park KMW & trailer on even/this side [Matthias]
Paper waste [Larissa]

Tuesday
Wednesday

14:00 Pop-up culture cafe opening @Wenceslaigasse
Park KMW & trailer on odd/that side []

Thursday

10:00 Power Hour [Fac.: Zui, DJ: ?]

Friday

Bio waste [Larissa]
10.00 Finance meeting [Larissa, Zui, Chandi]
14:30 AG PSW meeting @dragon room? [Janina, Zui]

Saturday

10:00 600 Jahre Altenbach Fest [Doug, x]

Sunday
Next Monday
Next week summary *
To be scheduled:_ (avoid conflicts, e.g. cooking team: 17:00-19:00)
Proposals: https://codi.kanthaus.online/KnowledgeSharingSessions?edit
Martin's evaluation
3. Shopping plans
[Janina] ~40€ for 100 standard size condoms by fairsquare

[Martin+chandi+Tilmann+Matthias] quite some bike parts for ~200€

[Martin] Rear wheel and drive train for electric bike ~$90+shipping. chain option 1 https://www.bike24.com/p295723.html chain option 2 https://www.taylor-wheels.com/hg40-chain-116-chain-links-7/8-speed cassette https://www.taylor-wheels.com/cassette-hg41-8-speed-nickel-plated?number=1917176 crankset option 1 https://bicycles.de/products/shimano-tourney-fc-ty501-6-8-fach?variant=42162842206393 crankset option 2 https://www.bruegelmann.de/shimano-altus-fc-m311-kurbelgarnitur-48-38-28-M129677.html pedals https://bicycles.de/products/union-pedal-872-allround?variant=41649513726137 wheel 1 https://www.taylor-wheels.de/28-zoll-hinterrad-ryde-zac2000-shimano-fh-tx500-7-10-schwarz wheel 2 https://www.taylor-wheels.com/28inch-bike-rear-wheel-zac19-with-shimano-acera-hub-silver With chain option 2 and crankset 1 we can wrap it up with only two vendors. And I would buy at least another spare chain, as it is a great price.

[Matthias] I'd like to add something to the order, please tell me before/where you order :-)
[chandi] same :) @ bicycles.de
[tilmann] two 62-203 tires (for green kids scooter)

[Zui/Matthias] 30€ 43€ for 16 original miele vaccuum cleaner bags
4. To do
Newest tasks on top
[ ] fix or replace leaking K20-0# toilet fill valve
[ ] fix weekly-report script

[x] water stats [antonin]
electricity: include solar production estimation from the unrecorded panels []

[ ] renew the "Kanthaus"- sign on the Kanthaus [spraypaint by Kito?] Denkmalschutz der Fassade?
[ ] sort out garden stuff in woodshed [Anja]
[ ] remount snack kitchen radiator [Silvan?]
[ ] mount fire extinguisher
[ ] first aid kits visible in the staricases K20-1 and K22-1
[ ] make the wall nice in K20-2 bathroom where the boiler has been [Larissa]
[ ] repair Schaukasten
[ ] add a doorbell in the garden
[ ] fix or rework the K20 bathroom occupancy indicator
[ ] KMW: buy new windscreen wiper and change it
[ ] KMW: fix the ventilation switch
[ ] Light: hallway of the K20-1 flat
[ ] Light: hallway of the K20-2 flat
[ ] Light: freeshop hallway
[ ] Light: K22 garden door
[ ] continue Grundstücksverschmelzung K20 + K22 (combining both properties)
5. Discussion & Announcements
Round 1
[Doug] Food: 1) tiny onions: collective chopping action or throw away? (For future reference, please do not bring onions smaller than golf ball!) 2) sweets: how much haribo/bonbons/duplo can we give away?
[janina] pop-up kulturcafe is opening on Wednesday 2 pm!

they're happy about people bringing cake and sweets! (thursday, too)
wanna go? :)
i want to put a tiny freeshop there and would be happy about support
might be possible to use it as coworking space in the mornings, emma keeps us posted

[Tilmann] oat milk and pea milk stacks in basement are unstable and might damage the packages soon - should distribute the stacks to more places!

Lets have an action to organise some areas.
Doug is starting tuesday around 12:00h

[kito] Mulli from Lausitz-Spinnerei is going by train through Wurzen today and would be happy to take some of the food we have a lot of. Because she doesn't has much time it would be the best if someone can bring a barrow (or something like this) to the train at 17:18. Can someone imagine to take care of that? i'm available for questions.
[matthias] vacuum cleaner bags (...again)

more expensive than expected: 43€
Doug is going to buy some bags (maybe cheaper ones, maybe original)
maybe get a bag-free vacuum cleaner in the future (zui feels responsible for research)

[Findus] group will cook most of the meals, maybe lunch. they also have repro-shifts for which there will be a sheet to sign up. Lets use it all together (it's in the dining room).
Round 2
[tilmann] food to be sorted & washed - who's up for a shift today?

Doug, maybe Larissa, UnserallerWald-Group
Volunteers
Mon.: Janina, Tilmann
Tue.: Findus, Jelli
Wed.: Zui, Pilz
Thu.:
Fri.:
Open Tuesday: Doug, Matthias
Unavailabilities
Mon.:
Tue.:
Wed.: Matthias
Thu.: Matthias
Fri.: Martin, Janina, Matthias
Open Tuesday:
Week: Larissa
Result
Mon.: Janina, Tilmann
Tue.: Findus, Jelli
Wed.: Zui, Pilz
Thu.: martin
Fri.:
Open Tuesday: Doug, Matthias
7. For next week
*