CoMe #251
Date: 2022-07-11
Facilitator: Antonin
Notary: Janina
Mika caretaker: Kita
Levi caretaker: Tilmann
Physical board caretaker: Eric
Digital calendar: Matthias
Reservation sheet purifier: Doug
Present: Matthias, Eric, Andrea, Doug, Antonin, Janina, Martin
---
0. Check-in round
1. Last week review
Stats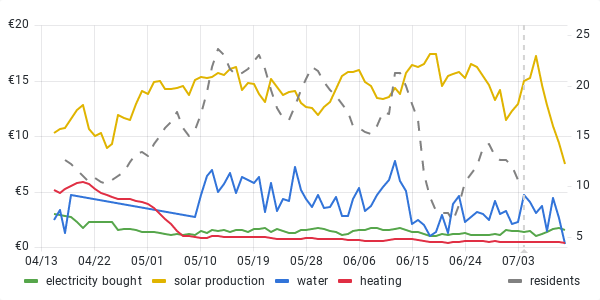 (Usage during the last 90 days)
Present: 11.9 people/day (+0.1)
⚡ Electricity

usage: 48.16 €/week (⬆️+16%)
of that for heating: 3.6 €/week
paid: -37.8 €/week
☀️ self produced: 76% (⬆️+1%)
emissions: 13 kg CO₂ₑ/week

💧 Water

paid: 23.81 €/week (⬆️+19%)
emissions: 1.9 kg CO₂ₑ/week
Expenditure
40€ for 100 fair and vegan condoms, now in bathroom
5€ for drill bit
around 150€ for bike parts
Income
Things that happened
In or around Kanthaus
600 years Altenbach celebration with Kanthaus info stand
UAW group meeting
finance meeting that led to the Steuererklärung being sent out :tada:
Martin became a volunteer
Pop-up Kulturcafe opened and saw a lot of us
Leek abundance
Old but unused ebike batteries arrived and were checked out
oatmilk restacking
AoE party
Food, drinks, empty buckets and other things arrived from Fusion
Bucket sorting and cleaning action
...aaand pride leipzig
Martin and Andrea's brithdays have happened / are happening
Wider world
Shizo Abe got shot and killed
Boris Johnson resigned
2. This week planning
People arriving and leaving
Mon.: Andrea leaves
Tue.: Rosano visits for the day
Wed.: Antonin's parents come
Thu.:
Fri.: Janina leaves
Sat.: Antonin's parents, Matthias leave
Sun.: Janina comes back
Mon.:
Some day:
Weather forecast
23-30°C during daytime, no signs of rain, but some clouds here and there
Evaluations and check-ins
Due for evaluation (and seen within the last 7 days):
Matthias Volunteer : Absolute Days threshold 110/60 (+83%)
Doug Member : Absolute Days threshold 237/180 (+32%)
Due for evaluation soon (in the next 7 days, and seen within the last 7 days):
Kito Volunteer : 1 days until Absolute Days threshold (60)
Check-In
Monday

10:00 CoMe [Antonin]
14:00 Matthias' evaluation [Antonin]
15:30 Birthday cake for Andrea and Martin
Park KMW & trailer on even/this side [done]
Dumpster washing and sorting [Martin, Antonin]

Tuesday

5 year anniversary of Kanthaus!
15:00 Open Tuesday

Wednesday

Park KMW & trailer on odd/that side [Doug]
18:00 Punkrocktresen @D5

Thursday

10:00 Power Hour [Fac.: Janina, DJ: ?]
15:00 Project updates @Piano room [Matthias]

Friday

yellow bins [Martin]
12:00 Market pickup @Jacobsplatz [Martin]

Saturday

Sunday

Next Monday

Next week summary
To be scheduled:_ (avoid conflicts, e.g. cooking team: 17:00-19:00)
Proposals: https://codi.kanthaus.online/KnowledgeSharingSessions?edit
3. Shopping plans
4. To do
Newest tasks on top
[ ] unblock k22-upper bathroom sink [Doug would help, 2-30 min]
[ ] fix or rework the K20 bathroom occupancy indicator
[ ] fix or replace leaking K20-0# toilet fill valve
[ ] fix weekly-report script

electricity: include solar production estimation from the unrecorded panels []

[ ] renew the "Kanthaus"- sign on the Kanthaus [spraypaint by Kito?] Denkmalschutz der Fassade?
[ ] sort out garden stuff in woodshed [Anja]
[ ] remount snack kitchen radiator [Silvan?]
[ ] mount fire extinguisher [chandi]
[ ] first aid kits visible in the staricases K20-1 and K22-1
[ ] make the wall nice in K20-2 bathroom where the boiler has been [Larissa]
[ ] repair/replace Schaukasten
[ ] add a doorbell in the garden
[ ] KMW: buy new windscreen wiper and change it
[ ] KMW: fix the ventilation switch
[ ] Light: hallway of the K20-1 flat
[ ] Light: hallway of the K20-2 flat
[ ] Light: freeshop hallway
[ ] Light: K22 garden door
[ ] continue Grundstücksverschmelzung K20 + K22 (combining both properties)
5. Discussion & Announcements
Round 1
[Matthias] Request from Utopival to borrow KMW 28.07-07.08. (Email)

[Doug] If they have a mechanic they can have it, but otherwise it would maybe be worse to have an unrealible car than none.
[Antonin] will reply to them

[Janina] Visitor request from a person based in Leipzig

generally people are up for it, need to know the time
Janina will answer the mail and find out

[Antonin] last chance to fill the K18 poll: https://cloud.kanthaus.online/apps/forms/AEzfKtedLMf5xNym
[Doug] I'll make a fediverse account for Kanthaus. Happy about interested people! There already is a Slack discussion.
Round 2
[Janina] Pop-up Kulturcafe continues! They're always happy about people coming by, bringing and/or eating cake and socializing. Opening hours: Wed-Sun 14-18

[Matthias] Also there is another Küfa on Saturday where cooking for 20 people would be appreciated

[Martin] We have so much tea that I think we should give some away. I'm happy to make a box.

[Doug] Maybe put it in the vortex to have people look at it.
[Matthias] I'm also keen to take some of the stuff we have loads of to Jena. I'll go again on the weekend.
Volunteers
Mon.:
Tue.: Janina
Wed.:
Thu.:
Fri.:
Open Tuesday:
Unavailabilities
Mon.:
Tue.: Antonin, Doug
Wed.: Antonin, Doug
Thu.: Antonin
Fri.: Matthias, Doug
Open Tuesday: Matthias, Antonin
Week: Andrea, Eric
Result
Mon.:
Tue.: Janina
Wed.: Martin
Thu.: Matthias
Fri.: Antonin
Open Tuesday: Doug
7. For next week