CoMe #262
Date: 2022-09-26
Facilitator: Tilmann
Notary: Maxime
Mika caretaker: Kita
Levi caretaker: Janina
Physical board caretaker: Larissa
Digital calendar: Maxime
Reservation sheet purifier: Larissa
Present: Tilmann, Larissa, Maxime, Janina
---
0. Check-in round
1. Last week review
Stats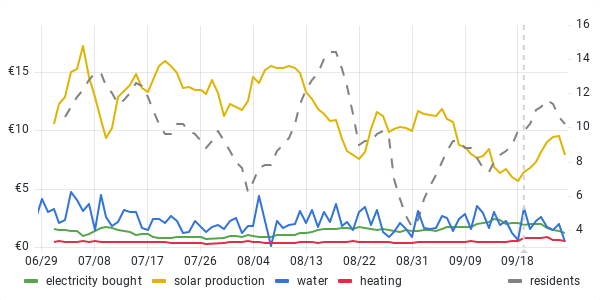 (Usage during the last 90 days)
Present: 10.9 people/day (+1.6)
⚡ Electricity

usage: 37.06 €/week (⬇️-10%)
of that for heating: 5.62 €/week
paid: -27.3 €/week
☀️ self produced: 68% (⬆️+7%)
emissions: 11 kg CO₂ₑ/week

💧 Water

paid: 12.07 €/week (⬇️-2%)
emissions: 0.9 kg CO₂ₑ/week
Expenditure
[tilmann] 42€ fresh air filter
[tilmann] 98€ toilet pipes for attic
[janina] 15€ for oil, rice and starch
Income
Things that happened
In or around Kanthaus
more ceiling hooks in yoga room
new F7 fresh air filter installed
toilet pipes connected to the roof
more insulation preparation progress
flat-warming party at Anja and Antonin's
the first potatoes and onions of the year were collected
much food found
got some free cellulose insulation
Nathalie became Visitor, Kito stays Volunteer
Wider world
2. This week planning
People arriving and leaving
Mon.: Martin returns
Tue.: Zui comes back?
Wed.:
Thu.:
Fri.:
Sat.:
Sun.:
Mon.: Antonin comes back, Maxime leaves
Some day:
Weather forecast
Evaluations and check-ins
Due for evaluation (and seen within the last 7 days):
Andrea Volunteer : Absolute Days threshold 88/60 (+47%)
Tilmann Member : Absolute Days threshold 216/180 (+20%)
Maxime Member : Absolute Days threshold 192/180 (+7%)
Monday

Paper waste [Tilmann]
10:00 CoMe [Tilmann]
Post-Sunday-Dumpster-Diving Food washing/sorting [Janina, Larissa, Tilmann, Maxime]
Park KMW & Trailer on even/this side []

Tuesday

Rest waste [Larissa]
10:30 KMW tour to Leipzig, to get more free cellulose [Tilmann, Maxime]
14:30 AG PSW meeting @Fansipan? [Janina, Zui, +2]
15:00 - 17:00 Open Tuesday [Silvan]

Wednesday

Park KMW & Trailer on odd/that side [Tilmann]
10:30 Andreas evaluation [Janina]
12:00 Bitte Wenden coworking @office? [Janina, Unkraut, Tin]

Thursday

10:00 Power Hour [Fac.: Maxime, DJ: ?]
Organic waste [Maxime]

Friday

12:00 Market Pickup [Maxime]

Saturday
Sunday
Next Monday

Levi's 1st day of Kita! :D :tada:
10:00 CoMe [Janina]

Next week summary

Finance days for WaWü
Project Updates
To be scheduled:_ (avoid conflicts, e.g. cooking team: 17:00-19:00)
Proposals: https://codi.kanthaus.online/KnowledgeSharingSessions?edit
3. Shopping plans
4. To do
Newest tasks on top
[ ] fix weekly-report script

electricity: include solar production estimation from the unrecorded panels []

[ ] renew the "Kanthaus"- sign on the Kanthaus [spraypaint by Kito?]

[Antonin] Can it not be done on a panel or other surface that can be easily put up and down?

[ ] remount snack kitchen radiator [Martin/Silvan?]
[ ] make the wall nice in K20-2 bathroom where the boiler has been [Larissa]
[ ] repair/replace Schaukasten
[ ] KMW: buy new windscreen wiper and change it
[ ] KMW: fix the ventilation switch
[ ] Light: hallway of the K20-1 flat
[ ] Light: hallway of the K20-2 flat
[ ] Light: freeshop hallway
[ ] Light: K22 garden door
[ ] continue Grundstücksverschmelzung K20 + K22 (combining both properties)
5. Discussion & Announcements
Round 1
[tilmann] got the insulation contract: ~6000€ - let's do it!?
[tilmann, janina] attic tour/presentation would be nice, maybe we do a spontaneaous video this week?
[janina] visitor request from astrid for October 22 - 31

Larissa can imagine after 24th
We will ask Martin for the first days
Round 2
[tilmann] some more free cellulose insulation can be saved in Leipzig (south of Plagwitz, 31km) between Monday and Wednesday - anybody up for a KMW+trailer tour?

KMW ready?
can be combined with something? KoLa?

[janina] lunch trial feedback

[janina] very different feeling of the day, would need a much longer trial phase to really adapt. happy to drop it for now in favor of dinner.
Volunteers
Mon.: Janina, Tilmann
Tue.:
Wed.: Larissa
Thu.:
Fri.: Maxime
Open Tuesday:
Unavailabilities
Mon.: Martin, Maxime
Tue.: Maxime
Wed.:
Thu.: Maxime
Fri.:
Open Tuesday: Maxime
Week:
Result
Mon.:
Tue.:
Wed.:
Thu.:
Fri.:
Open Tuesday:
7. For next week