CoMe #273
Date: 2022-12-12
Facilitator: Kito
Notary: Janina
Mika caretaker: Kita
Levi caretaker: Kita
Physical board caretaker: Doug
Digital calendar: Maxime
Reservation sheet purifier: Martin
Present: Doug, Anneke, Maxime, Tilmann, Janina, Kito, Silvan, Martin, Nathalie
---
0. Check-in round
1. Last week review
Stats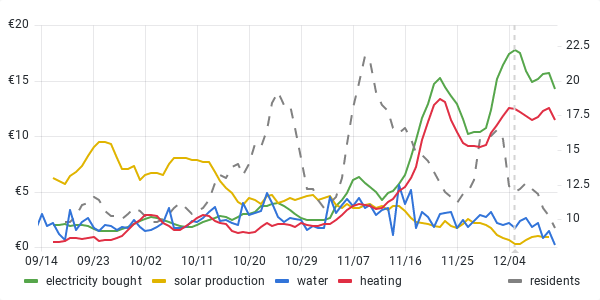 (Usage during the last 90 days)
Present: 10.9 people/day (-3.6)
⚡ Electricity

usage: 134.55 €/week (0%)
of that for heating: 95.24 €/week
paid: 122.2 €/week
☀️ self produced: 9% (0%)
emissions: 82 kg CO₂ₑ/week

💧 Water

paid: 12.93 €/week (⬇️-25%)
emissions: 1.0 kg CO₂ₑ/week
Expenditure
3 bags of vacuum bags
some asian supplies
some baking supplies and spreads
Income
Things that happened
In or around Kanthaus
Hipster room got connected to ventilation system
More ventilation system work in K22 bathrooms, still WIP
Nathalie made two food care matrices based on sociocratic principles
Social sauna
Christmas baking with Lise
More contagious diseases thanks to Kita -.-
Very empty weekend
Funny game sessions from the advent calendar
Several movie screenings
The KMW was reparked (almost) once for all!
3rd Advent with cookies, songs and Glühwein
Wider world
Today is foodsharing's 10th anniversary! :tada:
Corruption crisis in the EU parliament
2. This week planning
People arriving and leaving
Mon.: Kito leaves, Zui probably comes back
Tue.:
Wed.:
Thu.:
Fri.: Kito comes back for one night, GemÖk Friedrich (7ppl) comes for the weekend
Sat.:
Sun.:
Mon.:
Some day:
Weather forecast
Cold and snowy, frost even during daytime, Sunday night down to -9°C
Evaluations and check-ins
Due for evaluation (and seen within the last 7 days):
Nathalie Visitor : Days Visited threshold 39/21 (+86%)
Thore Volunteer : Absolute Days threshold 94/60 (+57%)
Silvan Volunteer : Absolute Days threshold 89/60 (+48%)
Kito Volunteer : Absolute Days threshold 82/60 (+37%)
Martin Volunteer : Absolute Days threshold 65/60 (+8%) Absent:
Chandi Volunteer : Absence threshold 114/90 (+27%)
Monday

10:00 CoMe [Kito]
straight after CoMe: foodsharing onboarding [Janina, Martin, you?]
monday food care [Anneke]
Park KMW & :tada: Trailer on even/this side [frost]

Tuesday

15:00-17:00 Open Tuesday []

Wednesday

~8:00 Insulation Part 2 [Tilmann]
Park KMW & :tada: Trailer on odd/that side [frost]
17:00 - 19:00 FGNW meeting @Lantern [Janina + some more Wurzen people]
19:00 Punkrocktresen @D5

Thursday

10:00 Power Hour [Fac.: Janina, DJ: ?]
15:00 Thore's evaluation

Friday

yellow bin [Maxime]
10:00 Plenum [Doug]
15:00 FFJ proposal chat @dining room [kito]

Saturday

15:00 Critical Mass @market square

Sunday

Next Monday

paper bin [Martin]
10:00 CoMe [Janina]

Next week summary
To be scheduled:_ (avoid conflicts, e.g. cooking team: 17:00-19:00)
Proposals: https://codi.kanthaus.online/KnowledgeSharingSessions?edit
3. Shopping plans
4. To do
Newest tasks on top
[ ] Light: elephant room
[ ] Replace shower curtain by (plexi)glass construction
[ ] fix bike repair station instructions [Doug]
[ ] treat mold in Ex-food-storage

room need a fresh air supply (Zuluft)
Some more work would be welcome to finish connecting these room to the ventilation system

[ ] renew the "Kanthaus"- sign on the Kanthaus
[ ] make the wall nice in K20-2 bathroom where the boiler has been [Larissa]
[x] Light: hallway of the K20-1 flat [JaTi]

It might be temporary (or not?) but it's there! ;)

[ ] Light: freeshop hallway
[ ] Light: K22 garden door
[ ] continue Grundstücksverschmelzung K20 + K22 (combining both properties) [Larissa]
5. Discussion & Announcements
Round 1
[Janina] It's snowy so we need to keep the sidewalk walkable, especially in the mornings!
[Tilmann] Dining room and piano room are leading the heating system of the whole house: If they fall below 19.5 °C the heating will give more power (and thus gets less efficient). Keeping the doors to these rooms closed makes sense to avoid unnecessary heatpump activity.
[Kito] FFJ-Ukuvota just started: https://ukuvota.world/#/app/c8c22f1f-69fb-69f7-8d8e-ea84cf1c602e/collect

Friday 3pm there's an additional in-person chat about this in the dining room. Very casual and optional.

[Doug] I started a Lead–acid battery (Bleisäure-Akku) sale. If you're interested in that come to the workshop.
Round 2
Volunteers
Mon.: Larissa
Tue.: Janina, Silvan
Wed.: Anneke
Thu.: Zui
Fri.: Maxime
Open Tuesday: Andrea
Unavailabilities
Mon.: Doug
Tue.:
Wed.: Doug
Thu.:
Fri.:
Open Tuesday:
Week: Kito, Tilmann, Nathalie
Result
Mon.: larissa
Tue.: Janina, Silvan
Wed.: Anneke
Thu.: zui, Doug
Fri.: Maxime
Open Tuesday: andrea, Martin
7. For next week