CoMe #280
Date: 2023-02-06
Facilitator: Larissa
Notary: Janina
Children caretaker: Kita
Physical board caretaker: Anneke+Timea
Digital calendar: Maxime
Reservation sheet purifier: Janina
Present: Anneke, Janina, Maxime, Nathalie, Timea, Silvan, Larissa, Clara
---
0. Check-in round
1. Last week review
Stats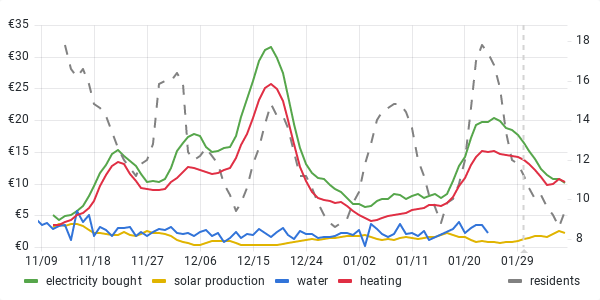 (Usage during the last 90 days)
Present: 9.3 people/day (-2.3)
⚡ Electricity

usage: 170.45 €/week (⬇️-22%)
of that for heating: 120.18 €/week
paid: 121.75 €/week
☀️ self produced: 27% (⬆️+16%)
emissions: 62 kg CO₂ₑ/week
Expenditure
~20€ for pasta, rice, polenta and spreads [Janina]
Income
Things that happened
In or around Kanthaus
construction in the dining room

chimney got removed
wallpaper as well
plastering the chimeny-wall
ventilation was extended to dining room and office
painting base got applied

a huge sofa nest appeared in the piano room
cozy 3-people social sauna
larissa made beautiful bread and shared the recipe
trip to emerging communkity in regis-breitingen
walk in the sunshine to spitzberg
a game of quantum (in the office!)
Wider world
major earthquake hits southern turkey and syria
heavy snow and avalanches in several mountain areas (alps, tatra, montana)
2. This week planning
People arriving and leaving
Mon.:
Tue.:
Wed.: Martin and Veronica arrive (maybe)
Thu.: Kai arrives
Fri.: 5 Flowmis and Zui arrive
Sat.:
Sun.: Flowmis leave
Mon.: Kai leaves
Some day: Letti might leave towards the end of the week
Weather forecast
3 days of sun in a row but very cold. barely above 0°C during the day and the weekend is gray again.
Evaluations and check-ins
Check-In with Letti
Monday

10:00 CoMe [Larissa]
Monday food care [Timea, Janina]
Park trailer on even/this side [Maxime]

Tuesday

15:00 - 17:00 Open Tuesday

Wednesday

Park trailer on odd/that side [Maxime]
10:00 - 13:00 Attic session [Tilmann, you?]
19:00 Punkrock-Tresen @NDK

Thursday

10:00 Power Hour [Janina]
15:30 Nathalie's evaluation [Janina]

Friday

yellow bin [Larissa]
10:00 monthly PlaMe [Larissa]

Saturday

10:00 - 13:00 Attic session [Tilmann, you?]
evening trip to Leipzig [Janina, Franzi, Kai, you?]

Sunday

13:00 A-Cafe @Meuterei,Leipzig

Next Monday

paper bin [Clara]
10:00 CoMe [Maxime]

Next week summary
To be scheduled:_ (avoid conflicts, e.g. cooking team: 17:00-19:00)
Proposals: https://codi.kanthaus.online/KnowledgeSharingSessions?edit
3. Shopping plans
4. To do
Newest tasks on top
[ ] exchange the strings of light-brown guitar
[ ] repair schaukasten - window is pressed in
[ ] level the compost
[ ] bring building rubble to the Müllverwertungsanlage
[ ] oat milk inspection (?)
[ ] treat mold around bathroom window and piano room middle window
[ ] deep-clean shower tap to make it easier to adjust temperature
[ ] Potato sorting action
[ ] General trash tour
[ ] Sign: Renew the "Klingel" - Sign (it's less and less readable)
[ ] Replace shower curtain by (plexi)glass construction
[ ] renew the "Kanthaus"- sign on the Kanthaus [Kito]
[ ] make the wall nice in K20-2 bathroom where the boiler has been [Larissa]
[ ] Light: elephant room
[ ] Light: Yoga room
[ ] Light: freeshop hallway
[ ] Light: K22 garden door
[ ] continue Grundstücksverschmelzung K20 + K22 (combining both properties) [Larissa]
5. Discussion & Announcements
Round 1
[Antonin] the second voting phase of the constitution change process is ending soon: members, make sure your voice is heard!
[larissa] Haus Kante Wurzen Mitgliederversammlung will happen on the 5th/6th of may. Official invite will come soon! Save the date :)
[Janina] ToI is approaching! The orga team is still looking for facilitators for some (especially fun) sessions and is working on finalizing the schedule. Please check the pad, consider signing up for something and share your thoughts in the corresponding thread.
Round 2
[Janina] Another save-the-date: On May 13 there will be the awesome long-awaited Wenceslaigassenfest! I'm co-organizing and am happy about everyone who'll come and/or participate! :)
[Janina] Visitor requests
Spontaneous points
[Nathalie] ToI time house care needed?

water the plants
maybe trash out
anything else? let nathalie know

[Antonin] stats and evaluations are here (sorry about the outage…)
Volunteers
Mon.:
Tue.:
Wed.: Janina
Thu.: Larissa
Fri.:
Open Tuesday:
Unavailabilities
Mon.: Maxime
Tue.:
Wed.:
Thu.:
Fri.: Anneke
Open Tuesday: Maxime, Clara, Timea
Week: Nathalie, Silvan
Result
Mon.: Timea
Tue.: Maxime
Wed.: Janina
Thu.: Larissa
Fri.: Clara
Open Tuesday: Anneke
7. For next week