CoMe #285
Date: 2023-03-20
Facilitator: Janina
Notary: Kito
Children caretaker: Kita
Physical board caretaker: Larissa
Digital calendar: Tilmann
Reservation sheet purifier: Martin
Present: Martin, Larissa, Janina, Tilmann, Kito
---
0. Check-in round
1. Last week review
Stats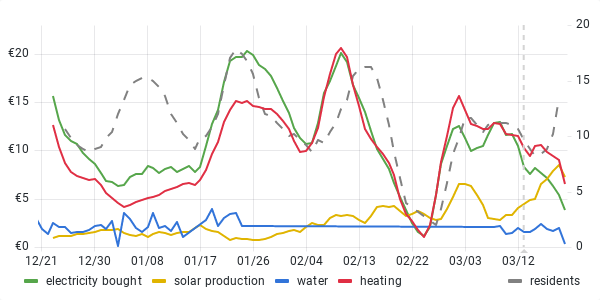 (Usage during the last 90 days)
Present: 10.7 people/day (+0.6)
⚡ Electricity

usage: 144.72 €/week (⬇️-23%)
of that for heating: 42.38 €/week
paid: 39.4 €/week
☀️ self produced: 59% (⬆️+21%)
emissions: 36 kg CO₂ₑ/week

💧 Water

paid: 12.98 €/week (⬆️+60%) (variation not accurate since last week's stats were underestimated)
emissions: 1.0 kg CO₂ₑ/week
Expenditure
1,49€ for 1 spread
bike stuff was bought, will be added next week
Unusual Income
Things that happened
In or around Kanthaus
two small groups use(d) our space
communal trip to sauna and pool in Oschatz
party in Leipzig on a 24h rave (but we didn't stay that long...)
lemon cake showdown for Larissa's b-day
very nice chocolate cake
Tilmann broke his bike, Janina broke the stove (oops!)
sleep kitchen transformation: now 5 sleeping spots (another communal sleeping, use it!)
spring is here: garden times without jackets
a lot of bike work, including some welding
informal agreement about storage next to KH changed
a trash tour with carla cargo!
Wider world
an international agreement that it's worth to protect the ocean
debate about children stabbing
2. This week planning
People arriving and leaving
Mon.: Zui?
Tue.: group of 4 leaves
Wed.:
Thu.:
Fri.:
Sat.: Anja comes, Katja+Konrad (Luftschlosserei) visit for 1 night
Sun.: Kito and Anja leave
Mon.:
Some day: Antonin likely comes towards the end of the week when OstPost runs out of Edelmarzipanstollen
Weather forecast
warm, but not so much sun, a bit of rain, some durchwachsenheit
Evaluations and check-ins
Silvan: after Monday any day in the morning
Monday

10:00 CoMe [Janina]
11:30 Finance day [Larissa, Zui]
urgent Monday food care [Tilmann, group?, Martin, you?]
Park trailer around the corner [Larissa]
18:00 Tischgespräch: "Hier und jetzt: Solidarität statt Polizei" @ NDK [Kito]

Tuesday

11:00 Brunch with Unkraut @dining room [Janina]
14:00 Frühlingsfest der Vielfalt (spring festival of diversity) @market square
15:00 - 17:00 Open Tuesday [lottery]

Wednesday

10:00 - 13:00 Attic work session [Tilmann, Janina, you?]
19:00 Punkrock-Tresen @NDK

Thursday

10:00 Power Hour [Martin]
12:00 Silvan's evaluation [Janina]
12:00 Finance day [Larissa, Zui]
19:00 Lesung: "Kinder von Hoy" mit Autorin Grit Lemke @NDK [Kito]

Friday

yellow bins [Martin]
11:00 Project updates [kito]
11:30 Finance day [Larissa, Zui]

Saturday

10:00 - 13:00 Attic work session [Tilmann, you?]

Sunday

Park trailer in Kantstrasse [Zui will have taken it into the garden by then :)]
semi-public dumpsterdiving bike trip (maybe) [kito]

Next Monday
Next week summary
To be scheduled:_ (avoid conflicts, e.g. cooking team: 17:00-19:00)
Proposals: https://codi.kanthaus.online/KnowledgeSharingSessions?edit
3. Shopping plans
4. To do
Newest tasks on top
[ ] do the oil treatment to wooden tables in dining room and snack Kitchen []
[ ] modify the task lottery to prioritize open tuesday []
[x] update the residency script to show time due before evaluations [Antonin]
[ ] Replace shower curtain by (plexi)glass construction
[ ] renew the "Kanthaus"- sign on the Kanthaus [Kito]
[ ] grout the mosaique in the K20-2 bathroom [Larissa]
[ ] Light: elephant room
[ ] Light: freeshop hallway
[ ] Light: K22 garden door
[ ] continue Grundstücksverschmelzung K20 + K22 (combining both properties) [Larissa]
5. Discussion & Announcements
Round 1
[kito] Long Term Decision Making Process is starting today!

please add your project ideas here: https://pad.kanthaus.online/ltdm-2023#
next phase starts in 2 weeks
get creative! more steps coming, it's about collecting ideas, don't think too much about "who will do it?"
about projects which should start this year

[Tilmann] 3 palettes of Schüttung should get delivered this week; we ideally unload two palettes immediately to return them, because we just have one for exchange - much help appreciated!

should not take much more than half an hour
maybe it's possible to find out which day it will happen
Round 2
[kito] sharing people present and topics of social sauna in kh_volmem (as a responsibility for facilitator)?

no concerns, let's do it!
Last spontaneous points?
Volunteers
Mon.: Group
Tue.:
Wed.:
Thu.: kito
Fri.: Silvan
Open Tuesday: Janina
Unavailabilities
Mon.:
Tue.:
Wed.:
Thu.:
Fri.:
Open Tuesday:
Week: Martin, Larissa, Tilmann
Result
Mon.: Group
Tue.: you?
Wed.: you?
Thu.: kito
Fri.: Silvan
Open Tuesday: Janina
7. For next week