CoMe #284
Date: 2023-03-13
Facilitator: Larissa
Notary: Tilmann, Janina
Children caretaker: Kita
Physical board caretaker: Martin
Digital calendar: Larissa
Reservation sheet purifier: Janina
Present: Tilmann, Martin, Janina, Larissa
---
0. Check-in round
1. Last week review
Stats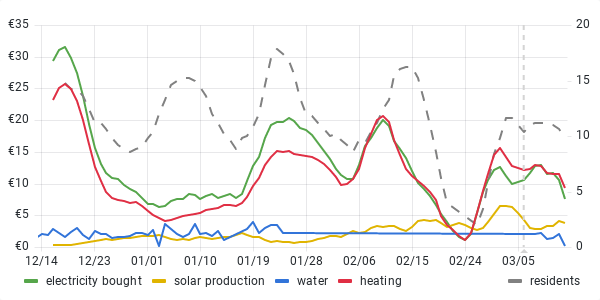 (Usage during the last 90 days)
Present: 10.3 people/day (-1.0)
⚡ Electricity

usage: 187.03 €/week (⬇️-8%)
of that for heating: 92.81 €/week
paid: 111.75 €/week
☀️ self produced: 38% (⬇️-5%)
emissions: 61 kg CO₂ₑ/week

💧 Water

was fixed, but not accurate for last week
Expenditure
7€ vanilla sugar, q-tips, sourdough flavor [Martin]
1153€ for Liaporfit (floor filling material) [Tilmann]
Unusual Income
Things that happened
In or around Kanthaus
Antonin bday and backstory
PlaMe with many many topics and remote participation
Women's Day demonstration in Leipzig
FLINTA* Technik Treff in Leipzig
there's fancy and super bright light in the yoga room now
the snack kitchen table got real legs
the dragon room got almost fully cleared again
there's a gaming setup at Maxime's desk
Wider world
shooting in Hamburg: a former Jevova's witness ran amok in a Jehova's witnesses mess
2. This week planning
People arriving and leaving
Mon.: Silvan comes back
Tue.: zui comes
Wed.: Silvan leaves, Kito comes back (or thursday), Feuerqualle group arrives (4 ppl), zui leaves
Thu.:
Fri.: Anja leaves, Silvan comes back
Sat.:
Sun.: Feuerqualle group leaves, another 4 ppl group arrives
Mon.:
Some day: Antonin comes towards the end of the week
Weather forecast
Quite some rain and warmth until Wednesday. Spring towards the end of the week with sun and 15°C!
Evaluations and check-ins
Monday

10:00 CoMe [Larissa]
Monday food care [everyone]
Park trailer around the corner [Martin]

Tuesday

Restwaste [Martin]
15:00 - 17:00 Open Tuesday [lottery]
After dinner: Larissa's birthday celebration

Wednesday

10:00 - 13:00 Attic work session [Tilmann, Janina, Zui, you?]
19:00 Punkrock-Tresen @NDK

Thursday

10:00 Power Hour [Tilmann]
15:00 Sharing Event [kito]

Friday

Biowaste [Martin]
10:00 - 13:00 Attic work session [Tilmann, you?]

Saturday

Trip to Sauna in Oschatz [Larissa]

Sunday

Park trailer on Kantstrasse [Zui will have taken it into the garden by then :)]

Next Monday
Next week summary
To be scheduled:_ (avoid conflicts, e.g. cooking team: 17:00-19:00)
Proposals: https://codi.kanthaus.online/KnowledgeSharingSessions?edit
3. Shopping plans
[Martin] Pulley system to hang bikes from the ceiling in the workshop. 27 euros max.
4. To do
Newest tasks on top
[ ] do the oil treatment to wooden tables in dining room and snack Kitchen []
[ ] modify the task lottery to prioritize open tuesday []
[ ] general trash tour []
[x] fix the main water meter reader [Antonin]
[ ] update the residency script to show time due before evaluations []
[ ] Replace shower curtain by (plexi)glass construction
[ ] renew the "Kanthaus"- sign on the Kanthaus [Kito]
[ ] grout the mosaique in the K20-2 bathroom [Larissa]
[ ] Light: elephant room
[x] Light: Yoga room [Tilmann]
[ ] Light: freeshop hallway
[ ] Light: K22 garden door
[ ] continue Grundstücksverschmelzung K20 + K22 (combining both properties) [Larissa]
5. Discussion & Announcements
Round 1
[Martin] Rent contracts could be updated to compensate the recent increases in energy price.

[Larissa] It's on the finances team's todo list to determine a fair price

[Janina] Dragon and Cloud Room heating is on. Make sure to keep doors closed!

[Tilmann] If you manage you can switch it off at night.
[Janina] Will try.
Round 2
[Martin] Carla cargo, bike cadavers and welding station in K18? Easily retrievable, more comfortable workspace (more light and less cold), less moving stuff around in the wood shed. Just need a power extension cord.

Perfectly good reasons, but there's the fear of making K18 into a stuff pile.
[Janina] A clear agreement with room specifications and a responsible person is needed. I can make a process proposal. That could also serve as a template for future uses.
[Larissa] What about K22 basement? The party room purpose doesn't seem important right now.

[Tilmann] I started planning a garden side Vordach (awning) in front of K18
Last spontaneous points?
Volunteers
Mon.: Larissa
Tue.:
Wed.: Janina
Thu.:
Fri.: Antonin
Open Tuesday: Martin
Unavailabilities
Mon.: FQ
Tue.: FQ
Wed.: FQ
Thu.:
Fri.:
Open Tuesday: FQ
Week: Tilmann
Result
Mon.: Larissa
Tue.:
Wed.: Janina
Thu.: fq
Fri.: antonin
Open Tuesday: Martin
7. For next week