CoMe #288
Date: 2023-04-10
Facilitator: Doug
Notary: Janina
Children caretaker: Tilmannn
Physical board caretaker: Martin
Digital calendar: Doug
Reservation sheet purifier: Kito
Present: Janina, Anneke, Martin, Pluma, Mantel, Andrea, Kito
---
0. Check-in round
1. Last week review
Stats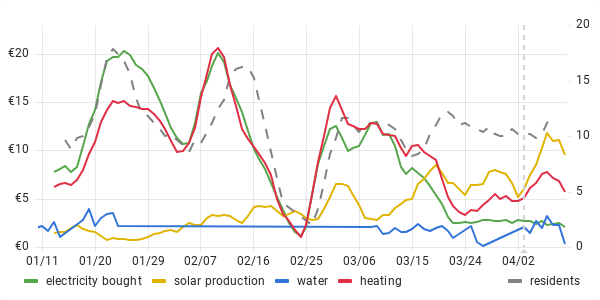 (Usage during the last 90 days)
Present: 8.6 people/day (-1.9)
⚡ Electricity

usage: 136.02 €/week (⬆️+30%)
of that for heating: 78.39 €/week
paid: -8.54 €/week
☀️ self produced: 81% (⬆️+9%)
emissions: 23 kg CO₂ₑ/week

💧 Water

paid: 15.76 €/week (0%)
emissions: 1.2 kg CO₂ₑ/week
Expenditure
25€ for covid test, salt for spulmittel and vacuum bags
Income
Things that happened
In or around Kanthaus
longterm decision making meeting with project idea presentation
schüttung was delivered
quite a lot of attic work with 5 ppl at once at one point
flowmi group had a small but efficient working session and even sanded the garden table
nice easter walk to Spitzberg
easter brunch and egg hunt
wild garlic collecting and processing (and eating)
fire next to train tracks left people stranded in wurzen (like anja and felix_dd)
Wider world
finland joins nato
trump has 34 charges of falsifying business records
2. This week planning
People arriving and leaving
Mon.: Mantel, Pluma, Vroni and Andrea leave, Silvan comes back
Tue.: Larissa comes back
Wed.:
Thu.: Alba leaves
Fri.: FFJ-orga-group arriving (2-4ppl)
Sat.:
Sun.: FFJ-orga-group leaving
Mon.: Martin
Some day: Annekes friend Lilli for 1/2/3 days, Doug is here the beginning of the week
Weather forecast
week starts sunny and warm, deteriorates over the course of time. some rain on thursday.
Evaluations and check-ins
Antonin would like to have his soon but not this week
Kito would like to be evaluated, too
Nathalie Visitor : 1 days until Days Visited threshold (21)
Monday

10:00 CoMe [Martin]
12-15 Attic work session [Tilmann, you?]

Tuesday

Paper waste [Doug]
Tuesday food care [Anneke, Janina]
10:00 - 13:00 attic work session [Tilmann, you?]
15:00 - 17:00 Open Tuesday [lottery]

Wednesday

Rest waste [Tilmann]
10:00 - 13:00 attic work session [Tilmann, Janina, you?]
19:00 Punkrock-Tresen @NDK

Thursday

10:00 Power Hour [Janina]
12:00 Kito's evaluation [Janina]
17:00 Gedenken an den Muldenwiesen (NDK event)

Friday

10:00 LTDM meeting? (discussion)

Saturday

10:00 - 13:00 attic work session [Tilmann, Antonin, you?]
Biowaste

Sunday
Next Monday
Next week summary
To be scheduled:_ (avoid conflicts, e.g. cooking team: 17:00-19:00)
Proposals: https://codi.kanthaus.online/KnowledgeSharingSessions?edit
3. Shopping plans
Kito is still on the food order, but not for this week
4. To do
Newest tasks on top
[ ] fix the physical weekly board []
[ ] treat mold in Freeshop Lounge and Hipster Room
[ ] de-clog compost toilet drain
[x] do the oil treatment to wooden tables in dining room, elephant room and snack Kitchen [Antonin]
[ ] modify the task lottery to prioritize open tuesday []
[ ] Replace shower curtain by (plexi)glass construction
[ ] renew the "Kanthaus"- sign on the Kanthaus [Kito]
[ ] grout the mosaique in the K20-2 bathroom [Larissa]
[x] Light: elephant room [Martin]
[ ] Light: freeshop hallway
[ ] Light: K22 garden door
[ ] continue Grundstücksverschmelzung K20 + K22 (combining both properties) [Larissa]
5. Discussion & Announcements
Round 1
[kito] Long Term Decision Making

Ukuvota for prioritization https://ukuvota.world/process/1e178195-9680-4d3a-a896-b92806d7ce84/proposals (proposal phase until tonight, vote until thursday night)
Pad to enter your commitment: https://pad.kanthaus.online/ltdm-2023#
Meeting on friday or (how to) find another day?

Janina will talk to Zui
Andrea would like to be informed about the date we choose (Sunday would work for her)
Let's find the date this week.
Round 2
Last spontaneous points?
Volunteers
Mon.:
Tue.:
Wed.:
Thu.:
Fri.:
Open Tuesday:
Unavailabilities
Mon.: Anneke
Tue.: kito, Anneke
Wed.: kito
Thu.:
Fri.: kito
Open Tuesday: Anneke, Kito
Week: Martin, Mantel, Pluma, Tilmann, Doug, Andrea
Result
7. For next week