CoMe #289
Date: 2023-04-17
Facilitator: Kito
Notary: Janina
Children caretaker: Kita
Physical board caretaker: Anneke
Digital calendar: Antonin
Reservation sheet purifier: Larissa
Present: Anneke, Antonin, Silvan, Janina, Larissa, Martin, Kito, Tilmann
---
0. Check-in round
1. Last week review
Stats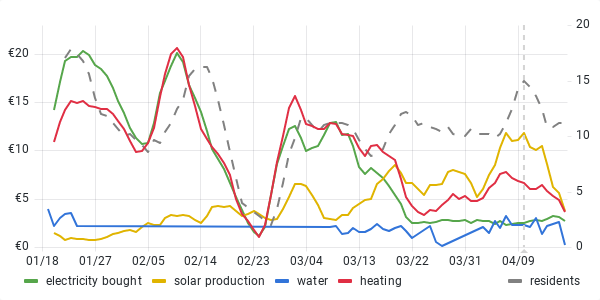 (Usage during the last 90 days)
Present: 11.0 people/day (-2.3)
⚡ Electricity

usage: 47.63 €/week (⬇️-21%)
of that for heating: 15.81 €/week
of that for hot water: 3.58 €/week
paid: 14.39 €/week
☀️ self produced: 69% (⬇️-12%)
emissions: 23 kg CO₂ₑ/week

💧 Water

paid: 15.8 €/week (0%)
emissions: 1.2 kg CO₂ₑ/week
Expenditure
5€ Allepo soap (larissa)
8€ sunflower oil (Anneke)
Income
Things that happened
In or around Kanthaus
longterm decision making meeting #2
Pizza-Party!
Kito became Member
Electricity/Heating stats fixed and extended
K20 attic floor is finished
Bike hoist system installed in workshop
Wider world
2. This week planning
People arriving and leaving
Mon.: Martin leaves
Tue.: Lise arrives, kito leaves
Wed.:
Thu.:
Fri.: Martin comes back, SiLaMiLe leave, (Lützi Bezugsgruppe arrives?)
Sat.:
Sun.: LaSiLeMi come back, Lise leaves
Mon.: Gaia_WA and maru_zui arrive
Some day: Antonin leaves in the week-end, Bodhi comes towards the end of the week
Weather forecast
still cloudy during most of the week, but it's getting warmer on the weekend (up to 21°C!)
Evaluations and check-ins
Due for evaluation (and seen within the last 7 days):
Nathalie Visitor : Days Visited threshold 23/21 (+10%)
Silvan Visitor : Days Visited threshold 22/21 (+5%)
Due for evaluation soon (in the next 7 days, and seen within the last 7 days):
Tilmann Member : 6 days until Days Visited threshold (180)
Monday

10:00 CoMe [Kito]
11:15 Future of attic work [Janina, Martin, Antonin, Tilmann]
Monday food care [Anneke, Tilmann, Antonin]

Tuesday

15:00 - 17:00 Open Tuesday [lottery]

Wednesday

10:00 Attic work session [Janina, Tilmann, you?]
11:00 Silvan's evaluation [Antonin]
19:00 Punkrock-Tresen @NDK

Thursday

10:00 Power Hour [Janina]

Friday

Yellow bins [Larissa]
11:00 Project Updates [Antonin]
19:00 event @D5: Revolution für das Klima - Warum wir eine ökosozialistische Alternative brauchen

Saturday

10:00 Attic work session [Antonin, Tilmann, you?]

Sunday

afternoon/evening: Annekes backstory (time depending on group hosting)

Next Monday
Next week summary
To be scheduled:_ (avoid conflicts, e.g. cooking team: 17:00-19:00)
Proposals: https://codi.kanthaus.online/KnowledgeSharingSessions?edit
3. Shopping plans
~150€ ventilation parts for K20 attic [tilmann]
fresh air filter (F7), to be exchanged during/after summer [tilmann]

either 1x for 58€
or 4x for 49€ per piece (196€)
buy 4 then we're settled for 4 years!

kito's order is still work in progress
4. To do
Newest tasks on top
[x] re-solder bathroom bright light switch [Martin]
[x] properly attach cable of upper staircase toilet light [Martin]
[ ] give away saved windows in K20 basement (a lot)
[ ] give away roof windows (outside, under green tarp next to palettes)
[ ] give away roll of Dampfsperre
[ ] give away 2 rolls of Unterspannbahn
[ ] check all fire alarms [Martin]
[ ] check fire extinguishers [Antonin]
[x] fix the physical weekly board [Tilmann+kids]
[ ] treat mold in Freeshop Lounge and Hipster Room
[ ] de-clog compost toilet drain
[ ] modify the task lottery to prioritize open tuesday []
[ ] Replace shower curtain by (plexi)glass construction
[ ] renew the "Kanthaus"- sign on the Kanthaus [Kito]
[ ] grout the mosaique in the K20-2 bathroom []
[ ] Light: freeshop hallway
[ ] Light: K22 garden door
[ ] continue Grundstücksverschmelzung K20 + K22 (combining both properties) [Larissa]
5. Discussion & Announcements
Round 1
[Antonin] visitors looking for a host

Dorota (alone, 2 weeks, arrival date unclear)
Feuerqualle (4 people, 30.4 - 4.5)

Antonin and Janina co-host

[Doug] Coronavirus [collective agreement process] (https://legacy.ukuvota.world/#/app/c6b4406c-e4c0-8f0e-70a0-bb17924ebe4e/collect) started.
Round 2
Last spontaneous points?
Volunteers
Mon.: Zui
Tue.:
Wed.: Anneke
Thu.:
Fri.:
Open Tuesday:
Unavailabilities
Mon.:
Tue.: Antonin
Wed.:
Thu.:
Fri.:
Open Tuesday: Antonin, Janina
Week: Martin, Kito, Tilmann, Silvan, Larissa
Result
Mon.: zui
Tue.:
Wed.: Anneke
Thu.: Janina
Fri.:
Open Tuesday: Antonin
7. For next week