CoMe #290
Date: 2023-04-24
Facilitator: Larissa
Notary: Janina
Children caretaker: Kita
Physical board caretaker: Anneke
Digital calendar: Martin
Reservation sheet purifier: Janina
Present: Larissa, Martin, Anneke, Tilmann, Silvan, Janina
---
0. Check-in round
1. Last week review
Stats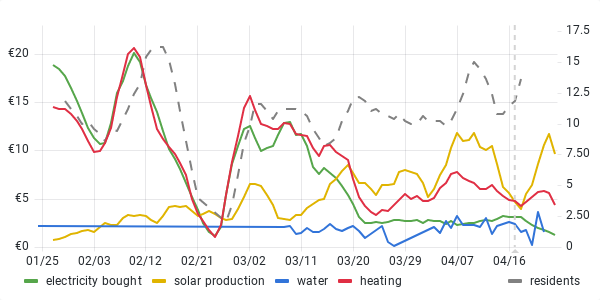 (Usage during the last 90 days)
Present: 2.7 people/day (-8.7)
⚡ Electricity

usage: 35.93 €/week (⬇️-1%)
of that for heating: 14.02 €/week
of that for hot water: 1.41 €/week
paid: -12.98 €/week
☀️ self produced: 82% (⬆️+13%)
emissions: 17 kg CO₂ₑ/week

💧 Water

paid: 10.85 €/week (⬇️-31%)
emissions: 0.8 kg CO₂ₑ/week
Expenditure
160€ ventilation parts for attic, baby bathroom, piano room [tilmann]
195€ four F7 fresh air filters [tilmann]
Other Income
Things that happened
In or around Kanthaus
project updates
Lise cut the plum tree
nice summery BBQ with drinks around the fire afterwards
SiLa took MiLe to Auerstedt for the weekend
almost everyone in kh went to punkrock-tresen for unkrauts birthday
Wider world
agreement in ver.di strike season for public service work
wars are going on, no end in sight
2. This week planning
People arriving and leaving
Mon.: Gaia_WA arrives, Clara_Jena might stop by
Tue.: Maxime arrives, kito comes back
Wed.: two people and a baby spend a night, Anneke leaves
Thu.: kito leaves
Fri.:
Sat.: Franzi comes by for the weekend
Sun.: Antonin and Naomi_FQ arrive, kito comes back
Mon.: rest of Feuerqualle group arrives
Some day: Olli+2? People for A-Days?
Weather forecast
Colder again, rain and clouds, then sun again towards the end of the week
Evaluations and check-ins
Tilmann Member : 4 days until Days Visited threshold (180)
Monday

10:00 CoMe [Larissa]
Monday food care [Martin, Janina]
18:00 Vegutopia KüfA @D5 [Anneke]

Tuesday

black bin [Larissa]
13:00 FGNW meeting in Dragon Room [Janina]
15:00 - 17:00 Open Tuesday [lottery]
~21:00 Anneke's backstory

Wednesday

10:00 attic work session
19:00 Punkrock-Tresen @NDK

Thursday

10:00 Power Hour [Larissa]
15:00 Social Sauna [?] lack of people to participate and facilitate

Friday

organic waste [Janina]
10:00 Tilmann's evaluation [Janina]

Saturday

Sunday

Next Monday

1st of May holiday
10:00 CoMe [Tilmann]

Next week summary
To be scheduled:_ (avoid conflicts, e.g. cooking team: 17:00-19:00)
Proposals: https://codi.kanthaus.online/KnowledgeSharingSessions?edit
3. Shopping plans
[Silvan] about 62€ spare parts for borrowed Auerworld battery drills

no resistance, Tilmann has some plans of fixing and will talk to Silvan
4. To do
Newest tasks on top
[ ] fix the extension to the shortterm storage to the wall next to the main bathroom
[ ] flip the compost
[ ] give away saved windows in K20 basement (a lot) maybe https://www.trashgalore.de/? (martin)
[ ] give away roof windows (outside, under green tarp next to palettes)
[ ] give away roll of Dampfsperre
[ ] give away 2 rolls of Unterspannbahn
[x] check all fire alarms [Martin]
[ ] check fire extinguishers [Antonin]
[ ] treat mold in Freeshop Lounge and Hipster Room
[ ] de-clog compost toilet drain
[ ] modify the task lottery to prioritize open tuesday []
[ ] replace shower curtain by (plexi)glass construction
[ ] renew the "Kanthaus"- sign on the Kanthaus [Kito]
[ ] grout the mosaique in the K20-2 bathroom []
[ ] light: freeshop hallway
[ ] light: K22 garden door
[ ] continue Grundstücksverschmelzung K20 + K22 (combining both properties) [Larissa]
5. Discussion & Announcements
Round 1
[Martin] Smoke detectors report. All existing SDs seem to work, yay! Rooms without: both basements, freeshop, lounge, intermediate, both kitchens, ex-food storage, private, dorm, yoga, and the attics. There is just one in a staircase, in front of the private. Finally, there are two spare SDs that can be used. So, which of these locations should have a SD? Any resistance to some randomized tests? They cost around 10euro a piece.

no resistance to tests
last two SDs maybe to dorm, attics, basement
buying more is also fine, some spare ones could be good

[Antonin] the Feuerqualle group would like to reserve the Dragon and Cloud rooms from Monday to Wednesday next week.
[Janina] the small potatoes are sprouting. anybody up for putting them up on kleinanzeigen as seedlings?

Larissa can do the coordinating, other people can also be tasked with opening the doors

[Silvan] can Kanthaus fix the Auerworld power drills, please?

all AW tools will go to Auerstedt in the beginning of June, then everything should work
Silvan will inventorize, then people can help fixing
Round 2
[Antonin] there is the general assembly of our association Haus Kante Wurzen on 7th May. The board of the association will be renewed during that meeting. The current board members are: Larissa, Zui, Silvan and Doug. Maybe it's good if volunteers and members think in advance if they could imagine joining (or stay on) the board? (background: because there is a protest in the Lausitz on that day I am worried not many show up to that meeting)
Last spontaneous points?