CoMe #291
Date: 2023-05-01
Facilitator: Tilmann
Notary: Kito
Children caretaker: Silvan
Physical board caretaker: Janina
Digital calendar: Antonin
Reservation sheet purifier: Andrea
Present: Tilmann, Gaia, Andrea, Antonin, Janina, Larissa, Kito, Martin, Maxime
---
0. Check-in round
1. Last week review
Stats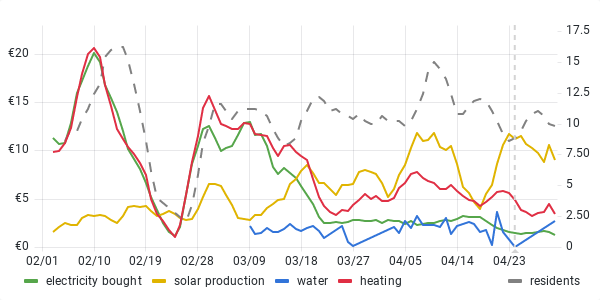 (Usage during the last 90 days)
Present: 10.6 people/day (+1.4)
⚡ Electricity

usage: 31.29 €/week (⬇️-11%)
of that for heating: 7.4 €/week
of that for hot water: 2.73 €/week
paid: -19.76 €/week
☀️ self produced: 83% (⬆️+1%)
emissions: 15 kg CO₂ₑ/week

💧 Water

paid: 18.95 €/week (⏫+75%)
emissions: 1.5 kg CO₂ₑ/week
Expenditure
Other Income
Things that happened
In or around Kanthaus
Anneke presented stories out of her life
Baby bathroom got a complete ceiling again, plus some ventilation pipes that might eventually lead to the Piano Room
a lot of dumpster diving
FGNW met in Kanthaus
got rid of sprouting potatoes, got new, better ones
Tilmann stays member
quite some people wanted to come and didn't
new playground was checked out
a new Döner opened in Wenceslaigasse, in the Stadtcafé!!
Antonin shifted compost and mowed the lawn
Gaia sorted stuff in the freeshop and made a lot of quiche and cooked even more and cleaned - wow, impressive!
Wider world
49€-Ticket starting today!
today is first of may, so some demonstrations happen
2. This week planning
People arriving and leaving
Mon.: Kiki and Leo arrive, Andrea leaves, maybe a friend of Antonin visits
Tue.: Anja comes by
Wed.: Kiki and Leo leave, Shehzad_WA maybe arrives, kito leaves in the evening
Thu.:
Fri.:
Sat.: Katja and Konrad come for one night, FlowMis work day
Sun.:
Mon.:
Some day:
Weather forecast
sunny and moderately warm, some rain on Tuesday
Evaluations and check-ins
Antonin?
Janina Member : 6 days until Days Visited threshold (180)
Martin Volunteer : 7 days until Days Visited threshold (60)
Andrea Volunteer : 22 days until Days Visited threshold (60)
Monday

10:00 CoMe [Tilmann]
Monday food care [Antonin + Gaia + you?]

Tuesday

11:00 Antonin's evaluation [Maxime]
15:00 - 17:00 Open Tuesday [lottery]

Wednesday

10:00 attic work session
19:00 Punkrock-Tresen @NDK

Thursday

10:00 Power Hour [Larissa]

Friday

10:00 PlaMe [Janina]
Yellow Bin [Martin]

Saturday
Sunday

10:15 NDK-bike trip: Gedenkfahrt für die Opfer der Todesmärsche 1945 starting in Borsdorf
15:00 HKW general meeting @ Piano Loom [Larissa]

Next Monday

10:00 CoMe [Maxime]
Paper Bin [Martin]

Next week summary
To be scheduled:_ (avoid conflicts, e.g. cooking team: 17:00-19:00)
Proposals: https://codi.kanthaus.online/KnowledgeSharingSessions?edit
3. Shopping plans
[attic team] up to 339€ for 4 roof window blinds for K20 attic - it'll be ~40% less if we manage to get used ones
[tilmann] up to 36€ for Makita 18V charger - will try to get it used
[kito] food order at Bananeira ~600€
4. To do
Newest tasks on top
[ ] move the beams in the garden back to the K18
[ ] fix the extension of the private storage with a new shelf to the wall next to the main bathroom
[x] flip the compost [Antonin]
[ ] give away saved windows in K20 basement (a lot) maybe https://www.trashgalore.de/? (martin)
[ ] give away roof windows (outside, under green tarp next to palettes)
[ ] give away roll of Dampfsperre
[ ] give away 2 rolls of Unterspannbahn
[ ] check fire extinguishers [Antonin]
[ ] treat mold in Freeshop Lounge and Hipster Room
[ ] de-clog compost toilet drain
[ ] modify the task lottery to prioritize open tuesday []
[ ] replace shower curtain by (plexi)glass construction
[ ] renew the "Kanthaus"- sign on the Kanthaus [Kito]
[ ] grout the mosaique in the K20-2 bathroom []
[ ] light: freeshop hallway
[ ] light: K22 garden door
[ ] continue Grundstücksverschmelzung K20 + K22 (combining both properties) [Larissa]
5. Discussion & Announcements
Round 1
[Antonin] we are looking for people to join the board of Haus Kante Wurzen. Larissa and Doug can imagine staying on the board but we need at least three board members.
[Larissa] moving powerhour to monday-trialphase

2-3 weeks of try out with different versions

a) normal PH, but on monday, 11 o'clock
b) just task distribution after CoMe, everyone does it whenever they want during the week
c) your idea? :)

[Janina] it's getting warm outside! protect the foooood!

e.g. sun protection on the windows
Round 2
[Antonin] what to do with our compost soil: there are many penny bags available. In our garden? In the kleingarten? Somewhere else?

Anja is coming on tuesday, talk to her about garden stuff

[Janina] if we lack food, sign up for foodsharing pick ups!
Last spontaneous points?
Volunteers
Mon.: Martin
Tue.: Kiki+Leo
Wed.: kito
Thu.: Larissa, Janina
Fri.: Maxime, Antonin
Open Tuesday: Anja, Gaia
Unavailabilities
Mon.:
Tue.: Antonin
Wed.:
Thu.:
Fri.:
Open Tuesday: Maxime
Week: Tilmann, Andrea
Result
Mon.: Martin
Tue.: kiki, leo
Wed.: Kito
Thu.: Larissa, Janina
Fri.: Maxime, Antonin
Open Tuesday: anja, Gaia
7. For next week