CoMe #294
Date: 2023-05-22
Facilitator: Martin
Notary: Janina
Children caretaker: Kita
Physical board caretaker: Larissa
Digital calendar: Antonin
Reservation sheet purifier: Janina
Present: Martin, Silvan, Larissa, Maxime, Tilmann, Dorota, Doug, Janina, Cecilia, Antonin
---
0. Check-in round
1. Last week review
Stats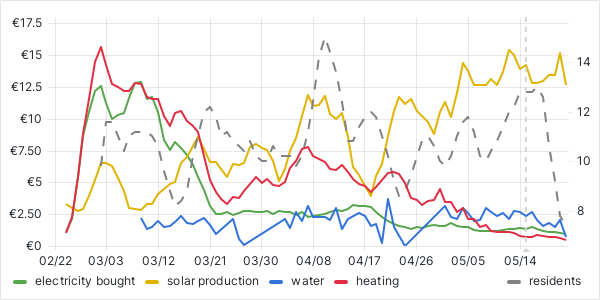 (Usage during the last 90 days)
Present: 8.7 people/day (-4.0)
⚡ Electricity

usage: 20.92 €/week (⬇️-16%)
of that for heating: 0.36 €/week
of that for hot water: 1.85 €/week
paid: -47.81 €/week
☀️ self produced: 78% (⬇️-1%)
emissions: 10 kg CO₂ₑ/week

💧 Water

paid: 14.27 €/week (⬇️-21%)
emissions: 1.1 kg CO₂ₑ/week
Expenditure
Other Income
Things that happened
In or around Kanthaus
very empty over the long weekend

Martin and Tilmann biking (seperately)
SiLa on vacation
Janina hiking
bubis at Clara's
Antonin at festival in Leisnig

3 HZ people stopping by on Sunday
more moth removal/proofing
people went to IDAHIT in Wurzen
big dumpster bike trip inauguration
some gardening work
an old paper factory was discovered in a village nearby
Wider world
many wars are continuing
right wing movement in global politics
2. This week planning
People arriving and leaving
Mon.: Antonin arrived
Tue.:
Wed.: kito arrives
Thu.: Anneke arrives (or friday morning)
Fri.: kito leaves, silvan leaves
Sat.: Larissa leaves, Antonin leaves, JaTiMiLe leave, Anneke's sisters arrive(?)
Sun.:
Mon.: Larissa comes back
Some day:
Weather forecast
sunny and warm, maybe a tiny bit of rain tomorrow
Evaluations and check-ins
Due for evaluation (and seen within the last 7 days):
Silvan Visitor : Days Visited threshold 24/21 (+14%)
Martin Volunteer : Days Visited threshold 68/60 (+13%)
Janina Member : Days Visited threshold 191/180 (+6%)
Monday

10:00 CoMe [Martin]
11:00 Power Hour trial [Larissa] -> discussion
Monday food care [part of PH?]
21:00 knowledge sharing open floor [Maxime]

Tuesday

Black bin [nobody]
15:00 - 17:00 Open Tuesday [lottery]

Wednesday

10:00 Attic session [Janina, you?]
19:00 Punkrock-Tresen @D5

Thursday

no Thursday power hour this week!
10:00 Janina's evaluation [Maxime]

Friday

Biomüll [Martin]
10:00 social sauna [Kito]

Saturday
Sunday
Next Tuesday
Next week summary
To be scheduled: (avoid conflicts, e.g. cooking team: 17:00-19:00)
Proposals: https://codi.kanthaus.online/KnowledgeSharingSessions?edit
3. Shopping plans
4. To do
Newest tasks on top
[ ] fix Daria trailer back lights
[ ] install missing smoke detectors [Martin]
[ ] give away saved windows in K20 basement (a lot) maybe https://www.trashgalore.de/? (martin)
[ ] give away roof windows (outside, under green tarp next to palettes)
[ ] give away roll of Dampfsperre
[ ] give away 2 rolls of Unterspannbahn
[ ] check fire extinguishers [Antonin]
[ ] de-clog compost toilet drain
[ ] modify the task lottery to prioritize open tuesday [Maxime]
[ ] replace shower curtain by (plexi)glass construction
[ ] renew the "Kanthaus"- sign on the Kanthaus [Kito]
[ ] grout the mosaique in the K20-2 bathroom []
[ ] light: freeshop hallway
[ ] light: K22 garden door
[ ] continue Grundstücksverschmelzung K20 + K22 (combining both properties) [Larissa]
5. Discussion & Announcements
Round 1
[maxime] I threw away some 15kg of potatoes that were getting very moldy in the K20 basement. It seems that it was building up humidity against the wall. A box of sprouting potatoes is still in the basement: could it be either donated or thrown away?

[Janina] I already gave out 2 boxes of potatoes last open tuesday. seems they got way worse since then. let's do something about this fast!
food stored in the basement needs to be off the floor and away from the walls, otherwise it builds up humidity and mold. also the door and windows should be closed as much as possible.

[Larissa] Should we do "normal" power hour today or on thursday?

temperature check points to today

[kito] isn't there social sauna this week? i added it, but someone removed it. if we do it thursday 3pm i could facilitate

i can also facilitate 10 am ;)
great, then it's friday at 10 am and kito faciliates!

[Doug] What expenses do we want to announce in CoMe?

Proposal: They should only be about communal money and not things that were paid for by private money.
There was the perspective before that it's also interesting what consumables are generally used, for whatever money. Could be that it came from chandi and he even used that data at some point? But that's not the case anymore. Zui and Larissa use the cash box record to calculate the cost of consumables.
Discussion about how clear the border is between private and common money.
Seems to be a bigger topic, could be moved to PlaMe.

[Janina] For a bike trip in the first two weeks of June (5th to ~15th) me, Tilmann and Larissa would like to take the silver ebike and Daria. Concerns? Resistance?

[Maxime] If Nathanael is here it should be fine.
[Antonin] I can make sure it'll be accessible.
Round 2
[maxime] I restarted the small fridge in the K20 basement to avoid the bananas-rotting-in-the-staircase pattern we have seen in the last weeks

[Janina] Don't refrigerated bananas mainly become brown..? :thinking_face:
[maxime] let's see if that's better or worse over a week, than letting them in the staircase
Yes, let's do it.
Main problem: Forgetting about the fridge.

[Larissa] I'll make a sign.

Side point: Maxime put newspaper in the fridge to soak up potential liquids.
[Doug] In my experience wet paper is much more annoying to clean that liquid.

[Antonin] there is still about one hour for volunteers and members to vote about incense use in Kanthaus

[Doug] We needs these buttons that say 'I voted!'. I'll take that on.

[Doug] Moths! Use jars! Properly close buckets! Bags and used backing paper need to be crumb-free, otherwise I'll just trash them. Moths looove crumbs and grains, let's not give them to them!
Result
Mon.: Dorota
Tue.: Maxime
Wed.: Larissa
Thu.: Antonin
Fri.: Janina
Open Tuesday: Cecilia