CoMe #293
Date: 2023-05-15
Facilitator: Janina
Notary: Kito
Children caretaker: Kita
Physical board caretaker: Gaia
Digital calendar: Martin
Reservation sheet purifier: Gaia
Present: Tilmann, Martin, Janina, Gaia, Maxime, Kito, Dorota
---
0. Check-in round
1. Last week review
Stats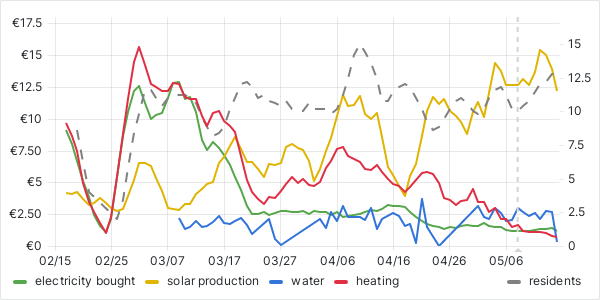 (Usage during the last 90 days)
Present: 12.7 people/day (+1.9)
⚡ Electricity

usage: 24.41 €/week (⬇️-3%)
of that for heating: 0.77 €/week (probably mostly Standby?)
of that for hot water: 1.64 €/week
paid: -48.4 €/week
☀️ self produced: 79% (0%)
emissions: 12 kg CO₂ₑ/week

💧 Water

paid: 18.07 €/week (⬆️+2%)
emissions: 1.4 kg CO₂ₑ/week
Expenditure
55€ roof window blind [tilmann]

K20 attic is now fully covered and dark! (~200€ in total, much less then expected)

10€ some oat, rice, lentils [maxime]
15€ oats, spreads
Bananeira order was placed!
Other Income
shoe was not checked, blame the facilitator!
Things that happened
In or around Kanthaus
Wenceslaigassenfest!!! many people and it was nice and great
Mika rode a bicycle
ESC watching, people enjoyed it
Maxime fixed his computer, Tilmann an Auerworld power drill
Mika vacuumed the piano room
Kito joined a Critical Mass in Leipzig
Wider world
First round of Turkish presidential election, looks baad :/
forest occupation in Berlin
2. This week planning
People arriving and leaving
Mon.: Larissa comes back
Tue.: Bodhi and Lise arrive, Cecilia_WA arrives
Wed.: Gaia leaves
Thu.: Martin leaves, JaTiMiLe leave
Fri.: kito leaves probably
Sat.:
Sun.: Martin comes back, JaTiMiLe come back, Antonin comes back
Mon.:
Some day: Larissa and Silvan leave
Weather forecast
some clouds, but generally nice spring weather. gets a bit colder before it gets warmer again.
Evaluations and check-ins
Due for evaluation (and seen within the last 7 days):
Martin Volunteer : Days Visited threshold 65/60 (+8%)
Silvan Visitor : Days Visited threshold 22/21 (+5%)
Janina Member : Days Visited threshold 188/180 (+4%)
Monday

10:00 CoMe
11:00 Power Hour trial [Janina]
Monday food care [part of PH]

Tuesday

15:00 - 17:00 Open Tuesday [lottery]

Wednesday

15:30 IDAHIT* @market square
19:00 Punkrock-Tresen @D5

Thursday

no Thursday power hour this week!
after dinner Project Updates [Kito]

Friday

Saturday

Sunday

a Flunkyball tournament and concert (Jazz/Folk/Akustikpunk/...) in Spitzenfabrik Grimma

Next Monday

Next week summary
To be scheduled:_ (avoid conflicts, e.g. cooking team: 17:00-19:00)
Proposals: https://codi.kanthaus.online/KnowledgeSharingSessions?edit
3. Shopping plans
stairs for the attic at some point....
4. To do
Newest tasks on top
[x] fix the K20-2 bathroom shower head holder [Martin]
[ ] install missing smoke detectors [Martin]
[x] fix the extension of the private storage with a new shelf to the wall next to the main bathroom [Martin]
[ ] give away saved windows in K20 basement (a lot) maybe https://www.trashgalore.de/? (martin)
[ ] give away roof windows (outside, under green tarp next to palettes)
[ ] give away roll of Dampfsperre
[ ] give away 2 rolls of Unterspannbahn
[ ] check fire extinguishers [Antonin]
[ ] de-clog compost toilet drain
[ ] modify the task lottery to prioritize open tuesday [Maxime]
[ ] replace shower curtain by (plexi)glass construction
[ ] renew the "Kanthaus"- sign on the Kanthaus [Kito]
[ ] grout the mosaique in the K20-2 bathroom []
[ ] light: freeshop hallway
[ ] light: K22 garden door
[ ] continue Grundstücksverschmelzung K20 + K22 (combining both properties) [Larissa]
5. Discussion & Announcements
Round 1
[Martin] Workaway request. Kate. Starting June 6th. Need host. I can do it for the first two weeks, but would rather not.

[Antonin] I could do the first week and hand over to someone else after
[Janina] I'll be cycling the first two weeks and thewn gone in July but would be happy to host her generally
we found enough people

[Antonin] I am proposing a change to the collective agreements: stating that incense should not be used in the house.
[Janina] DRK request to access the construction archives on our behalf
[Maxime] Bio bin was disgusting when it was emptied last week, so it's now cleaned and moved in it's summer location

only close it, when it's raining
remove as much liquid as possible before putting it to the bin (but clean the sink afterwards)
bin garage?
Round 2
[Janina] (last point) Power Hour! Please add what needs attention!

Bins: Dorota
Bathrooms K20: you?
Vacuuming 1st floor K20+K22: Maxime
Incoming food care today: Janina, Tilmann
Food sorting later in the week: Kito
Plant care: Dorota
Vortex: Martin
Communal closet:
Kitchens: Gaia

[Kito] Long Term Decision Meeting Update

FFJ is in progress, supposed to start on October 9 :tada:
guiding principles group had one meeting so far
attic has blinds, a plan for electricity and a decision on heating
'getting rid of slack' and 'building weeks' didn't progress so far

[Maxime] mold/humidity in the Cave

ventilation plan for the summer?
[tilmann] it's difficult because it's partially under the ground - structural problem, in winter partially possible with heating, also when renovating some cover against moisture was taken
[janina] can we raise the floor so it's not underground anymore
[tilmann] make a warning sign?
Last spontaneous points?
Volunteers
Mon.: Dorota
Tue.: Gaia
Wed.:
Thu.:
Fri.:
Open Tuesday:
Unavailabilities
Mon.: Kito, maxime
Tue.: Kito
Wed.: Kito
Thu.:
Fri.: Kito
Open Tuesday: maxime
Week: Martin, Janina, Tilmann
Result
Mon.: Dorota
Tue.: Gaia
Wed.: Maxime
Thu.: Kito
Fri.:
Open Tuesday:
7. For next week