CoMe #307
Date: 2023-08-22
Facilitator: Doug
Notary: Tin
Physical calendar: Dorota
Digital calendar: Tilmann
Reservation sheets: Cecilia
Weather forecast: Maxime
Present: Tilmann, Dorota, Cecilia, Alejandro, AZ1, Maxime, Doug, Janina, Martin, Larissa, Lena
---
0. Check-in round
1. Last week review
Stats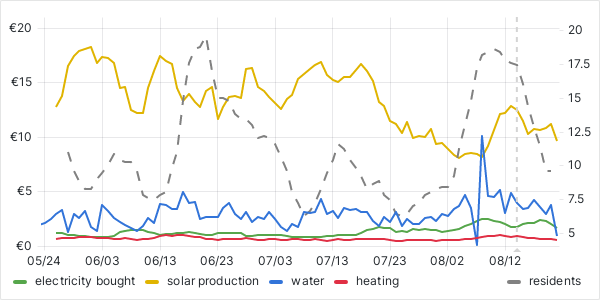 (Usage during the last 90 days)
Present: 8.6 people/day (-9.0)
⚡ Electricity

usage: 30.32 €/week (⬇️-29%)
of that for heating: 0.39 €/week
of that for hot water: 3.46 €/week
paid: -26.3 €/week
☀️ self produced: 62% (⬇️-13%)
emissions: 14 kg CO₂ₑ/week

💧 Water

paid: 25.54 €/week (⬇️-4%)
emissions: 2.0 kg CO₂ₑ/week
Expenditure
[tilmann/martin] 95€ for 100m electric cable (PVC-free) and two light switches
[maxime] 26.80€ for van rental + 11€ for fuel
Income
47€ Pfand
51.20€ donation
Things that happened
In or around Kanthaus
day trippers in Dresden
Klein gartens maintenance
trip to the lake
lots saved at Highfield
10+ electric extension cords fixed (now in K22-B event storage)
Wider world
cannabis decriminalization planned for Jan 01
half of Canada burning
2. This week planning
People arriving and leaving
Mon.:
Tue.: Larissa leaves
Wed.: larissa comes back
Thu.: AZ1 bro arrives
Fri.: Martin leaves, Lena's mom visits, Vroni's group stays for a night
Sat.: AZ1 bro leaves.
Sun.: Martin return, Lena and mom leave
Mon.:
Some day: Anneke comes back (wednesday/thursday)
Sun, a lot of it, but not too warm. Might be a storm Thursday.
Evaluations and check-ins
Anneke Volunteer: Days Visited threshold 95/60 (+58%)
Doug Volunteer: Days Visited threshold 64/60 (+7%)
Larissa Member: Days Visited threshold 192/180 (+7%)
Monday
Tuesday

10:00 - CoMe [Doug]
11:00 - Power Hour
15:00 - 17:00 Open Tuesday [lottery]

Wednesday

12:00 - 17:00 MitMachCafé
18:00 - Punkrocktresen

Thursday

10:00 - Doug eval. [Janina]
13:00 - 18:00 MitMachCafé (Doug goes this day)
18:30 - FLINTA thai boxing @ D5

Friday

Yellow bins [Dorota]
10:00 - Social Sauna [Doug]
17:00 - FLINTA tech meet up
18:00 - Critical Mass Leipzig (Augustus platz)

Saturday

15:00 - 00:00 KoLa Hoffest

Sunday
Next Monday
Next week summary
3. Shopping plans
[doug] anti-clamp, 25€ https://eustore.ifixit.com/products/anti-clamp
[Anneke relayed by Lena] White paint for Lantern

[tilmann] worth checking what kind of paint we bought before and how good they have been
otherwise no resistance, approved

[Maxime] earplugs APPROVED
4. To do
Newest tasks on top
[x] remove weeds in front of the houses [Cecilia]
[x] Fix Cloud Room door indicator [Martin]
[ ] Fix Dorm window holder [Maxime]
[ ] Fix the black cupboard for hats, gloves and scarves in K20 entrance which is slowly falling apart []
[ ] wash everything in the K20 entrance black cupboard [Dorota]
[ ] curtain for the Cave [Anneke]
[ ] curtain for lantern [Lena]
[ ] make K20-2 bathroom privacy indicator realiable

[Tilmann] what kind of problems did you encounter? I tried to simplify the logic to make it more reliable already, but I wonder if the motion sensor could be flaky.
[Martin] I know Dorota has been working on it.
[Dorota] If you first press the private button and then close the door, it turns public again

[ ] fill holes in Snack kitchen floor where moths breed

it started but it's not done yet, unclear what is the right material

[doug] recommend a bit of building foam for a base, then concrete

[ ] fix Daria trailer back lights

[Martin] Cables got pinched, I suggest redoing the whole thing

[ ] replace shower curtain by (plexi)glass construction
[ ] renew the "Kanthaus"- sign on the Kanthaus [Kito]
[ ] grout the mosaique in the K20-2 bathroom []
[ ] light: freeshop hallway
[ ] light: K22 garden door
5. Discussion & Announcements
Round 1
[doug] poll for social sauna time https://crab.fit/social-sauna-148339
[Martin] Gartenfest prep/to do list? I propose we start doing some stuff to not have to run around last minute. Also we might be able to give extra touches.

sweep trash corners
weed the walkways
bricks
ADVERTISE THE EVENT!

[tilmann] highfield follow-up

sort away toilet paper
sort away trash bags in wash room
sort away bbq stuff in K18
sort cans in basement [Larissa]
move unwanted drinks to open tuesday or K18 Kleinanzeigen room
moth-proofing food in K20-1

[maxime] Diesel apparently produces some 2.6kg of CO₂ per litre burnt. The trip to Highfield required burning 13L, so around 34kg CO₂. I would like to take some of the charcoal collected and bury it somewhere to compensate for those emissions.

[Doug] believe it would be 8.5 kg charcoal for parity (assuming 100% carbon)

2.740kg CO₂/dry charcoal kg burnt (not including charcoal making) source => that would be 12.4kg charcoal to match the 34kg CO₂

No resistance to the symbolic act, as long as there's enough charcoal for the next year ;p

[kito] is someone interested to do the Penny pickup thursday 6:30pm? i took the slot, but i would be happy if someone else does it. there is a second person coming, so we can get only half the stuff probably ;)

[Doug] thinking about it
[Maxime] Could be backup

[Dorota] can stuff be saved from the feminist festival?
Round 2
[doug] menstruation friendliness: bin in every toilet? Tampons/pads in every toilet? Stock a couple different sizes of menstrual cup in house for people to personalize?

[tilmann] would be good to distribute the tampons/pads that we have in the bathroom

[tilmann] garden fuse was off yesterday noon, any reason why that could have happened?

it also cut off the freezer because they are connected to the same RCD

[maxime] Let's make a solar-powered electric bbq this evening!

no resistance (but we do expect electric resistance)
Round 3
[tilmann] K18 right room at the back - it's getting quite confusing with stuff for Harzgerode, Silvan, Dorota, Lantern and some stuff that looks like it has been sorted out of free shop. Please label clearly, otherwise stuff might end up elsewhere during clean-up actions!
Volunteers
Mon.: Highfield
Tue.: Maxime
Wed.: Janina
Thu.: Alejandro
Fri.: AZ1
Open Tuesday:
Unavailabilities
Mon.:
Tue.:
Wed.: Doug, Cecilia
Thu.: Cecilia
Fri.: Dorota, Cecilia
Open Tuesday:
Week: Martin, Larissa, Tilmann
Result
Mon.: Highfield
Tue.: Maxime
Wed.: Janina
Thu.: Alejandro, Doug
Fri.: AZ1, Dorota
Open Tuesday: Lena
7. For next week