CoMe #308
Date: 2023-08-28
Facilitator: Larissa
Notary: Janina
Physical calendar: Kito
Digital calendar: Doug
Reservation sheets: Cecilia
Weather forecast: Martin
Present: Martin, Doug, Cecilia, ASZ1, Maxime, Kito, Larissa, Anneke
---
0. Check-in round
1. Last week review
Stats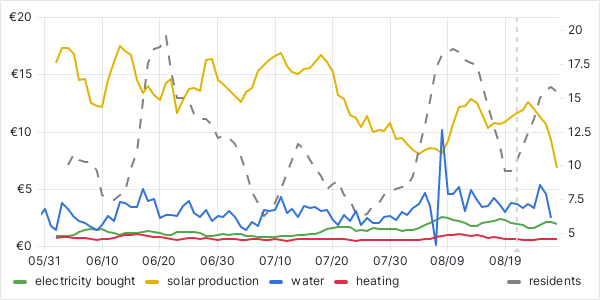 (Usage during the last 90 days)
Present: 15.0 people/day (+4.6)
⚡ Electricity

usage: 30.12 €/week (⬆️+9%)
of that for heating: 0.42 €/week
of that for hot water: 1.98 €/week
paid: -19.01 €/week
☀️ self produced: 68% (⬆️+6%)
emissions: 14 kg CO₂ₑ/week

💧 Water

paid: 25.26 €/week (⬇️-1%)
emissions: 2.0 kg CO₂ₑ/week
Expenditure
[Doug] 40€ for paint and small metal piece for lantern
Income
Things that happened
In or around Kanthaus
a big Kanthaus outing to KoLa Hoffest
card game at mitmachcafé
doug became a member again
a storm damaged stuff: the pavillion, and some window joints
Wider world
crazy storm messed up public transport and more on Friday
new EU law attempts to force big social media to promptly remove illegal and harmful content
2. This week planning
People arriving and leaving
Mon.:
Tue.:
Wed.: kito leaves
Thu.:
Fri.:
Sat.: Franzi comes for a night, Lena+2 might come for a night, Mila arrives
Sun.:
Mon.: Miel arrives
Some day: Luise [Anneke] arrives (wed/thu) for some days
GRAY all week, with mild temperatures, rain here and there, except Tuesday when it will be continuous.
Evaluations and check-ins
[Thore] I would like to do an evaluation. Choose a slot in the following time periods: Wednesday from 15:00 - 17:00, Thursday from 15:00 - 17:00 or Friday from 11:00 - 17:00.
[Anneke] I also could have my evaluation this week :-)
Due for evaluation (and seen within the last 7 days):

Larissa Member: Days Visited threshold 197/180 (+9%)

Due for evaluation soon (in the next 7 days, and seen within the last 7 days):

Maxime Member: 2 days until Days Visited threshold (180)
Monday

10:00 - CoMe [Larissa]
11:00 - Power Hour

Tuesday

Rest waste [Martin]
15:00 - 17:00 Open Tuesday [lottery]

Wednesday

12:00 - 17:00 MitMachCafé
15:00 - Thore's evaluation [Anneke]
18:00 - Punkrocktresen

Thursday

13:00 - 18:00 MitMachCafé
18:30 - FLINTA thai boxing @ D5

Friday

Organic waste [Maxime]
10:00 - [Planning meeting] [Doug]

Saturday

10:00 - Burkartshain FFW fest
14:00 - 21:00 Kanthaus Fest!

Sunday
Next Monday
Next week summary
3. Shopping plans
[tilmann] 2€ some metal sponges for kitchen (don't throw them away when dirty, but put them in the top tray of the dishwasher!)

[Martin] I have thrown some away when they start breaking apart and leave metal pieces. Maybe we could hang them from a hook so they stay less humid?
Yes, please!

[tilmann] 30€ LED bulbs for standing lamps in dragon and cloud room
[tilmann] ~100€ for kanthaus.online domain renewal for ~5 years

Thanks for taking care of that!
4. To do
Newest tasks on top
[ ] Small bin for every toilet
[ ] Fix Dorm window holder []
[ ] Fix Dorm window joint [Maxime]
[x] Fix the black cupboard for hats, gloves and scarves in K20 entrance which is slowly falling apart [Larissa]
[ ] wash everything in the K20 entrance black cupboard [Dorota]
[X] curtain for the Cave [Anneke]
[ ] curtain for Lantern []
[x] make K20-2 bathroom privacy indicator realiable

[Tilmann] what kind of problems did you encounter? I tried to simplify the logic to make it more reliable already, but I wonder if the motion sensor could be flaky.
[Martin] I know Dorota has been working on it.
[Dorota] If you first press the private button and then close the door, it turns public again
[Tilmann] made a few changes to ignore the door status, hope it's better now

[ ] fill holes in Snack kitchen floor where moths breed

it started but it's not done yet, unclear what is the right material

[doug] recommend a bit of building foam for a base, then concrete

[ ] fix Daria trailer back lights

[Martin] Cables got pinched, I suggest redoing the whole thing

[ ] replace shower curtain by (plexi)glass construction
[ ] renew the "Kanthaus"- sign on the Kanthaus [Kito]
[ ] grout the mosaique in the K20-2 bathroom []
[ ] light: freeshop hallway
[ ] light: K22 garden door
5. Discussion & Announcements
Round 1
[from last week] Did it happen?

[Martin] Gartenfest prep/to-do list? I propose we start doing some stuff to not have to run around last minute. Also we might be able to give extra touches.

[x] sweep trash corners [Maxime]
[ ] weed the walkways [Martin]
[ ] bricks
[ ] ADVERTISE THE EVENT!

highfield follow-up

[x] sort away toilet paper [Doug]
[ ] sort away trash bags in wash room [Martin]
[ ] sort away bbq stuff in K18
[x] sort cans in basement [Larissa]
[x] move unwanted drinks to open tuesday or K18 Kleinanzeigen room [Cecilia]

[ ] some more drinks need to be sorted

[ ] moth-proofing food in K20-1 [PH food sorting task for today]

[Janina] Sommerfest!

Did you all invite the people you know? ;)
Ralf, Nicky and I will do pickups and set up a Fairteiler in the K22 entrance
Who can take the hat for the KüFa?
Who can do a ~30 minutes house tour? (I'd like to have several in the end.)

Larissa, Janina, maybe Doug

Who can play music?

Maxime, but more people putting songs are welcome

Who can put up decorations and signage?

Anneke is happy to put it up, Janina and Doug look for things

Shall we do a communal garden clean-up and fest prep session on Friday afternoon and/or Saturday morning?

Clean-up on Friday and infrastructure/decoration setup on Saturday?
Will be clarified in PlaMe

Which toilet shall we recommend to Sommerfest guests? Last time it was the compost toilet and the lower staircase toilet. Cecilia will check sometimes.
General infrastructure will be decided on in PlaMe

Janina will ask Ralf and Heidi about beer tables

[kito] group request for 8 people on September 15-17, kito can host.
[Anneke] hosting Emma (workaway) (somewhere between Aug 30 and Sep 20)

Janina can do it after Sommerfest

[Maxime] hosting request from Hannah (sociology student) and Nikita (studying playwright) on Trustroots: "Falls es euch passen würde, wenn wir irgendwann zwischen 11. und 17.09. mal bei euch vorbeikommen, sag gerne Bescheid!". I could host if no resistance.
Round 2
[Janina] Bike name ukuvota open for proposals for 6 more days. Then 7 days of voting.
[kito] Stand-up meetings

9:30 in the elephant room

[Doug] Do we want to coordinate Kanthaus off-days? I'm motivated to chat about that today.
Round 3
[Janina] From next week on the potato/onion pile of Landgut Nemt will most probably be available. Then we just need to spontaneously call and announce that we'll be coming. Talk to me if you're interested to go and get some produce!
Volunteers
Mon.: ASZ1
Tue.:
Wed.:
Thu.:
Fri.: Janina
Open Tuesday:
Unavailabilities
Mon.: Maxime, Doug
Tue.: Larissa
Wed.: Doug
Thu.: Larissa, Maxime
Fri.: Larissa
Open Tuesday: Larissa, Maxime
Week: Martin, Anneke, kito, Tilmann
Result
Result
Mon.: Ahmed
Tue.: Maxime
Wed.: Larissa
Thu.: Doug
Fri.: janina
Open Tuesday: Cecilia
7. For next week