CoMe #309
Date: 2023-09-04
Facilitator: Janina
Notary: Martin
Physical calendar: Doug
Digital calendar: Maxime
Reservation sheets: Larissa
Weather forecast: Tilmann
Present: Luise, Klara, Larissa, Doug, ASZ1, Maxime, Dorota, Martin, Lena, Alejandro, Janina, Tilmann, Anneke, Thore
---
0. Check-in round
1. Last week review
Stats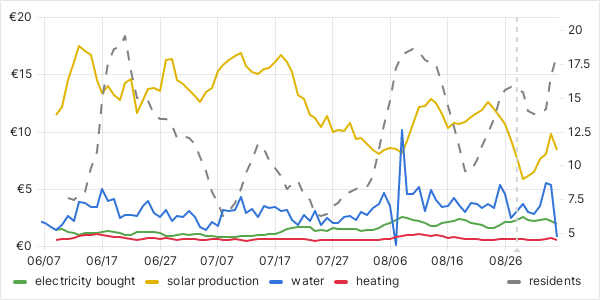 (Usage during the last 90 days)
Present: 16.7 people/day (+1.6)
⚡ Electricity

usage: 34.37 €/week (⬆️+10%)
of that for heating: 0.44 €/week
of that for hot water: 2.82 €/week
paid: -6.32 €/week
☀️ self produced: 66% (⬇️-2%)
emissions: 16 kg CO₂ₑ/week

💧 Water

paid: 23.08 €/week (⬇️-9%)
emissions: 1.8 kg CO₂ₑ/week
Expenditure
[tilmann] 125€ kanthaus.online renewal for 5 years
[tilmann] 300€ electric wall sockets and switches
[tilmann] 15€ for 3 special LED bulbs
[Anneke] 50€ food stuffs for Sommerfest
Income
Things that happened
In or around Kanthaus
Kanthaus Sommerfest
a PlaMe full of topics with successful remote participation
Cecilia left for her big trip
the Lantern is usable again
a lot of visitors!
Wider world
Drama in the Bavarian politics
Bike demos in Leipzig and Berlin
2. This week planning
People arriving and leaving
Mon.: Kate will arrive, Miel_Doug
Tue.: kito comes back, 3-4 people of FFJ orga team come for 1 night, Lena (maybe)
Wed.: Luise leaves
Thu.:
Fri.: Nikhil_Doug
Sat.: kito leaves
Sun.:
Mon.:
Some day: Klara will leave at some point
Evaluations and check-ins
Anneke Volunteer: Days Visited threshold 106/60 (+77%)
Lena_masterarbeit Visitor: Days Visited threshold 27/21 (+29%)
Larissa Member: Days Visited threshold 206/180 (+14%)
Alejandro_Martin Visitor: Days Visited threshold 22/21 (+5%)
Maxime Member: Days Visited threshold 187/180 (+4%)
Monday

10:00 - CoMe [Janina]
11:00 - Power Hour
~14:00 save good stuff from a flat near-by [Doug]

Tuesday

9:30 Lena's evaluation [Janina]
15:00 - 17:00 Open Tuesday [lottery]

Wednesday

12:00 - 17:00 MitMachCafé
18:00 - Punkrocktresen

Thursday

11:00 Annekes evaluation [Larissa]
13:00 - 18:00 MitMachCafé
18:30 - FLINTA thai boxing @ D5

Friday

Yellow bins [Alejandro]
10:00 Project Updates [Maxime]

Saturday

Attic session [Martin, Ale]
16:00 Metarosa September Sause in Leipzig

Sunday
Next Monday
Next week summary
3. Shopping plans
4. To do
Newest tasks on top
[ ] upstairs toilet K-20 flushing mechanism needs fixing []
[ ] cover the pipes from the rest of the room in the snackitchen (wooden board angle?) [maxime]
[ ] fix up beer benches and tables [Alejandro, Klara]
[ ] fix occupancy indicator ex-foodstorage [Martin]
[ ] Small bin for every toilet
[x] Fix Dorm window holder [maxime]
[ ] Fix Dorm window joint [maxime]
[x] wash everything in the K20 entrance black cupboard [Dorota]
[x] curtain for Lantern [larissa]
[ ] fill holes in Snack kitchen floor where moths breed

it started but it's not done yet, unclear what is the right material

[doug] recommend a bit of building foam for a base, then concrete

[ ] fix Daria trailer back lights

[Martin] Cables got pinched, I suggest redoing the whole thing

[ ] replace shower curtain by (plexi)glass construction
[ ] renew the "Kanthaus"- sign on the Kanthaus [Kito]
[ ] grout the mosaique in the K20-2 bathroom []
[ ] light: freeshop hallway
[ ] light: K22 garden door
5. Discussion & Announcements
Round 1
[Janina] Potatoes and onions! The pile will be available end of the week! We need to announce beforehand that we'll come and I'd like to also make these times available on foodsharing a bit in advance. Who'd be up for digging some onions and potatoes out of a dirt pile end of this week? :)

Potential volunteers: Tilmann, Larissa, AZ1, Dorota, Alejandro

[Anneke] hosting Dima (arrival ~12th Sep, for ~2 weeks, also learning Rust atm)

[Antonin] I can't host because I am arriving later but I would be interested in getting to know them and offering activities
[Maxime] I can host!

[Larissa] Please return stuff that you moved from its' original location.

[Janina] Small matress next to it is Mika's, needs storage somewhere for now.
[Doug] leave notes on stuff! Your name or who to contact for info. Check around a room before leaving because BIG house.
Round 2
[Janina] K16 people want more sun in their garden. Therefore they asked us if we can cut the tree in the compost corner. It's about one big branch that might very well be a quarter of the tree. How to proceed?

They also asked for the contact of O'Conner-Close for another issue. I guess I'll give it to them?
Moved to Slack

[Larissa] Private jacket sale. Thursday jackets will go into a box for six months storage, and then go to the vortex. Next is shoes.

[Janina] name tags for the jacket rack?
Round 3
[Janina] E-bike name ukuvota is now in voting phase!
[Dorota] Central paper place for CoMe points?
Volunteers
Mon.: Anneke, Luise
Tue.: ASZ1
Wed.:
Thu.:
Fri.:
Open Tuesday:
Unavailabilities
Mon.: Doug
Tue.: Larissa, Alejandro, Doug
Wed.: Larissa, Alejandro, Doug
Thu.: Janina, Klara
Fri.: Klara
Open Tuesday: Larissa, Maxime, Alejandro, Doug, Dorota
Week: Martin, Tilmann, Larissa, Thore, Lena
Result
Mon.: Anneke, Luise
Tue.: ASZ1
Wed.: Janina, Kate
Thu.: Maxime, Doug
Fri.: Dorota, Alejandro
Open Tuesday: Klara
7. For next week