CoMe #311
Date: 2023-09-18
Facilitator: Martin
Notary: Janina
Physical calendar: Doug
Digital calendar: Tilmann
Reservation sheets: Kito
Weather forecast: Kito
Present: Kito, Larissa, Doug, Tilmann, ASZ1, Janina, Alejandro, Maxime
---
0. Check-in round
1. Last week review
Stats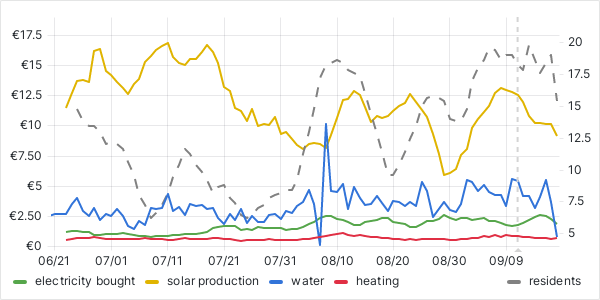 (Usage during the last 90 days)
Present: 17.4 people/day (-1.0)
⚡ Electricity

usage: 35.68 €/week (0%)
of that for heating: 0.44 €/week
of that for hot water: 2.65 €/week
paid: -16.61 €/week
☀️ self produced: 67% (⬇️-8%)
emissions: 17 kg CO₂ₑ/week

💧 Water

paid: 30.06 €/week (⬇️-4%)
emissions: 2.3 kg CO₂ₑ/week
Expenditure
[maxime] 8.90€ for 5kg oat
[tilmann] 1210€ k20-3 heating

854€ main unit
205€ additional material
151€ tools

[tilmann] 49€ bike parts (2x trailer tyres, pedals)
[Doug] 30€ razors, blades, office supplies
Income
Things that happened
In or around Kanthaus
a group in Kanthaus
kola field work action and pumpkins saved
attic work sessions, drywall and electricity continues
parking day / climate strike in Leipzig
k20-3 heating installed
big hole in the snack kitchen filled with concrete for fire protection
kate became a volunteer
social sauna with interesting topics
larissa met with local and federal politicians
another onion savon action
anneke's farewell party
pödelwitz thanksgiving party
Wider world
Libya dam/climate disaster
California is sueing the ass off companies for climate change damages
Eritreans fight in the streets of Stuttgart
2. This week planning
People arriving and leaving
Mon.: kito leaves until tuesday evening, Kate comes back
Tue.: Dima comes back
Wed.:
Thu.: Alejandro leaves
Fri.: Larissa leaves
Sat.:
Sun.:
Mon.: Larissa comes back, Alejandro comes back
Some day:
warm and cloudy with some thunderstorm/rain, cools down towards the weekend
Evaluations and check-ins
Alejandro_Martin Visitor: Days Visited threshold 37/21 (+76%)
ASZ1 Visitor: Days Visited threshold 35/21 (+67%)
ASZ2 Visitor: Days Visited threshold 35/21 (+67%)
Larissa Member: Days Visited threshold 221/180 (+23%)
Maxime Member: Days Visited threshold 202/180 (+12%)
Monday

10:00 - CoMe [Martin]
11:00 - Power Hour
15:00 - notary (with DRK) [Larissa + Doug]
15:30 - Thore's birthday cake in the garden, then lake trip

Moved to 15:30 because of the notary appointment

Tuesday

10:00 - potato action outreach planning [Kate]
15:00 - 17:00 Open Tuesday [lottery]
in the evening: quick presentation about the Moulin Bleu [Antonin]

Wednesday

10:00 - Alejandro's evaluation [Maxime]
12:00 - 17:00 MitMachCafé
18:00 - Punkrocktresen

Thursday

13:00 - 18:00 MitMachCafé
18:30 - FLINTA thai boxing @ D5

Friday

Yellow bins [Maxime]
10:00 - PlaMe [Janina]
15:00 - 18:00 foodsharing potato action in market square [Janina]

Saturday

15:30 - Katzentempel [Antonin, JaMiLe, Franzi, Anja]

Sunday
Next Monday

Blue bins [Tilmann]
10:00 CoMe [Kito]

Next week summary
3. Shopping plans
Wheat flour [maxime]
masking tape [kito]
display port adapter [kito]
4. To do
Newest tasks on top
[ ] Repair of KTM-bicycle front light. Broken mechanical support. Electrical part OK. This is in the "Front lights" box.
[ ] curtains for the dragon room that prevent passersby from staring inside
[ ] cut branch from tree in the compost corner
[x] put new sign at the bike-repairstation [Antonin]
[x] properly dispose of the lead battery in the trash corner [Maxime]

I gave it to M&D on Dresdener Straße

[x] fix access to cloud.kanthaus.online [Antonin]
[x] put Lantern smoke detector back on ceiling [Martin]
[ ] upstairs toilet K-20 flushing mechanism needs small fix (ask Martin or Doug) [Janina]
[ ] cover the pipes from the rest of the room in the snack kitchen (wooden board angle?) []

[tilmann] maybe directly go for drywall as final measure?

[maxime] that would be the right but more difficult remediation indeed. I looked at options to hack a wooden corner, but didn't find satisfying options in the wood shed, so I'll leave there.

[ ] fix up beer benches and tables [Alejandro, Klara]
[ ] Small bin for every toilet
[ ] fill holes in Snack kitchen floor where moths breed

it started but it's not done yet, unclear what is the right material

[doug] recommend a bit of building foam for a base, then concrete

[ ] fix Daria trailer back lights

[Martin] Cables got pinched, I suggest redoing the whole thing

[ ] replace shower curtain by (plexi)glass construction
[ ] renew the "Kanthaus"- sign on the street side facade [Kito]
[ ] grout the mosaique in the K20-2 bathroom []
[ ] light: K22 garden door
5. Discussion & Announcements
Round 1
[Anneke] thank you everyone for a beautiful farewell party and this amazing booklet, I was touched so much!! love you all
[kito] visitor requests (Adele, JJ, group)

all quite soon, group in mid october
kito communicates with group
doug might reply to one if the individuals

[janina] potato action!

it's gonna be quite the event: kate prepares snacks to hand out, I will make tiny flyers.
could be cool to also have a pavillion with a table and two benches, as well as the big poster holder

need help transporting that on Friday at 2 pm and back around 6 pm
Kito, Doug and ASZ1 are in

[doug] Suggest we try not to have more than 10 tasks on list... delete oldest tasks without names first?

[kito] a backlog somewhere else would be nice. maybe a pad?
[tilmann] it will be like a graveyard...
[janina] but it also doesn't hurt to have one
[doug] dorota was also interested in more detailed task management, might be good to talk when she's back
Round 2
[kito] neighbourhood

let's talk more about it in PlaMe

[Doug] Moved the big communal shoe rack to free shop. Shoes in Vortex.
Round 3
Result
Mon.: Janina
Tue.: Alejandro, Maxime
Wed.: ASZ1, ASZ2
Thu.: Dima
Fri.: Kito, Doug
Open Tuesday: Kate