CoMe #314
Date: 2023-10-09
Facilitator: Janina
Notary: Janina
Physical calendar: Tilmann
Digital calendar: Doug
Reservation sheets: Janina
Weather forecast: kito
Present: Janina, Tilmann, kito, Doug
---
0. Check-in round
1. Last week review
Stats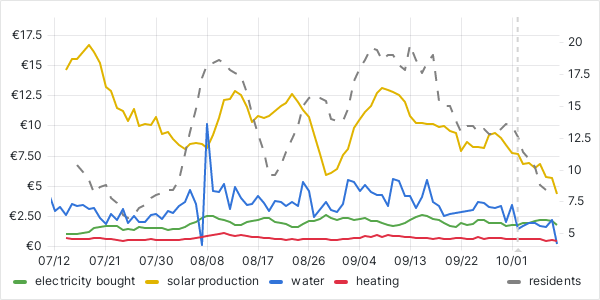 (Usage during the last 90 days)
Present: 6.0 people/day (-6.9)
⚡ Electricity

usage: 27.9 €/week (⬇️-19%)
of that for heating: 0.6 €/week
of that for hot water: 0.84 €/week
paid: -1.42 €/week
☀️ self produced: 55% (⬇️-12%)
emissions: 13 kg CO₂ₑ/week

💧 Water

paid: 11.94 €/week (⏬-47%)
emissions: 0.9 kg CO₂ₑ/week
Expenditure
[Antonin] 125€ for Gipskarton and two small bins (to be put in service in toilets)
[Janina] 20€ for oats, lentils, couscous, polenta
Income
15€ [Alejandro] Forgot to return a communal power bank, therefore he is paying for it.
Things that happened
In or around Kanthaus
Ventilation for Piano and Elephant!
Heating system water filters cleaned
Socket in private got fixed
Presentation about Tor by Dima
Children's march documentary screening by Kate
utopia-os presentation and discussion with Anton
TOI timeframe voting
k20 attic work continues
big couch cleaning in the dining room
more potato saving followed by potato jarring experiments
hkw mv invitation was sent out
several joint sessions of vampire survivors
Wider world
elections in Bavaria and Hessen: afd got quite strong, green and left lost a lot
earthquake mainly in afghanistan, many dead people
hamas started heavy attacks on israel, more than 1000 people killed already. israel takes it as declaration of war.
Popcorn of feedback
remember to close doord to staircases, especially over night!
2. This week planning
People arriving and leaving
Mon.: kito has arrived
Tue.: Antonin comes by for the day, Johann might come until Friday
Wed.:
Thu.: JaTiMiLe leave for the weekend
Fri.: Larissa comes back
Sat.: Antonin comes back, Yuliya arrives, kito leaves, Martin leaves for one night
Sun.:
Mon.:
Some day: Doug
gets colder, rainer and cloudier. autumn is fully here. but wednesday will be good.
Evaluations and check-ins
Larissa and Maxime - both not here
Monday

10:00 - CoMe [Janina]
11:00 - Power Hour
15:00 - Carrot gleaning [Janina, Martin, you?]

Tuesday

Hausmüll [Martin]
15:00 - 17:00 Open Tuesday

Wednesday

12:00 - 17:00 MitMachCafé
18:00 - Punkrocktresen

Thursday

13:00 - 18:00 MitMachCafé
18:30 - FLINTA thai boxing @ D5

Friday

Biotonne [bis-quito]
10:00 - Social sauna [kito]

Saturday
Sunday
Next Monday
Next week summary
3. Shopping plans
4. To do
Newest tasks on top
[ ] fix/improve K20-1 staircase night light (can ask Tilmann for details about wiring)
[ ] put kanthaus logo on the new beer benches and tables
[ ] curtains for the dragon room that prevent passersby from staring inside
[ ] cut branch from tree in the compost corner (after leaves fall)
[ ] cover the pipes from the rest of the room in the snack kitchen (wooden board angle?) []

[tilmann] maybe directly go for drywall as final measure?

[maxime] that would be the right but more difficult remediation indeed. I looked at options to hack a wooden corner, but didn't find satisfying options in the wood shed, so I'll leave there.

[x] Small bin for every toilet
[ ] fill holes in Snack kitchen floor where moths breed

it started but it's not done yet, unclear what is the right material

[doug] recommend a bit of building foam for a base, then concrete

[ ] fix Daria trailer back lights

[Martin] Cables got pinched, I suggest redoing the whole thing. Also, use a diode to prevent over voltage.

[ ] replace shower curtain by (plexi)glass construction
5. Discussion & Announcements
Round 1
[Janina] Collective Agreements change is underway! Proposals until today 2 pm, then one week of voting. Don't forget to take part if you're a volunteer or member!
[Antonin] could someone reserve a private for Yuliya, arriving on Saturday evening?

everything's free, no need to stress about this.

[Nathalie] I'd like to do some sorting and cleaning (mainly things we currently have in our basement) and I'm looking for a temporary sorting room. Is it possible to claim a room in the K18 and put a sign? Suggested time period 4 weeks.

sure, but not in the ground floor.

[Doug] door-closers: why not have them on all doors we want to have closed in winter?

[tilmann] all doors would be quite a lot. and requires maintenance in spring and fall. the staircase doors would make the biggest difference, maybe they're enough?
concern: loud slamming. but there are models that don't do that.
consent from this round, doug will start looking into it.
Round 2
[kito] foodsharing pickup
[kito] toi voting result: 3 shorter focus times with 3-6 weeks in between
Volunteers
Mon.: Janina
Tue.:
Wed.: kito
Thu.:
Fri.:
Open Tuesday: Doug
Unavailabilities
Mon.:
Tue.:
Wed.:
Thu.:
Fri.:
Open Tuesday:
Week: Tilmann
Result
Mon.: Janina
Tue.:
Wed.: kito
Thu.:
Fri.:
Open Tuesday: Doug
7. For next week
*