CoMe #317
Date: 2023-10-30
Facilitator: Martin
Notary: Kitolino
Children caretaker: Janina and Larissa
Physical calendar: Maxime
Digital calendar: Kito
Reservation sheets: Loup
Weather forecast: Martin
Present: Larissa, Loup, Maxime, Martin, Janina, Kito
---
0. Check-in round
1. Last week review
Stats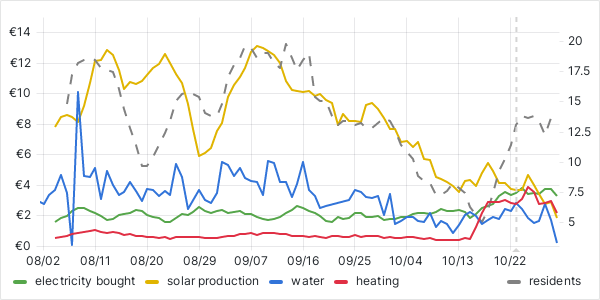 (Usage during the last 90 days)
Present: 11.9 people/day (+0.3)
⚡ Electricity

usage: 48.82 €/week (⬇️-2%)
of that for heating: 11.66 €/week
of that for hot water: 2.89 €/week
paid: 33.93 €/week
☀️ self produced: 52% (⬇️-6%)
emissions: 23 kg CO₂ₑ/week

💧 Water

paid: 14.17 €/week (⬆️+3%)
emissions: 1.1 kg CO₂ₑ/week
Expenditure
5€ salt and quinoa [Martin]
25€ for eurotopia book [janina]
?€ for 5kg oat and ~3kg rice [Matthias]
10 euro for olive oil, garlic etc [Kate]
Income
Things that happened
In or around Kanthaus
(somewhat contained) COVID breakout!
swimming pool experience
Advent Calendar is up! Fill it up!
apparently the Spitzboden is finished
10% of the critical mass in Leipzig were Kanthausians
people went to the concert in D5 and an open air in Ostend
Mika's birthday party with sushi and cake and grandparents
NDK autumn fest and Janina and the kids went
Doug and Kito were the only visiors for the movie screening in NDK on monday
Larissa remained a member
Wider world
Popcorn of feedback
2. This week planning
People arriving and leaving
Mon.:
Tue.:
Wed.:
Thu.: kate returns, venla arrives, kito leaves
Fri.:
Sat.: Katja&Konrad for one night, several day and overnight guests (like Bodhi and Lise, Matthias and Clara)
Sun.:
Mon.: kito comes back
Some day: AgQFiZo somehow for the weekend
grey, not so much sun, temperature between 8 and 15 degrees, sporadic rain
Evaluations and check-ins
Due for evaluation (and seen within the last 7 days):
Maxime Member: Days Visited threshold 215/180 (+19%)
Antonin Volunteer: Days Visited threshold 61/60 (+2%)
Monday

10:00 - CoMe [Martin]
11:00 - Power Hour

Tuesday
Wednesday

12:00 - 17:00 MitMachCafé
18:00 - Punkrocktresen

Thursday

13:00 - 18:00 MitMachCafé
16:00 - "Aktuelle Lage" (current situation, talk about news) [kito] - maybe at MitMachCafé
18:30 - FLINTA thai boxing @ D5

Friday

10:00 - Project Updates [Martin]

Saturday

yellow bin [Loup]
15:00 - Mika's Bday party!

Sunday
Next Monday

10:00 CoMe [Maxime]
18:00 Tischgespräch: Jüdische Lebenswelten @NDK

Next week summary
3. Shopping plans
Lack for Dachboden, ? € [Doug]
LYCKSELE (HÅVET), 100 - 250 € [Doug] (space 165 X 200)
Zimt [Maxime]

bigger amount in good quality would be nice
also paprika powder and garlic powder are interesting
there is a store mentioned in #kanthaus-food
4. To do
Newest tasks on top
[ ] proof-reading heating page in handbook https://handbook.kanthaus.online/technical/heating.html [kate]
[ ] fix/improve K20-1 staircase night light (can ask Tilmann for details about wiring)
[ ] put kanthaus logo on the new beer benches and tables
[ ] curtains for the dragon room that prevent passersby from staring inside
[ ] cut branch from tree in the compost corner (after leaves fall)
[ ] cover the pipes from the rest of the room in the snack kitchen (wooden board angle?) []

[tilmann] maybe directly go for drywall as final measure?

[maxime] that would be the right but more difficult remediation indeed. I looked at options to hack a wooden corner, but didn't find satisfying options in the wood shed, so I'll leave there.

[ ] fill holes in Snack kitchen floor where moths breed

it started but it's not done yet, unclear what is the right material

[doug] recommend a bit of building foam for a base, then concrete

[ ] fix Daria trailer back lights [Dorota]

[Martin] Cables got pinched, I suggest redoing the whole thing. Also, use a diode to prevent over voltage.

[ ] replace shower curtain by (plexi)glass construction
5. Discussion & Announcements
Round 1
[Martin] Spitzboden DONE! Do we want to establish some rules for the use of the k20-4 or just see what happens?

should not be filled with stuff before cleaning if it's not needed
general "stuff storage" guideline would be nice, there was a proposal from Doug in PlaMe#1 we could get back to

but not making it too big so it's never tackled

Martin writes a proposal (just for the Spitzboden) and posts it on Slack

[Doug] Are the Kanthaus-CanonC2025_... virtual printers at all usable, or can we remove them?

Janina thinks it's a leftover from old times (meant to make printing easier, but than settings changed) and not needed anymore
Maxime thinks he uses it
let's also make a Slack discussion out of this

[Larissa] The Haus- und Wagenrat e.V. would like to have the rights to one of our pictures (https://kanthaus.online/pics/kanthausFolk1.jpg) to use for a flyer for one of their projects and would even pay us something for it, if we want to. any thought, resistance? here is the mail: https://yunity.slack.com/files/USLACKBOT/F061FH96WMV/re__frage

they already used the picture in the brochure about different forms of association
instead of paying money they also offered free counseling to us
proposal to license the picture CreativeCommons (CC-BY) and just ask for Kanthaus to be credited, maybe in the form "Kanthaus (kanthaus.online) - CC-BY"
there was a discussion about using pictures in the past
general support in the round, only using money if it makes sense for them (e.g. because of a funding)
Larissa will do a Slack point

[kito, Kate] ToI!

schedule and preparation tasks for you

first stage soon Nov 7! Whole morning together. See invite on Slack main channel with prep task.

who's invited, who will be invited? visitors? feelings? -> final decision in TOI1

could be overwhelming for new visitors and also slow the process down too much, too much explanation needed
"alumnis" (like Nathalie, Thore, Matthias) participating could be something different, but probably they are not really interested
evaluation for Klara before TOI2 might be nice, also some concerns if it works out

it will be great!

[kate] verschenkeladen name. i have called it Verschenkeladen Wurzen on the green friday poster. i hoped over time to add it to google maps and create a fb page. does it have an official name already? i felt it made sense to have it's location in the name, or? happy to hear your thoughts when I return.

[Antonin] maybe start an Ukuvota to let people propose and vote for a name?
[Janina] Verschenkeladen was its official name up until now. Could be changed if you see the need.
Slack and Ukuvota is a good idea

[Janina] Mika's party

no clear plan, but probably caketime in the dining room first (or outside if the weather is unexpectedly great), then playtime in piano and/or yoga room.
there will be people everywhere on Saturday afternoon, hope that it's okay...
I'll tell people about the covid situation which hopefully resolves itself until then anyway
ahmed, dima, franzi, unkraut, phillip from kita and maybe more peeps :bird: wanted to come
Round 2
[Martin] Compost. let's switch more compost for better compost. Because we have more than what we need, and it is not great. First step, less and better food waste to compost=>more waste to Biomüll. I propose to add Biomüll to the snack kitchen, equally reachable as compost. Then redefine what goes where. Then it will be much easier to balance it. I can feel resposible to materialize it.

general support
move further discussion to Slack or next CoMe

[kito] CryptoKüfa (https://nuudel.digitalcourage.de/sWMMbM4Rj9vRxHxV)
Result
Mon.: Larissa
Tue.: Maxime
Wed.: Martin
Thu.: Loup
Fri.: Kate
Open Tuesday: closed!