CoMe #208
Date: 2021-09-06
Facilitator: Doug
Notary: Doug
Mika caretaker: Roswitha
Levi caretaker: Janina
Physical board caretaker: Antonin
Digital calendar: Tilmann
Reservation sheet purifier: Larissa
Present: Antonin, Thore, Andrea, Silvan, Anja, Larissa, Maxime, Tilmann, Matthias, Clara, Janina, Doug
---
0. Check-in round
1. Last week review
Stats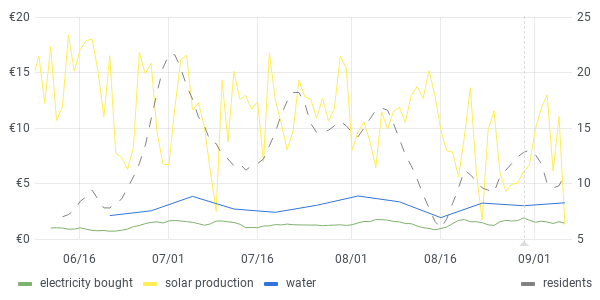 (Usage during the last 90 days)
Present: 11.1 people/day (-1.1)
⚡ Electricity

usage: 6.33 €/day (⬆️+12%)
paid: -2.43 €/day
☀️ self produced: 73% (⬆️+4%)
emissions: 13 kg CO₂ₑ/week

💧 Water

paid: 3.26 €/day (⬆️+9%)
emissions: 2 kg CO₂ₑ/week
Expenditure
Income
From Collective Agreements: If adjusted prevalence is < 0.1%, we have no formal restrictions. Current adjusted prevalence can be found here: click on "Details" in the "Step 1" column
Incidence

Germany: 90,6
Saxony: 32,5
Landkreis Leipzig: 21,7

Adjusted prevalence Saxony: 0,11%
µCOVIDs available last week: 0
µCOVIDs used last week: 0
µCOVIDS balance from last week: 0
µCOVIDs additional this week: 5000
µCOVIDs available this week: 5000
µCOVIDs/person mean for this week: (18 people)
Things that happened
In and around Kanthaus
We harvested 5 boxes of beans!
People went to Klima camp!
Anja and Doug found amazing fruit trees nearby with many delicious fruits!
there was an AoE Lan-Party!
Tomato plants got a fungus and died
nice project updates in a round happened
the stack of bikes in the yard decreased
a lot of leftover wedding food arrived - all the best to arnulf and janine!
In the wider world
More extreme weather events
German parliament elections might get interesting :-)
2. This week planning
People arriving and leaving
Mon.: Jums arrives, Silvan leaves, Zui leaves, roswitha and gerd leave
Tue.:
Wed.: Doug and Anja leave, JaTiMiLe leave
Thu.: Jums leaves, Clara leaves
Fri.:
Sat.:
Sun.: Clara probably comes back
Mon.:
Some day:
Weather forecast
Continuously nice, sunny, warm. Maybe thunderstorms with a bit of rain on the weekend.
Evaluations and check-ins
Anja Volunteer : Absolute Days threshold 105/60 (+75%)
Antonin Member : Absolute Days threshold 234/180 (+30%)
Clara Volunteer : Absolute Days threshold 66/60 (+10%)
Maxime Member : Absolute Days threshold 181/180 (+1%)
Monday

10:00 CoMe [Doug]
12:00 Roof tech meetup [Doug]

updating flowchart for differences (e.g. chimney)
assigning responsibilities for parts

15:00 Knowledge sharing:
Park cars on even side [already done]

Tuesday

Wednesday

15:00 Antonin eval. [Andrea]
Park cars on odd side [Maxime]
Landgut Nemt pickup []

Thursday

10:00 Power Hour [Fac.: Larissa, DJ: ?]
15:00 Sharing event []

Friday

Gelbe Tonne [Matthias]
11:00 Maxime eval. [Larissa]
12:00 Market Pickup [Andrea]
Landgut Nemt pickup []

Saturday

Sunday

Next Monday

Next week summary

Weeks until Roof month: 5.5!
to be scheduled: (when possible, avoid scheduling events at times that would conflict with being part of the cooking team: 17:00-19:00)
3. Shopping plans
[matthias] Duvet covers/ bed sheets https://yunity.slack.com/archives/CT0K2AY87/p1630836077001900
[matthias] Window + outside window board for about 400€ -> see discussion and https://yunity.slack.com/archives/CNLJL8PEG/p1630777360003600
[Silvan] Aleppo Soap (maybe 5,40Eur for 4 pcs.)
4. To do
Small fixes of things in the house
High priority
[ ] secure wash kitchen sink
[ ] secure k22-2 bathroom sink
Medium priority
[ ] make k20 garden door easily closable from outside (or acquire a new door) https://yunity.slack.com/archives/C3RS56Z38/p1627483587048000 [Doug may do this out of frustration :( ]
[ ] fix loose table leg in Lantern
[ ] empty dry food storage shelf (find new places for the stuff)
Ventilation preparation:

[ ] Tear down chimney in Snack Kitchen
[ ] Tear down chimney in communal sleeping room
[ ] Tear down chimney in dining room
[ ] Tear down chimney in piano room

[ ] Kitchen shelf is slanting
[ ] fix drying racks in staircase [Antonin]
[ ] replace broken/string/toaster shoe rack spots [Andrea, Doug]
5. Discussion & Announcements
Round 1
[clara] painting rooms

Inspired by Yoga room action: Taking down wallpaper, repaint makes rooms much nicer. Would like to do that in another room, maybe during building week (if time left). Concerns?
only that it is/might more and more annoying work than it might seem
Matthias can imagine doing this in the silent office and is also interested in concerns. He will coordinate with users of the silent office anyway.

[matthias] (Properly!) exchanging ONE window on Garden side: Hipster? Sleep Kitchen? Food storage? Freeshop Lounge?? https://yunity.slack.com/archives/CNLJL8PEG/p1630777360003600

Concerns of having it at same time as roof building week
resistance against doing it in the hipster room? no. (but concerns that this room is then even more liked)

[doug] moth casualties: lasagne sheets, 300g black sesame, ~5Kg wheat... storage needs to be airtight!
[anja] there is plants just outside that might not like being in the cold. Please get them in before it gets cold!
[janina] We brought quite some food, especially pumpkins, please don't forget to eat them relatively soon! (The pumpkins are all edible, most also with peel!)
Round 2
[matthias] Picking up a washing machine right after CoMe only 150m up the street

Antonin, Maxime will help. Thanks!
Volunteers
Mon.:
Tue.:
Wed.: Andrea
Thu.: Thore
Fri.: Maxime
Open Tuesday: Anja, Clara, Doug
Unavailabilities
Mon.:
Tue.:
Wed.: Tilmann, Janina
Thu.: Tilmann, Clara, janina
Fri.: Antonin, Tilmann, janina, Clara
Open Tuesday: Matthias, Tilmann, Larissa
Week: Silvan
End result
Mon.: Tilmann
Tue.: Matthias, Janina
Wed.: Andrea, Antonin
Thu.: Thore
Fri.: Maxime, Larissa
Open Tuesday: Anja, Clara, Doug
7. For next week