CoMe #319
Date: 2023-11-13
Facilitator: Janina
Notary: Janina
Physical calendar: Dorota
Digital calendar: Antonin
Reservation sheets: Loup
Weather forecast: Tilmann
Present: Klara, Martin, Larissa, Dorota, Venla, Antonin, Janina, Loup, Tilmann, Bodhi, Riell
---
0. Check-in round
[kito] i'm not in KH!
1. Last week review
Stats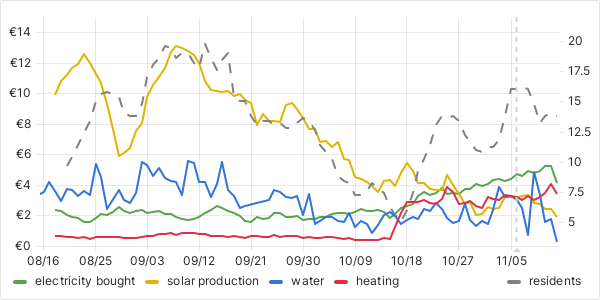 (Usage during the last 90 days)
Present: 13.7 people/day (-1.0)
⚡ Electricity

usage: 65.71 €/week (⬆️+7%)
of that for heating: 18.67 €/week
of that for hot water: 5.11 €/week
paid: 53.39 €/week
☀️ self produced: 46% (⬇️-6%)
emissions: 31 kg CO₂ₑ/week

💧 Water

paid: 17.3 €/week (⬇️-2%)
emissions: 1.3 kg CO₂ₑ/week
Expenditure
[tilmann] 14€ bike v-brake pads
[tilmann] 64€ white wall paint
[bodhi] 15€ vinegar and oil
[martin] 10€ flour and something
[janina] 15€ nail clippers
Income
Things that happened
In or around Kanthaus
the first part of our journey to refocus our purpose (a.k.a. toi#1)
social sauna with many interesting topics
a house-bus node appeared in the silent office
mushroom picking action
a big and productive foodsharing district meeting
more attic work again
birthday brunch at anja's followed by party at chandi's
some sickness became apparent in the house
Wider world
run-off electrion for president of Argentina next Sunday
Popcorn of feedback
bathroom door needs to stay closed to contain radiator warmth
please turn down bike gears before parking, so that starting again isn't so annoying
nice casual time at anja's party, thanks all!
2. This week planning
People arriving and leaving
Mon.:
Tue.: Kate returns, Doug returns, Lise arrives
Wed.: Klara leaves
Thu.: kito arrives late, Bodhi (and probably Lise) leave, Zui comes by for the day
Fri.: FFJ group arrives (orga in the morning, group around 3-4pm), Larissa leaves, Dorota leaves for a week
Sat.:
Sun.: FFJ group leaves (after lunch), larissa comes back
Mon.:
Some day:
warm Tuesday, colder towards the weekend
Evaluations and check-ins
Antonin Volunteer: Days Visited threshold 66/60 (+10%)
Thore Visitor: 0 days until Days Visited threshold (21)
Loup_WA Visitor: 3 days until Days Visited threshold (21)
Nathalie Visitor: 3 days until Days Visited threshold (21)
Monday

10:00 - CoMe [Janina]
11:00 - Power Hour
13:00 - Riell check-in
14:30 - Ineke moving action [Antonin]

Tuesday

10:00 - attic work session [Tilmann, you?]
11:00 - Schadstoffmobil @ Rosa-Luxemburg-Str. (gegenüber Nr. 12–13)
18:00 - Penny pickup [Janina]
18:00 - 20:00 Ideenwerkstatt @MitMachCafé

Wednesday

10:00 - attic cleaning session #1 [Janina, you?]
12:00 - 17:00 MitMachCafé
18:00 - Punkrocktresen @ D5

Thursday

10:00 - attic cleaning session #2 [Janina, you?]
13:00 - 18:00 MitMachCafé
18:30 - FLINTA thai boxing @ D5
19:00 - Penny pickup [Martin]

Friday

Yellow bins [Martin]
10:00 - PlaMe [Tilmann]
16:00 - saving more stuff from a flat [Martin, Kate]

Saturday

14:00 - 17:00 Flea Market @MitMachCafé [Kate]

Sunday
Next Monday
Next week summary

MSV group over the weekend
no trains to Leipzig all week
public holiday on Wednesday 22
3. Shopping plans
4. To do
See analog list in the elephant room
5. Discussion & Announcements
Round 1
[larissa] Update MSV-Meeting: see https://yunity.slack.com/archives/C3RS56Z38/p1698921422872049 we will be around 30 people now for sure. I would heat the yoga room and attic before. Also: any thought/comments towards the group to keep in mind that maybe didn't need to be considered in the past because of smaller group size?o

help with carrying things around as preperation would be very much appreciated next week
more talk in next come

[kito] FFJ get together at the weekend

i would really appreciate, if someone else could do the house tour, friday at 6pm. to deepen the connection between FFJis and the house from the beginning. FFJ orgacrew would take care of cooking in the meantime.

[Kate] Martin and I tentatively have a arrangment to complete the flat clearance at 4pm on Friday. If no one else volunteers, I might be able to squeeze it in, but it's a bit of a push. I could do Saturday morning no worries.
[janina] if someone plays with the kids during the time, I can do it

also a round of hello during the dinner on friday would be great
11 participants + 5 orga people expected, but not all the whole time
[kate] venla and loup need to be aware to move out of communal sleeping

[kito] i think it's fine, if the communal is not "FFJ only", but some would definitely sleep there. apart from that i would like to reserve the lantern and put the big matress inside, that worked out very well with the last group. do you think there is more sleeping place orga needed before friday? i think it could also work like that..
[Kate] Sorry Kito when I put this on it was with reference to Larissa's group. Still good for Venla and Loup to know.
[Janina] so communal and lantern. and if more is needed it will hopefully work itself out spontaneously. who worries about their sleepong spot for that time is encouraged to reserve beforehand!

[janina] Ineke's moving action today?

[Antonin] yes! it's at 14:30, we'll meet in front of sven's flat and then coordinate there. I'll have a van and the new flat is close to Bürgermeister-Schmidt-Platz. Please come if you want to support, the more the merrier! :)

[tilmann] attic painting action today or tomorrow?

[loup] everything's plastered now, but the last finish isn't done. if we want to be perfect there's some more work to be done
[antonin] can't it be parallelized?
[larissa] no, then we have dust in the paint
[kito] will it be plain white or with texture like in Martins slack post? (#kanthaus-attic)

nobody really knows how to do texture in a way that looks nice

we can still paint next week. then the attic is clean and we can just cover the floors.
let's not do it this week and rather talk more about it in plame.

[kate] I will take a table at the Mitmach Cafe flohmarkt on Saturday. I could probably do with some help (at least getting stock there and back) Of course, I am grateful if someone wants to be there longer because it's more fun. Just let me know if you are available on slack or in-person during the week!
[dorota] I have borrowed a mattress and now I need a bed frame. I saw one lying around.
Round 2
[Janina] Attic cleaning action plan
[kito] reminder of the Evidence Safari: https://yunity.slack.com/archives/C3RS56Z38/p1699778327130029
[Larissa] let's go to RIFF together. When should we do it? 6th/7th dec or 19th/20th dec?

let's decide on Friday, maybe have a dudle thingy beforehand
Round 3
Volunteers
Mon.: Janina
Tue.:
Wed.:
Thu.: maxime
Fri.: FFJ, FFJ
Open Tuesday: opentuesdaykate
Unavailabilities
Mon.: kate
Tue.: kate, Klara
Wed.: Antonin, Riell, Klara
Thu.: Antonin, Klara
Fri.: kate, Antonin, Klara
Open Tuesday: Klara
Week: Tilmann, Larissa, Dorota
Result
Mon.: Janina, Antonin
Tue.: Riell, Martin
Wed.: kate, Venla
Thu.: maxime, Loup
Fri.: ffj, ffj
Open Tuesday: opentuesdaykate, Bodhi
7. For next week