CoMe #320
Date: 2023-11-20
Facilitator: Martin
Notary: Janina
Physical calendar: Kito
Digital calendar: Maxime
Reservation sheets: Larissa
Weather forecast: Tilmann
Present: Martin, Venla, Kito, Sanne, Maxime, Larissa, Loup, Tilmann, Janina
---
0. Check-in round
1. Last week review
Stats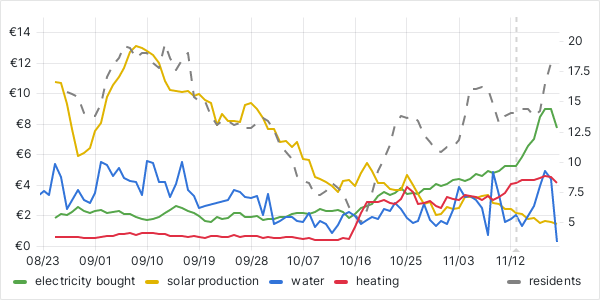 (Usage during the last 90 days)
Present: 16.9 people/day (+3.0)
⚡ Electricity

usage: 97.51 €/week (⬆️+21%)

for heating: 33.09 €/week
for attic heating: about 3€
for hot water: 6.86 €/week

paid: 89.75 €/week
☀️ self produced: 29% (⬇️-17%)
emissions: 46 kg CO₂ₑ/week

💧 Water

paid: 21.74 €/week (⬆️+26%)
emissions: 1.7 kg CO₂ₑ/week
Expenditure
[Martin] oats and flour and stuff for 10€
Income
Things that happened
In or around Kanthaus
attic work finished (for now...) and small inauguration party
FFJ get-together over the weekend
last market pickup of the year
interesting plame with many topics
flea market at mitmachcafé with verschenkeladen-stand
doug had travel trouble
evidence safari is ongoing
washing machine broke and got fixed
radiator fans now turn on and off together with the heating system
ex-food-storage shelf is being cleared
Wider world
Argentina elected the far-right president
genocidal propaganda is raging in the middle east
demonstration against PKK took place in Berlin
Linke lost their Bundestag seats
Nazis got in a fight with themselves in Vienna, because they couldn't tell who was left and who was right
Popcorn of feedback
advertise toilets in K22 more to groups
attic is really nice, thanks to everyone involved
bathroom 'public' light is often not trusted
2. This week planning
People arriving and leaving
Mon.: Kate arrives (late)
Tue.:
Wed.: Klara, Antonin and maybe Liora come
Thu.: Kito leaves, Sanne leaves, Venla leaves
Fri.: MSV-group arrives, Antonin and Liora likely leave
Sat.: Kate leaves
Sun.: MSV-group leaves, Kito comes back, Vroni might arrive, Antonin and Liora likely come back
Mon.:
Some day: Doug maybe comes back
It's freezing on Wednesday, warmer in between, with some rain towards the end of the week.
Evaluations and check-ins
Due for evaluation (and seen within the last 7 days):
Loup_WA Visitor: Days Visited threshold 25/21 (+19%)
Antonin Volunteer: Days Visited threshold 68/60 (+13%)

[Antonin] would be happy to be evaluated on thursday or friday, but also happy with next week if this one is too busy
Monday

10:00 - CoMe [Martin]
11:00 - Power Hour

Tuesday

Hausmüll [Martin]
18:00 - 30 Jahre alternative Subkultur in Wurzen @NDK [Kito, Larissa]

Wednesday

public holiday - some dumpster diving action? :)

Thursday

10:00 - Antonin's evaluation [Martin]
13:00 - 18:00 MitMachCafé
18:30 - FLINTA thai boxing @ D5
maybe some time in the day: fruit juice palett action
two penny pickups [Janina, Martin]

Friday

there are trains again!
18:00 Leipzig Critical Mass [Martin, you?]

Saturday

Biomüll [Loup]
one more penny pickup [Tilmann]

Sunday

19:00 Rojava people in Leipzig [Kito]

Next Monday
Next week summary

Bausyndikat group over the weekend
Project Updates
3. Shopping plans
4. To do
See analog list in the elephant room
Done
the tree in the compost corner lost a branch
Feedback
some people are too lazy to write on paper
5. Discussion & Announcements
Round 1
[larissa] Update MSV-Meeting: see https://yunity.slack.com/archives/C3RS56Z38/p1698921422872049 we will be around 30 people now for sure. I would heat the yoga room and attic before. Also I would join the cooking-team from msv on friday, so we can make dinner for everyone in the house. maybe someone else from kh can join, depending on the amount of kh-people? Also we got a big juice-donation (1 euro-palett) from a company which will probably arrive on thursday. any volunteers for unloading and bringing it down to the basement. KH can of course also drink the juice/smoothies :)

dinner will be at 6pm already
how many KH people here? less than 10 for sure
schedule will be printed and made public so we know busy times for kitchen and bathrooms
larissa will make signs and put them everywhere to show where toilets are and such
communal cooking is not specifically for kh on the weekend, but it might end up being enough anyway

[Martin] what about food? How many meals? I don't think we will have enough for 30 people and KH for a weekend.
there will be shopping and smoothies coming in, penny pickups before and during

[Antonin] hosting Lara

we got a request from Lara to come to Kanthaus again (last visit in August 2020 - I don't actually remember meeting her but according to the record I should have, oops!).
she proposes to come on Dec 6th already, leaving before xmas, so that it does not collide with the Month of Calm
would anyone like to host? (time-wise I potentially could but I'm already hosting Klara so maybe it's a bit of a stretch)
given the MoC and concerns about house fullness in 2024 I totally understand if people prefer to turn down the request. To me she seems to be a great fit for the house (based on what she writes and Anja's memory of her), but if we're full, we're full.
No resistance for the time before Christmas. Janina will host. We'll see later how we continue in January.

[kito] Vroni coming next week

is it too full? if not kito would host her.
no resistance.

[kate] can anyone see themselves helping with a couple of small construction tasks in the freeshop on Wednesday/Thursday? Remove the top 2 shelves (no one can reach there and they make the room dark and are dust traps) and hang a mirror. Martin looked at it and said it was simple enough. Message me.
[Janina] MoC decision following the corresponding Slack post

proposed time frame: December 18 to January 14 (4 full weeks)
voting results: 3 support, 2 indifference, 1 slight resistance
adopted!

[Loup] Floor plan creation

maybe wait until doug comes back so that there's no unnecessary work done
propriety formats as output would be uninteresting
putting lots of work into completely new plans seems a waste
Round 2
[Antonin] Liora (mentioned above in the schedule) is a friend from France who is passing by. She's interested in discovering Kanthaus and will likely be keen to meet you all (not just visiting me), I hope it's okay. She's aware that the MSV group is coming so we plan to retreat to OstPost to help leave space in KH during that time. If you have any concerns let me know and I can tell her not to come.
[Martin] Biomüll is full. What to do?

request another/bigger container
until then let's use buckets from the garden shed as temporary storage when the bin is full

[kito] CryptoKüfa next monday(?)

unsure if it will really happen
there was no advertisement so far, more help would be needed
if there is interest in this please contact kito

[Janina] Garden prep for the winter

stuff could be brought to the attic if they are not too dirty or ugly
clearing the hose, switch off tap water
communal action?
Tilmann would leave the rainwater tank, it hadn't had a problem with freezing in the past

[Larissa] Riff! It's gonna be the 19th!
Result
Mon.: Sanne, Janina
Tue.: Martin, Maxime
Wed.: kate
Thu.: antonin, Loup
Fri.: Larissa + group + spontaneous KH helpers
Open Tuesday: opentuesdaykate, Venla
7. For next week