CoMe #211
Date: 2021-09-27
Facilitator: Janina
Notary: chara
Mika caretaker: Tilmann, Maxime
Levi caretaker: Janina
Physical board caretaker: Matthias, chandi
Digital calendar: chandi
Reservation sheet purifier: Matthias
Present: Matthias, Tilmann, Mika, Maxime, Thore, chandi, Clara, Janina
---
0. Check-in round
1. Last week review
Stats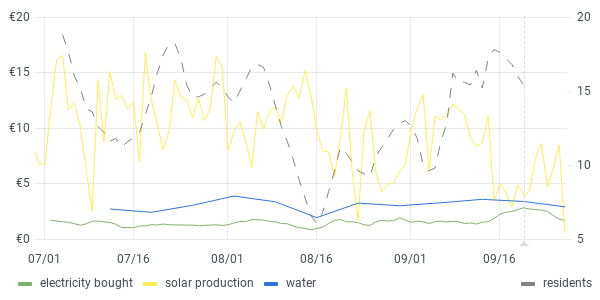 (Usage during the last 90 days)
Present: 10.9 people/day (-5.1)
⚡ Electricity

usage: 7.06 €/day (⬆️+5%)
paid: 0.12 €/day
☀️ self produced: 65% (⬆️+2%)
emissions: 16 kg CO₂ₑ/week

💧 Water

paid: 2.9 €/day (⬇️-14%)
emissions: 2 kg CO₂ₑ/week
Expenditure
10€ sponges, toilet paper, washing liquid
[matthias] about 1510€ for heating system connection stuff
Income
The Collective Agreements were changed: No more framework, but we require people to be vaccinated, tested or cured.
This section will be removed after this CoMe, new version of Collective Agreements will be uploaded as well
Things that happened
In and around Kanthaus
All sheets were removed in a big disinfection action
A warmshowers person spent a night
Antonin is now called 'Anna' (by Mika)
The house was really empty over the weekend
Puppet theatre at Villa Klug
A trip to the lake
Antonin moved into his new WG
Tilmann and Janina made cream cheese from buttermilk and more experiments are to follow
The new washing machine is making some weird noises and Matthias is investigating later
Twelve boxes of potatoes were saved
In the wider world
There was an election in Germany - the result is bad.
The next big climate strike took place.
2. This week planning
People arriving and leaving
Mon.: kiki S. arrives, Antonin left
Tue.: kiki S. leaves
Wed.: Max and friend arrive, chandi leaves
Thu.:
Fri.: Max and friend leave, zui comes back, larissa + silvan come back, clara leaves
Sat.:
Sun.:
Mon.: chandi comes back
Some day:
Weather forecast
Some rain in the beginning of the week, warm stable autumn weather for the whole week.
Evaluations and check-ins
Clara Volunteer : Absolute Days threshold 87/60 (+45%)
Silvan Volunteer : Absolute Days threshold 67/60 (+12%)
Janina Member : Absolute Days threshold 193/180 (+7%)
Monday

Paper [Antonin]
10:00 CoMe
Park cars on even side [Matthias]

Tuesday

rest waste [Tilmann]
Open Tuesday
16:00 Clara's evaluation [Tilmann]

Wednesday

Park cars on odd side [Matthias]

Thursday

10:00 Power Hour [Fac.: Janina]
15:00 Sharing event [?]

Friday

bio waste [Matthias]
12:00 Market Pickup [Andrea]
14:30 Janina's evaluation [Matthias]
19:30 Film about "Ella" in our garden (maybe external visitors come) [Clara, Matthias]

Saturday

Sunday

Next Monday

Next week summary

Social sauna
Monthly coordination meeting (probably not?!)

Weeks until Roof month: 2.5!
to be scheduled: (when possible, avoid scheduling events at times that would conflict with being part of the cooking team: 17:00-19:00)
3. Shopping plans
[tilmann/matthias] 3000-5000€ ventilation parts for attic, K20-2, K22-2 and K20-1

~1000-2000€ for second-hand ventilation device with heat exchanger
~2000-3000€ for air pipes, connectors, valves, fire protection devices for 3 floors + Attic

more details in https://pad.kanthaus.online/2021-ventilation-planning#Materialplanung

doesn't need to be bought this week, but rather sooner than later
4. To do
Small fixes of things in the house
High priority
[x] secure wash kitchen sink [Antonin]
[ ] secure k22-2 bathroom sink
Medium priority
[ ] More storage spaces for visitors
[ ] make k20 garden door easily closable from outside (or acquire a new door) -> apparently old door handle in workshop on left https://yunity.slack.com/archives/C3RS56Z38/p1627483587048000
[ ] fix loose table leg in Lantern
[ ] empty dry food storage shelf (find new places for the stuff)
Ventilation preparation:

[ ] remove ventilation pipes in K22-2 bathroom

[ ] replace broken/string/toaster shoe rack spots [Andrea, Doug]
[ ] yellow bin in snack kitchen - new solution
[ ] bed in private is dissolving and making many small crumbs
[ ] reinforce hook for laundry rack K22-1.5
5. Discussion & Announcements
Round 1
[Antonin] can we have a real clock in the dining room again please? The new one is not very readable.

[Janina] yes, pleeeease! ++
Maxime and Andrea are to take care..?

[Janina] Collective Agreements change about language: Voting phase ends tonight!
[Matthias] Heatpump update: Delivery problem but no clear info. will figure things out and keep you updated.
Round 2
[Janina] New sheet in dining room where you can indicate when you cleared the table. It's meant to show who does it when, because I was quite annoyed some days ago and got the impression that it was always me. Now I already felt an improvement and saw that other people also do it and that I also sometimes forget to tidy up behind myself. Yay, social peace! :grin: :thumbsup:

[Matthias] I find this quite motivational!
[chandi] I dont really like the direction this could lead to. If people only do visible tasks it would be a problem. Having sheets everywhere for every tiny thing is not the solution. But I get the point and I'm happy that you're happy!
[Janina] It's probably temporary anyway... ;)

[Tilmann] would appreciate more child care again, ideally before and after nap time (12-14, 16-18). I feel I need at least two days a week where I can focus on other topics than children
Round 3
[Janina] Disinfection action: Some tasks are not fully done. Please refer to this list to see what still needs to be done. Also, a lot of beds are not yet covered again and there's still a huge pile of laundry to be done. Thanks for your contributions! :)
[Tilmann] more potatoes? Last year we had way more and if we want them to last for the whole winter we need more.

[Thore] I can call him again then it should be easy.
[Janina] Maybe we need to clear some boxes before we can get more potatoes.
Up for going: Tilmann, Janina, Matthias, Clara? - maybe during Clara's evaluation
Thore will call after CoMe and ask about Tuesday afternoon
Volunteers
Mon.: clara
Tue.: Andrea
Wed.: Thore
Thu.:
Fri.:
Open Tuesday: Anja, Janina
Unavailabilities
Mon.:
Tue.:
Wed.: chandi
Thu.: Maxime, chandi
Fri.: chandi
Open Tuesday: Maxime, chandi, Matthias
Week: Tilmann
End result
Mon.: Clara, chandi
Tue.: Andrea
Wed.: Thore
Thu.: Matthias
Fri.: Maxime
Open Tuesday: Anja, Janina
7. For next week